'I feel epic!' – Norris delighted to claim first ever front-row start after 'taking risks' to maximise lap time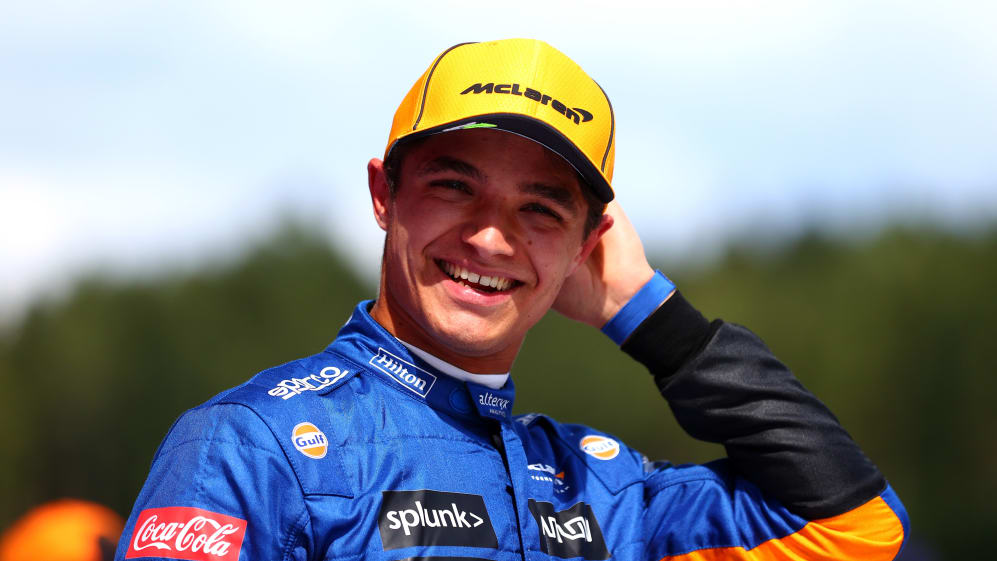 What is it about Lando Norris and the Red Bull Ring? Having scored his maiden F1 podium at the track last season, on Saturday he landed a career best grid slot – and first front-row start – with a fine run to second in qualifying for the Austrian Grand Prix – just 0.04s behind polesitter Max Verstappen.
Fourth in the championship, the only driver to score in every race, and seemingly in the form of his life, Norris looked sensational as he unexpectantly challenged for pole as McLaren team mate Daniel Ricciardo struggled to P13. And afterwards the smile was spread broadly across his face as he took in his achievement.
REPORT: Verstappen edges out sensational Norris to take Austrian GP pole
"I feel epic," he beamed. "Yes, it was cool; I guess after last race I wanted to do that one more step [from P4 on the grid] and I did two more so yes, it's nice.
"I feel like we made a good step forward from last weekend with a couple of things," he added. "I was kind of… not frustrated, but thought there was a little bit more in it last weekend, especially to be ahead of both Mercedes cars, and that's what we did today.
"The whole of quali was pretty good, straightforward, good laps and so on. I definitely saved the best till last and did my best lap in Q3 run two. Obviously I'm very happy, we're in a great position for tomorrow. I think we maximised everything we could today. Also only four hundredths away from P1. Would have been nice to do that bit more, but very happy with where I am."
Asked if it had been his best ever qualifying lap, Norris said: "Quite possibly".
"Of course there's always that little bit more but I'm sure Max would still say the same thing," he continued. "It's tough because it's so easy to run that little bit wide and get your lap deleted. I think I improved already in those last corners compared to the rest of the lap. It's like risk vs reward and how much do you really risk? I think I took the risk and ended up where I did. If I had loads more opportunities I don't necessarily think I would improve that much more."
After that P3 in the 2020 season opening Styrian Grand Prix, Norris has taken P5 in the two races that have followed at the Red Bull Ring. So what result is likely in the fourth race?
"Probably another P5," Norris joked. "We'll do our best to try to take a step forward in the right direction, but it wasn't like we were exactly close last weekend.
"I don't want to be too negative and want to be optimistic - as I should be - but I'm also realistic and know it's going to be a very tough race. We're in the best position possible to maximise everything.
"If I have the chance to go for P1, a chance to race Max and go for it I will. I'm still racing, I want to do the best I can, but I think I know what's best for us and the team and who we're – sadly - really racing against tomorrow."
McLaren boss Andreas Seidl said after qualifying that he'd joked with Norris ahead of the session that he'd "see him in the press conference" (in which only the top three drivers appear). But despite the performance, the team's first front row start since the 2012 Brazilian Grand Prix, Seidl said the team would not be getting carried away. "It's reward and confirmation for the team that we are heading in the right direction, but as always points get awarded tomorrow."
HIGHLIGHTS: Watch all the action from Austrian GP qualifying as Norris pushes Verstappen for pole