'I felt fast but once again Car 14 stops' – Alonso frustrated after fifth DNF of the season in Mexico
The sight of Fernando Alonso punching the air in frustration alongside his stricken car is one that will stick out from the race in Mexico, as his time with Alpine nears its end.
Alonso was running a competitive seventh when he started to suffer from a loss of power, and eventually had to retire his car at Turn 1 inside the final 10 laps to register his third retirement in five races. Having seen strong points slip away on each occasion, the Spaniard was left frustrated at the recurring reliability issues.
"Car 14 stops before the chequered flag, so I think now we lost about 70 points," Alonso said. "But it's pointless to talk about this once more, so let's see. Only two races to go and then a new chapter.
MONDAY MORNING DEBRIEF: How cunning strategy allowed us to see Ricciardo back at his best in Mexico
"I think Austin and Mexico have been the best races from a personal point of view. Pace-wise, I was like 20 seconds or something like that ahead of the McLarens and my team mate. I felt fast, but once again Car 14 stops."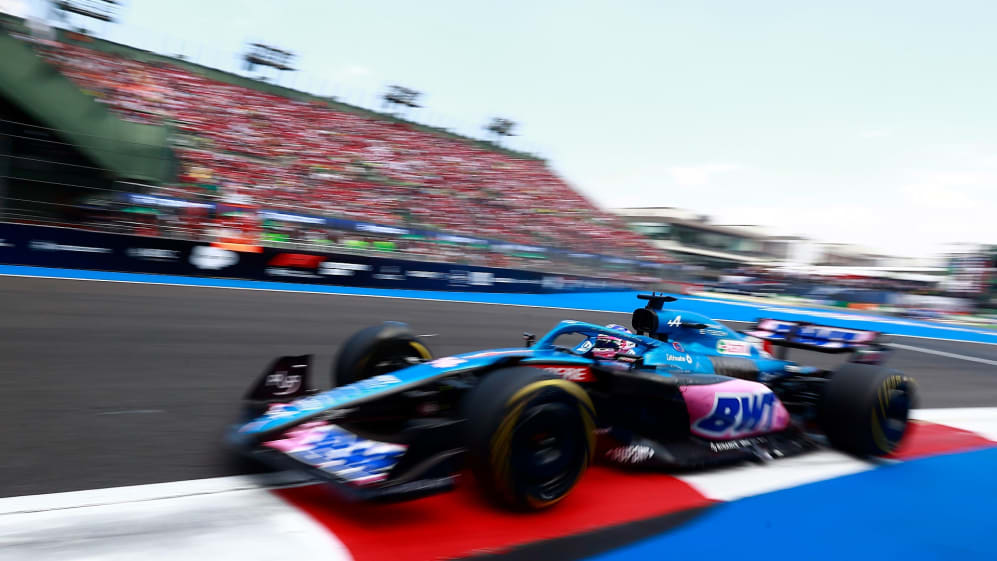 Team mate Ocon did gain a position as a result of Alonso's misfortune, but then was unable to keep Daniel Ricciardo at bay late on. With a 10-second time penalty hanging over the McLaren driver, Ricciardo was able to pull enough of a gap to retain seventh place after his punishment was handed out, leaving Ocon in eighth.
"I think we didn't put everything together, but we fought hard the whole way," Ocon said. "Damage limitation I would call it. Obviously we lost Fernando, we were supposed to have a double-points finish.
READ MORE: Verstappen makes F1 history as he beats Hamilton to victory in Mexico for 14th win of the season
"I was managing the cooling issue we were having a lot, and that's mainly why we lost to Daniel. Happy for him on one side, but not happy on the other side because we lost out as a team. So damage limitation; we'll keep fighting in the last two rounds."
Reliability has arguably been Alpine's biggest weakness this season, but Ocon is comfortable with the trade-off of chasing performance first and foremost.
"We are still happy with our strategy of pushing hard and having a car that performs. The pace was good when we didn't have to manage so much, so it was solid in that regard."
It's a stance echoed by Team Principal Otmar Szafnauer, who was unhappy at losing Alonso late on but believes Alpine can find fixes for their problems ahead of the penultimate round in Brazil.
FACTS AND STATS: Verstappen sets new season records for points and wins
"Unfortunately, Fernando suffered a cylinder failure on Lap 52 and he was having to manage on five cylinders – meaning a significant lack of power – to try and remain inside the points," Szafnauer said. "Eventually the problem was not sustainable, and he had to retire the car.
"Esteban faced a challenge with some cooling issues from quite early on in the race where he had to lift-and-coast and therefore he sacrificed significant lap time. He did well to bring the car home in eighth place and score some valuable points for the team.
"We know reliability is going to be the key in our championship battle and it's something that has let us down after showing such a strong level of performance in recent races. I'm confident we can rectify these issues going into the final two races of the season."