'I had cramp in my thumbs' – Norris explains how hard he had to work to manage Eifel GP power unit issue
As a keen gamer, you'd have thought Lando Norris would have been used to a bit of button bashing, but the McLaren driver says the steering wheel changes required to manage a power unit problem on his MCL35 during the Eifel Grand Prix made for a rather painful Sunday…
A mid-race problem on Norris' freshly-installed Renault power unit – which the team fitted after seeing issues in his data from qualifying – left him having to clear error codes on his steering wheel every time he went around a corner, with the 'Default 0-3' instruction of engineer Mark Temple frequently heard on their airwaves throughout the race.
READ MORE: Sainz calls Eifel GP a '60-lap struggle' despite taking P5
But after all of Norris' button-pushing came to nought when he retired on Lap 42, the Briton explained just how hard he'd been working in the cockpit – and why he never wanted to hear 'Default 0-3' again…
"I'm going to have nightmares!" said Norris. "Every single straight, I'm pressing it and then I have to press this one and then this one. I got cramp all in my thumbs from pressing it so much. I'm going down the straight stretching out my hands going, 'I can do this, I can do this.' But yeah, it was tough, every single straight.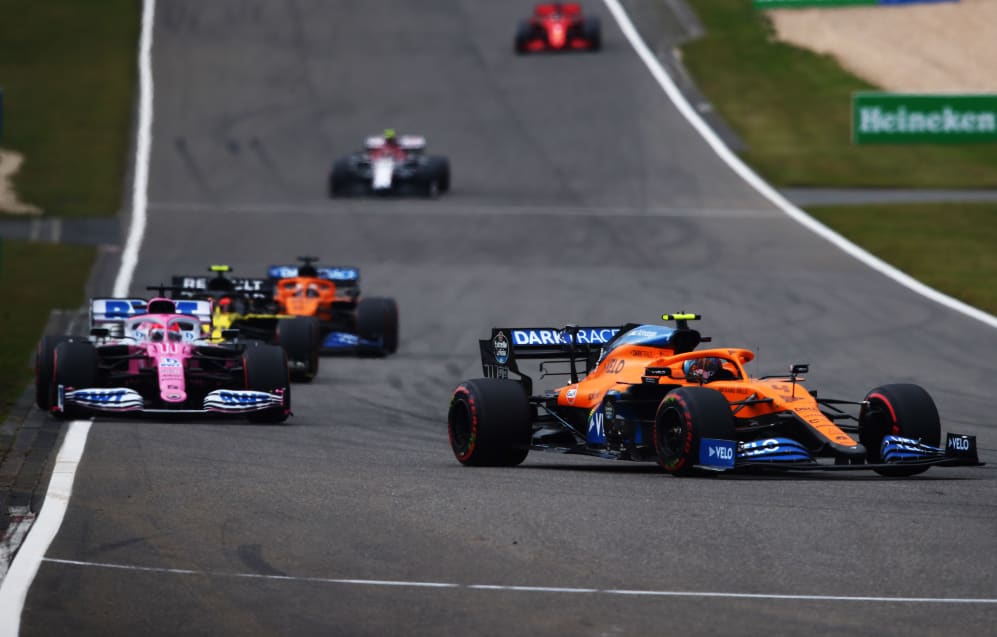 "We were still on for some points at the time. I had a decent gap to the people behind, the pace wasn't awful considering I was down on a lot of power, but I don't know if they would have caught me eventually – I don't know. But we still had a shot to score some points, I still would have fought for it. But in the end it went completely. We tried, we kept fighting for as long as possible, until we were out."
READ MORE: Who were the Winners and Losers of the 2020 Eifel Grand Prix?
In the aftermath of his retirement, Norris was seen pulling up a marshal's deck chair and disconsolately watching on from the sidelines, his special one-off helmet firmly on his head. And the 20-year-old – who'd run as high as third, having qualified the old McLaren MCL35 package eighth, while team mate Carlos Sainz eventually finished the race fifth in the upgraded car – explained why he'd cut such an unhappy figure…
"I was on for a definite P4 pretty much and possibly, or hopefully, fighting [Daniel] Ricciardo for P3 but it wasn't to be today," he said. "It's just a lot of hard work that goes into it from the team and from myself and so quickly it's gone.
"I was still on for some points even with the problem – maybe not after the Safety Car, but the Safety Car was caused by me, so we could have still salvaged something if it didn't go completely, which would have been better than nothing for us.
WATCH: Hulkenberg, Sainz and Ricciardo star in the best team radio from the Eifel GP
"But I was just looking at my poor car on the left, they were spraying it with extinguisher and spraying it in places… well, it was just a white car in the end. It's beginning to look a lot like Christmas, that's all I thought..."
Meanwhile, aside from the disappointment of missing out on any points at the Nurburgring – which saw him slip from fourth to sixth in the drivers' standings behind Ricciardo and Sergio Perez – Norris will also be concerned about looming penalties should he encounter any further problems with his power units in the remaining six races this season.