Feature
Who were the Winners and Losers of the 2020 Eifel Grand Prix?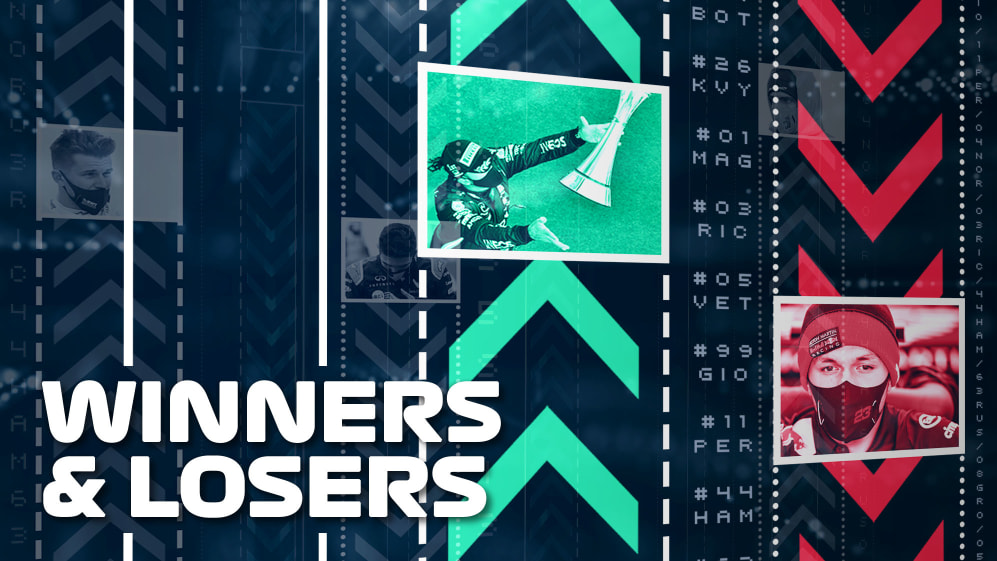 Lewis Hamilton made yet more history in Germany with a record-equalling victory that also struck a hammer blow to his chief rival Valtteri Bottas' title hopes. After a cracking race at the Nurburgring, we pick out the winners and losers…
Winner: Lewis Hamilton
The champagne will have tasted pretty sweet for Lewis Hamilton on Sunday afternoon at the Nurburgring after the reigning world champion defeated Max Verstappen to take the spoils.
In doing so, he matched the all-time career win record of the great Michael Schumacher with his 91st victory (in what was his 260th start, while the German had achieved the feat in 246 starts).
READ MORE: 'Michael is, and always will be, a legend' – Hamilton 'humbled' to equal Schumacher's win record
And with team mate Valtteri Bottas suffering a suspected MGU-H issue and failing to finish, Hamilton extended his lead to a mammoth 69 points – almost three race wins' worth – with only six Grands Prix remaining.
It feels like it's now only a matter of when, not if, Hamilton will match Schumacher's tally of seven titles in 2020.
Loser: Valtteri Bottas
Up until his suspected power issue, Valtteri Bottas had barely put a foot wrong. The Finn arrived in Germany high on confidence after winning the Russian Grand Prix – and promptly stormed to pole with a stunning lap.
Even when he almost lost the lead at the start, the Finn kept his foot in when pushed wide by Hamilton and bullishly retained the position in a manner we've rarely seen from him during his time at Mercedes.
But there was little he could do about losing a place to Verstappen courtesy of the VSC, and he was innocent when mechanical gremlins struck. He said it'll take a "miracle" to win the title now – he's not wrong.
READ MORE: Bottas admits he 'needs a miracle' in title battle after 'disappointing' Eifel GP retirement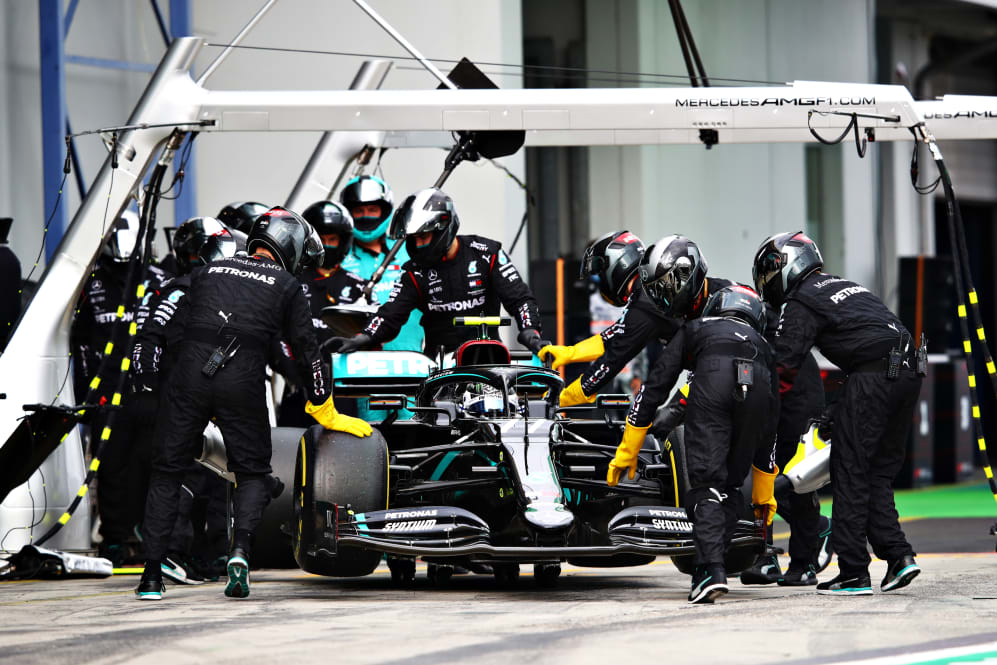 Winner: Daniel Ricciardo and Renault
This podium has been coming. Daniel Ricciardo's form since Belgium has been immense, his Renault improving race on race across a variety of circuit types. And in Germany, it finally all came together.
While Bottas' retirement opened the door for P3, Ricciardo had put himself in a position to take advantage with a stunning drive, ruthless pace and slick strategy – and richly deserved the result.
READ MORE: Ricciardo says Eifel GP podium 'feels like the first all over again'
This was his first podium since Monaco 2018, when he clinched victory, and Renault's first since Nick Heidfeld achieved the feat at the 2011 Malaysian Grand Prix.
He made up for forgetting to do a shoey on the podium with one in his driver room afterwards, and also insisted his boss Cyril Abiteboul will be getting a tattoo as part of a bet. Maybe it'll be a little Honey Badger.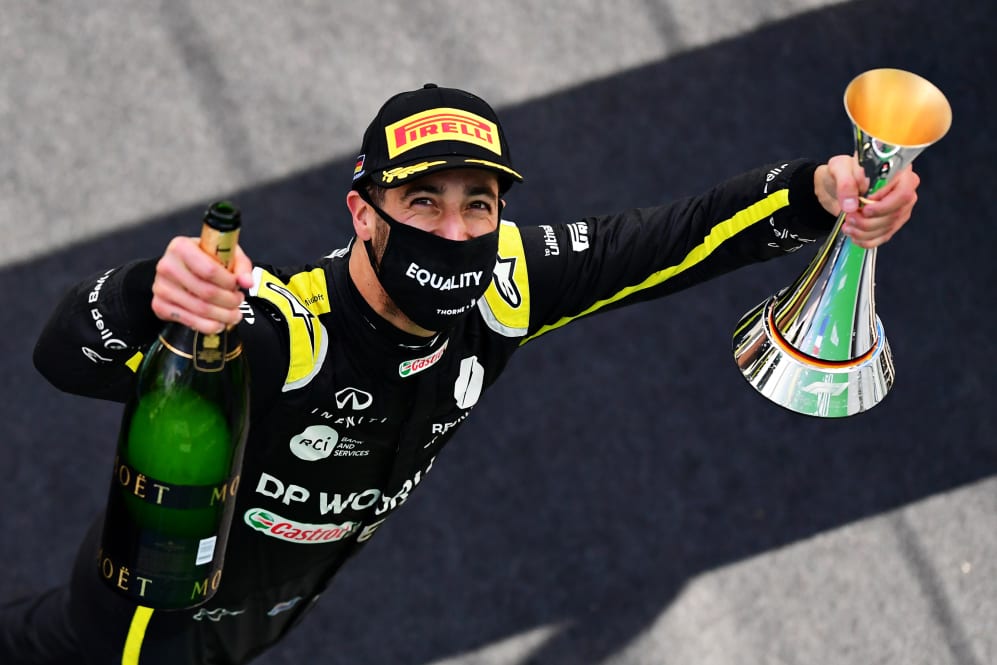 Loser: Lando Norris
Lando Norris took inspiration from Fernando Alonso in the 2015 Brazilian Grand Prix, pulling up a plastic chair and watching the action – this time with his helmet on – after pulling his car off track and into retirement.
The McLaren driver had a power unit change before the race – and then encountered problems with the Renault unit that Team Principal Andreas Seidl suggested was similar to what Carlos Sainz suffered at Spa.
WATCH: Mechanical issues force Norris to retire
It was tough to take for the Briton, given he was running in the top five with a podium within touching distance. A DNF saw him fall two places to sixth in the drivers' standings, behind Ricciardo and Sergio Perez.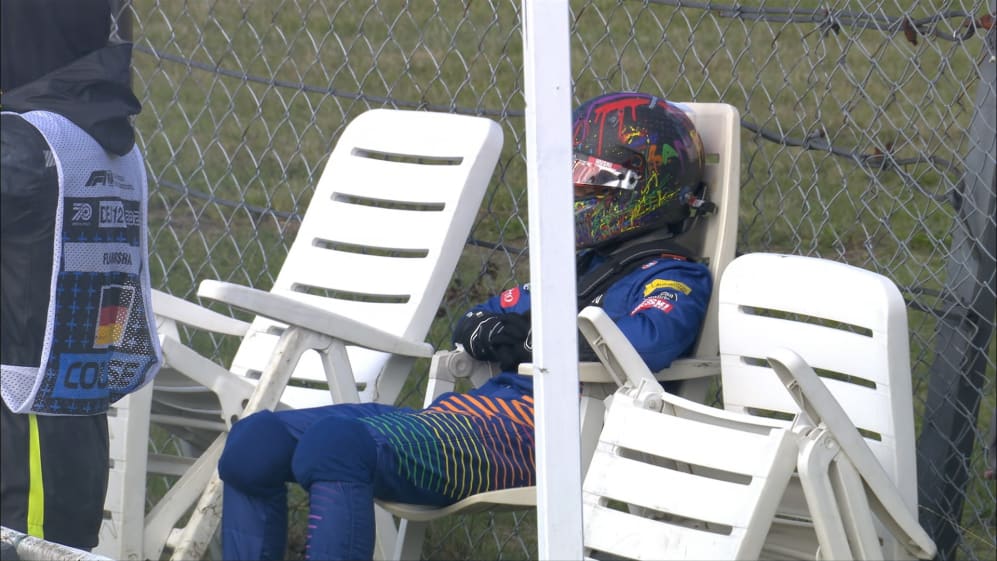 Winner: Carlos Sainz
Carlos Sainz had not gone beyond lap five in three of the last four races heading into the Eifel Grand Prix.
But after a frustrating Saturday – where he struggled to get to grips with an upgraded car that McLaren had hardly had time to set up because of a lack of practice on Friday – he recovered to score what is only his sixth points finish of the year.
That moves him onto 51 points in 11th in the drivers' standings and keeps him in the hunt for a top five finish, with Perez 17 points clear.
WATCH: Carlos Sainz happy with P5 after difficult Nurburgring weekend
Loser: Alex Albon
It was one of Alex Albon's better Saturdays, but not his finest Sunday.
A lock-up at the start set the tone for a difficult afternoon, as it forced an early pit-stop which compromised his race. He had contact with Daniil Kvyat, who called his actions "unprofessional", and then suffered damage to his radiator, which forced his retirement.
That was the second time he has failed to see the chequered flag this year, with Albon now just one point clear of Charles Leclerc.
Winners: AlphaTauri
Pierre Gasly's sixth-place finish was his fifth points finish in six races, giving him a points tally three times that of team mate Daniil Kvyat after 11 races this season.
It also gave AlphaTauri their eighth successive points score, which is the longest run in their history as AlphaTauri, Toro Rosso and Minardi, while sixth is only AlphaTauri's second top-six result in 2020, other than Gasly's Monza win.
It means they remain in a tight battle with Ferrari for sixth in the constructors' championship, just 13 points adrift.
Eifel GP Facts & Stats: Hamilton makes history – and Mercedes equal Ford record
Loser: Esteban Ocon
While Ricciardo starred for Renault, his team mate Esteban Ocon was left to rue what might have been. The Frenchman was running in sixth when a hydraulics issue struck, forcing him into retirement.
It's not the first time Ocon has suffered a mechanical problem this season when running strongly in the points, but he can at least take confidence from his performance up until then.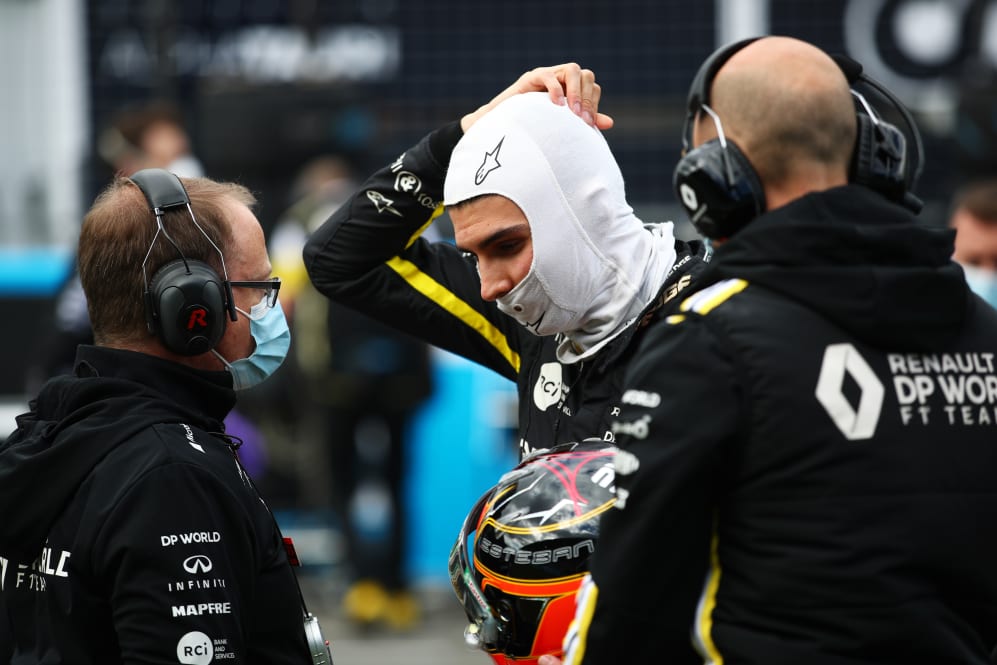 Winner: Nico Hulkenberg
What Nico Hulkenberg achieved in Germany was nothing short of remarkable.
With no practice, and just a few hours' notice, the German jumped in the Racing Point RP20 to sub for the unwell Lance Stroll, and showed impressive pace, just 0.9s seconds adrift of Perez after a handful of laps.
Starting 20th, he cut his way through the field to a sensational eighth. Despite competing in just two races this season, he has the same number of top-eight finishes as Ferrari's Sebastian Vettel…
READ MORE: Hulkenberg delighted with 'totally unexpected' P8 on one-off return in Germany
Loser: George Russell
George Russell knows this was exactly the kind of race that could have yielded a first F1 point, which is why he was so disappointed with how it ended.
The Williams driver was fighting Vettel and Kimi Raikkonen when the latter locked up and slid into him, lifting Russell's car into the air and causing damage that forced his retirement.
Vettel went on to finish 11th, which means Russell will have fancied his chances of punching up in that slot.
Winner: Romain Grosjean
Considering Romain Grosjean thought he had broken a finger on Lap 2 of the Grand Prix, the fact he ended the race with his first points of the season is rather impressive.
The Frenchman had a dreadful start, losing four places to drop to last, and then was struck on the hand by gravel kicked up by the Alfa Romeo of Kimi Raikkonen.
READ MORE: Grosjean feared he'd broken finger before scoring first points of 2020
But he was able to continue and fought his way back into contention, taking P9 to end a 20-race streak without a point that stretched back to last year's German Grand Prix at Hockenheim.