'I love seeing Toto's fighting spirit' – Hamilton enjoying Mercedes boss' passion as Red Bull fight heats up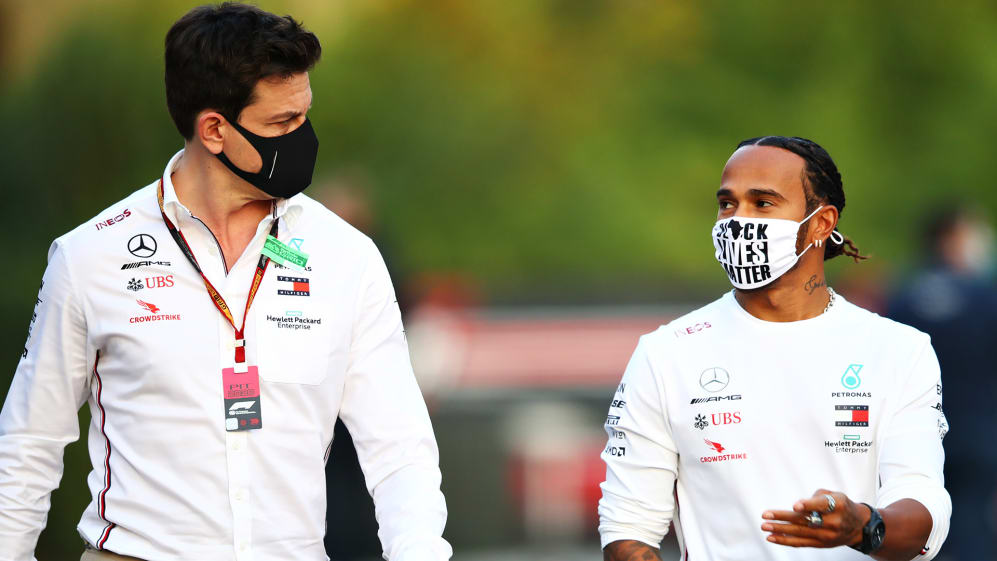 A video of Toto Wolff triumphantly gesturing towards the camera following Lewis Hamilton's pass of Max Verstappen at last weekend's Brazilian Grand Prix went viral in the wake of the race at Interlagos – with Hamilton admitting that he loves seeing his Mercedes Team Principal's passion, as the Silver Arrows' battle with Red Bull for the 2021 titles intensifies.
With the rivalry between Mercedes and Red Bull – and their respective Team Principals Toto Wolff and Christian Horner – having bubbled away for much of the season, Wolff was moved to declare that "diplomacy has ended" in the wake of Verstappen's strong initial defence of Hamilton on Lap 48 of the Sao Paulo Grand Prix, which saw both drivers forced to take to the run-off, and for which the Dutch driver escaped sanction on race day.
READ MORE: We've taken 'many punches in the face this weekend' says Wolff as he brands Verstappen's Lap 48 defence 'over the line'
Hamilton was nonetheless able to pass Verstappen 11 laps later before claiming his 101st win, an overtake which led to Wolff's defiant gesture to the cameras – and which Hamilton said demonstrated the level of his team boss' passion.
"I love seeing Toto's fighting spirit, it makes me so happy," said Hamilton, speaking at the Losail International Circuit ahead of the Qatar Grand Prix. "There's a shot I saw of him at the last race and it just made me laugh inside, it was so good.
Oops! Error retrieving Twitter post
"If Toto cared less and was just chill, I don't know... that fire and passion is a part of our infrastructure and our ecosystem and it trickles down from him," added Hamilton. "He's the leader of the team and you want that in your boss, someone that's out there go-getting and pushing and chasing every millisecond and with you along the way.
"So I love that he stands for what he thinks is right. We've grown hugely [close] over these years, as we will continue to do."
READ MORE: Mercedes request 'Right of Review' over Lap 48 Hamilton-Verstappen clash in Brazil
Following on from the Brazilian Grand Prix, Mercedes requested a 'Right of Review' into the decision not to penalise Verstappen for the Interlagos incident – with Hamilton saying in Losail that while he was "fully supportive" of the team deciding to pursue that route, he had "not given any energy" to the process, with Mercedes and Red Bull team representatives having met with the stewards in Qatar on Thursday at 1700.
But asked if he was concerned that his and Verstappen's acrimonious on-track battles were in danger of taking away from one of the most tightly fought title fights in recent years, Hamilton replied: "I don't think so. It's what sport is, right?
"It's intense, the battle on and off-track… I think there's no reason why as men it can't be discussed and figured out. I think at the end of the day, respect is definitely important, that we remain respectful of each other, on and off-track.
READ MORE: 'I thought it was fair, hard racing' – Verstappen not expecting penalty for defence from Hamilton in Brazil
"Of course I've relooked at it and have a different viewpoint naturally now," added Hamilton of the Verstappen incident in Brazil. "[But] I'm just putting all my energy to setting up the car, making sure I'm in the right headspace this weekend… I've just been focusing, sitting with Bono [race engineer Pete Bonnington] and the engineers. We've got to really start this weekend [strongly] and make sure we bring the fight to them."