'I thought it was fair, hard racing' – Verstappen not expecting penalty for defence from Hamilton in Brazil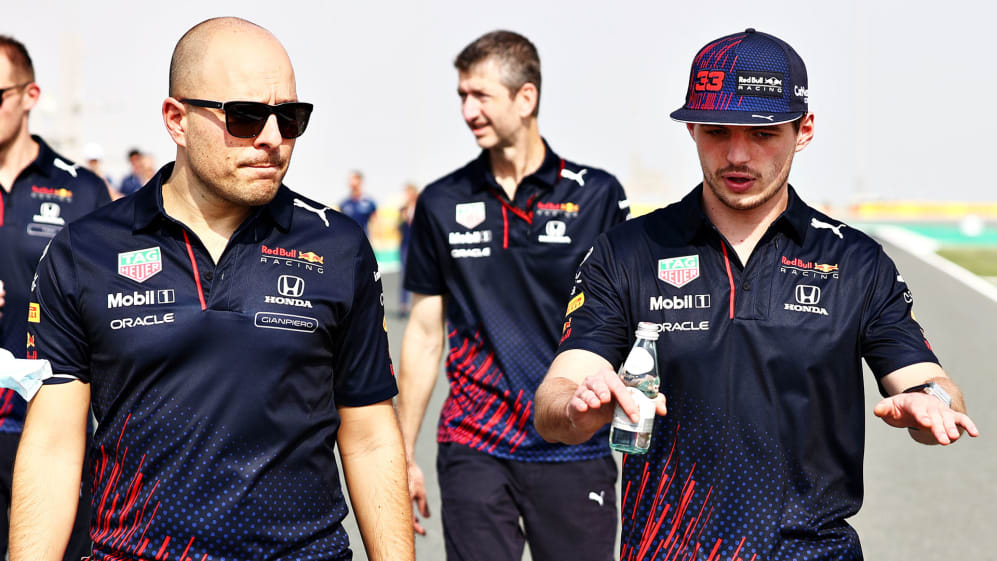 Max Verstappen has doubled down on his Lap 48 manoeuvre on Lewis Hamilton from the Sao Paulo Grand Prix last weekend, saying he'd do exactly the same move again if put in that situation.
Verstappen avoided sanction for the defensive move on Hamilton while he was leading the race at Interlagos last Sunday, when on Lap 48 both he and Hamilton were forced to take to the run-off as Verstappen manoeuvred his Red Bull RB16B to try and stay ahead of the Mercedes driver – who eventually passed him on Lap 59 before checking out for the 101st victory of his career.
READ MORE: Mercedes request 'Right of Review' over Lap 48 Hamilton-Verstappen clash in Brazil
Asked ahead of the inaugural Qatar Grand Prix in Losail if he'd had a chance to review the footage since last weekend, Verstappen replied: "I didn't need to look at the footage because I was driving the car, so I know exactly what happened.
"And like I said last time out, I thought it was a great battle and I had a lot of fun as well out there. At the end of the day they won the race, fair enough. They were faster than us. But I thought it was a good battle."
Pushed on whether he would repeat the move if he got the chance, Verstappen said emphatically: "Yes. As a driver I think we know exactly what we can or cannot do in a car, and we were fighting hard, braking late into the corner, the tyres were quite worn. If I would have turned more abrupt to the left, you'd just spin off the track."
READ MORE: 'Penalty for what?' – Horner says punishing Verstappen for staunch defence would have been 'unfair'
Verstappen, meanwhile, also questioned whether Hamilton himself would have made the corner going at the speed he was during the incident, replying when the point was put to him: "I think we both braked late, so it would have been very difficult to make the corner. But it's always afterwards, isn't it? It's difficult to know."
Verstappen may have escaped a penalty on race day at Interlagos – but on Tuesday, Mercedes sought a 'Right of Review' of the decision not to penalise him, with representatives from both Mercedes and Red Bull due to meet the stewards in Qatar at 1700 local time on Thursday, November 18.
Should a review be granted, it's possibe a penalty could yet be handed to Verstappen, who currently sits 14 points ahead of Hamilton after Interlagos, with three races left to run this season.
PALMER: Has Verstappen and Hamilton's Interlagos battle redefined the rules of engagement?
But the Dutchman, for one, wasn't concerned about the outcome of the 'Right of Review' hearing, as he told the media in Losail when asked how he'd feel about getting a retroactive penalty: "It's not the end of the world.
"But again I don't expect that to happen because I thought it was fair, hard racing between the two guys who are fighting for the championship. So it wouldn't have been anyway an easy pass, because that's not how I am and I don't think how it should be when you're fighting for the title."