'I obviously wanted more' – Perez disappointed to miss out on home victory in Mexico after P3 finish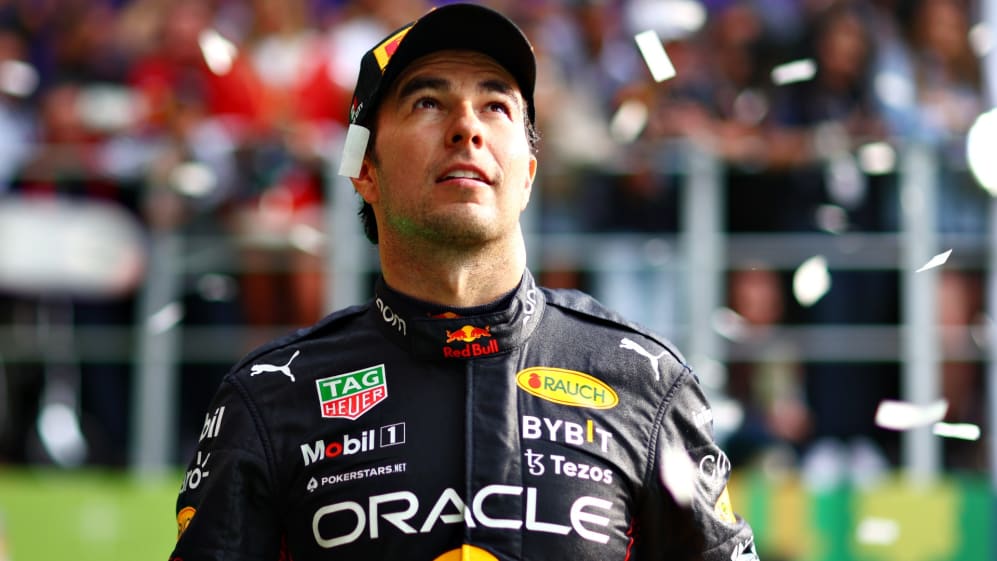 Home favourite Sergio Perez was left with mixed emotions following the Mexico City Grand Prix, as while he was revelling in a "special" podium finish at his home race, the Red Bull driver bemoaned a slow pit stop that hurt his chances of getting second place.
Perez made a good start from fourth on the grid, getting ahead of George Russell for third on Lap 1. However, the Mexican struggled to keep up with the pace of Lewis Hamilton, in second, as his team decided to switch from the soft tyre to mediums to undercut the Briton.
However, a slow pit stop saw Perez come out in sixth, behind Charles Leclerc and Carlos Sainz. And while he was able to get past the Ferrari pair, Hamilton kept track position, with Perez once again struggling to make his way past, forcing him to settle for P3 – for the second consecutive year in Mexico.
READ MORE: Verstappen makes F1 history as he beats Hamilton to victory in Mexico for 14th win of the season
"It's always nice to be standing on [the podium]. Such a special podium in front of the Foro Sol," said Perez. "I obviously wanted more, and I am a bit disappointed with the result to be honest, because I felt that we could have finished second.
"It was a very big opportunity. Mercedes was sliding quite a lot with the hard, especially at the beginning, they have very poor warm-up, but unfortunately, we had a bad stop which put us quite far behind unfortunately."
Asked whether second place was on the cards if not for the pit stop, Perez said: "Yeah, definitely. Without that I wouldn't be that far from the Ferraris because I ended up losing too much time with the Ferraris as well. Just all in all, it wasn't a great day for us."
Perez also explained why it was "key" for him to get ahead of Russell at the start given how difficult it was to overtake Hamilton during the race, before expressing his disappointment at not finishing in the top two.
FACTS AND STATS: Verstappen sets new season records for points and wins
"Yeah definitely," said Perez when asked if it was important that he got ahead of Russell at the start. "Given how difficult overtaking was today, I think that was key. Unfortunately, we had a little bit of a bad stop which prevented us from undercutting Lewis.
"Overtaking is so difficult that as soon as I got behind him it was so difficult to follow, so I had to stay in third. I thought we were going to be a little bit closer but unfortunately, it didn't work out for us today. But still, it's a good podium and in front of this crowd I really wanted more today but third place is still a good day."