'I think we did a perfect job' says Norris, after recovering from illness to line up P4 for Sao Paulo Sprint
Lando Norris believes he and McLaren got everything right as they secured fourth on the grid for the F1 Sprint in Sao Paulo, having made the most of tricky, changeable weather conditions.
Norris took to the track at Interlagos on Friday after coming down with suspected food poisoning and, despite still feeling the effects, he was one of the stars of qualifying en route to his second-row spot.
Giving an update on his condition after the high-flying performance, Norris said: "So-so. I'm happier now than what I was, just because of how today's gone. I'm still feeling pretty rough, [I] probably don't sound too good either, but I'm much better.
READ MORE: Magnussen masters timing at Interlagos to claim sensational maiden pole position in wet-dry Friday qualifying
"Yesterday I was struggling a lot. I really didn't think I was going to be driving today, so I'm good, good enough to drive and go out and do some good laps, which I did today."
As for how the session panned out, he added: "I think we did a perfect job today from the team side, from my side. I don't think we could have done anything much better than what we did: P1 in Q1, P2 in Q2 and even P4 in the end.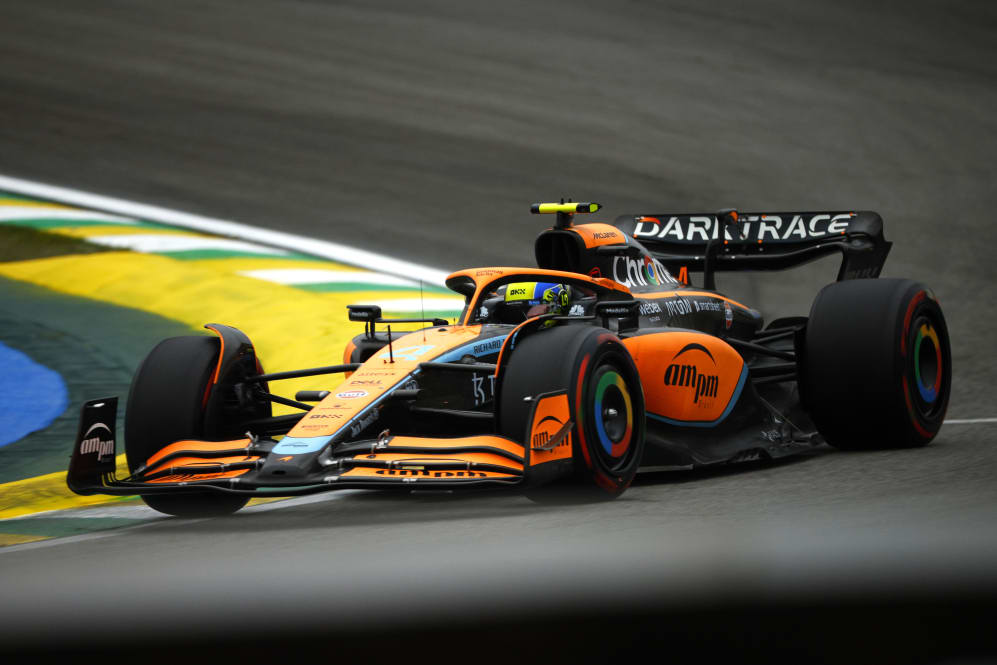 "We went out last, which maybe wasn't a perfect decision at the end of the day, but we took away a lot of other risks in doing so and I still went P4, even with the wettest track, so I'm really happy."
With Norris in P4 and Haas driver Kevin Magnussen on pole position causing qualifying upsets, the Briton expects the usual front-runners to move to the fore as the weekend develops, but he was nonetheless proud of his efforts.
"I think things will even out a little bit. You're going to see the Red Bulls coming back through, you're going to see Ferrari coming back through a bit, Mercedes as well, so I think things will slowly return to normal," Norris commented.
READ MORE: Magnussen vows 'maximum attack' after clinching pole and securing P1 for Sao Paulo Sprint
"Maybe not just tomorrow – I think most people might be able to keep positions tomorrow, but until Sunday, you'll see that. I think today, conditions just give drivers a better chance to do good things; it's not all about the car on a day like today, and I feel like I proved that, and I feel like K-Mag [Magnussen] proved exactly that today."
Norris' team mate, Daniel Ricciardo, had to settle for P14 in the other McLaren, having been knocked out in Q2 after making a mistake at Turn 1 on his final lap and abandoning the effort.