'I thought I lost it' – Leclerc delighted after qualifying P4 in Jeddah, as dramatic snap costs Ferrari team mate Sainz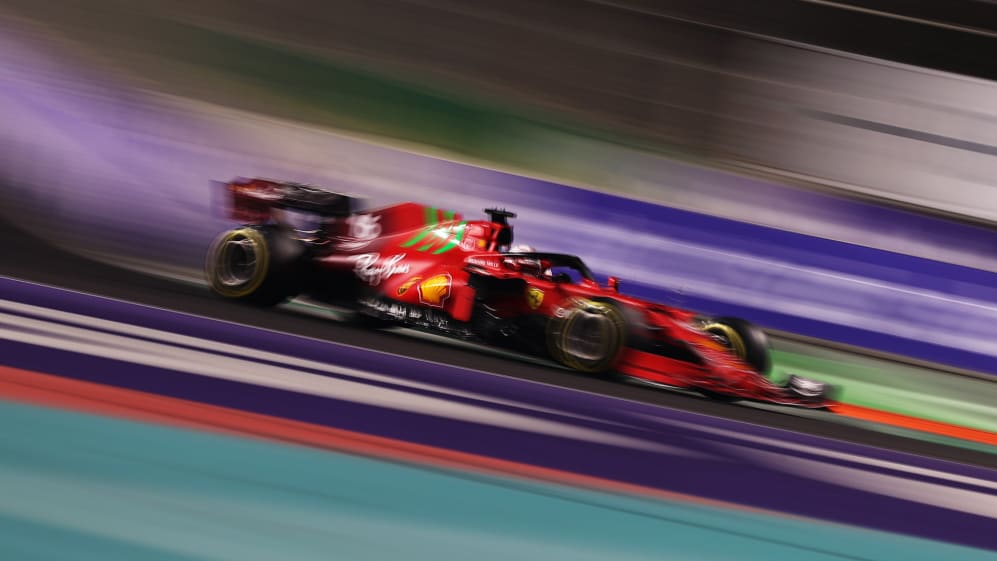 Charles Leclerc says he thought he had "lost the car" on his final lap in qualifying for the Saudi Arabian Grand Prix, before he managed to catch his Ferrari and keep the momentum to take a stellar fourth on the grid – as team mate Carlos Sainz was left to rue a spin that cost him a place in the top 10.
Leclerc admitted he was taking things "step by step" in a bid to rebuild his confidence after crashing heavily in second practice on Friday, but decided to throw everything at his final lap in Q3 – and it paid off.
READ MORE: Hamilton snatches pole as Verstappen crashes in thrilling Saudi Arabian GP qualifying
"I'm a bit more than pretty happy," he said. "It's only qualifying, and the race is tomorrow but after yesterday it was difficult to come back today and just be confident in the car.
"I took it step by step and in that last lap in Q3 I just went for it, especially in Turn 22. I really thought I had lost the car [but] I caught it and I gained a lot of lap time compared to the lap before. I'm just really happy to start P4, and I hope we can maximise that result tomorrow in the race."
He added: "It's going to be tricky. But our race pace looks strong and I'm optimistic for tomorrow."
His team mate Sainz had looked the stronger of the two Ferrari racers on Saturday, the Spaniard mighty in Q1. But after having a lap deleted for track limits on his first run in Q2, he then lost the car through Turn 11, and damaged the rear wing endplate.
"It's a bit of a shame, as I was coming from a very strong FP3, a very strong Q1 and suddenly this snap in the middle of Turn 11 cost me a whole qualifying as in the end, it meant I stabbed the wall with the rear end-plate, which I actually didn't feel in the car. And then when I look in my mirror, the end plate is completely bent and the rear wing is not delivering the downforce it should," he said.
READ MORE: 'Max would have been ahead' says Hamilton, as title rival's qualifying crash hands him crucial Jeddah pole
"It is something to analyse, something to look into what I could have done differently as it's a snap of oversteer that I was not expecting. This corner has been flat for me for the whole of qualifying, and for some reason in that lap, I lost the rear, but we'll look at it and come back from it."
READ MORE: Norris says he will 'pay the price' for using softs to reach Q3 as angry Ricciardo rues damage in qualifying
The team managed to get him back out after inspecting the damage, though there wasn't time for a full wing change, and he was ultimately unable to improve. However he's not letting it dent his confidence.
"Even with rear wing bent like it was, I was coming on a very strong lap before the rear wing properly gave up," said Sainz, who ended up 15th-fastest. "Confidence has been there all weekend, it's been there the last four weekends actually. I've been really strong in qualifying, Q1 here I was really strong so, one small bump in the road, but honestly I feel comfortable."