'I wanted that little bit more' – Norris disappointed after slow pit stop costs him shot at British GP podium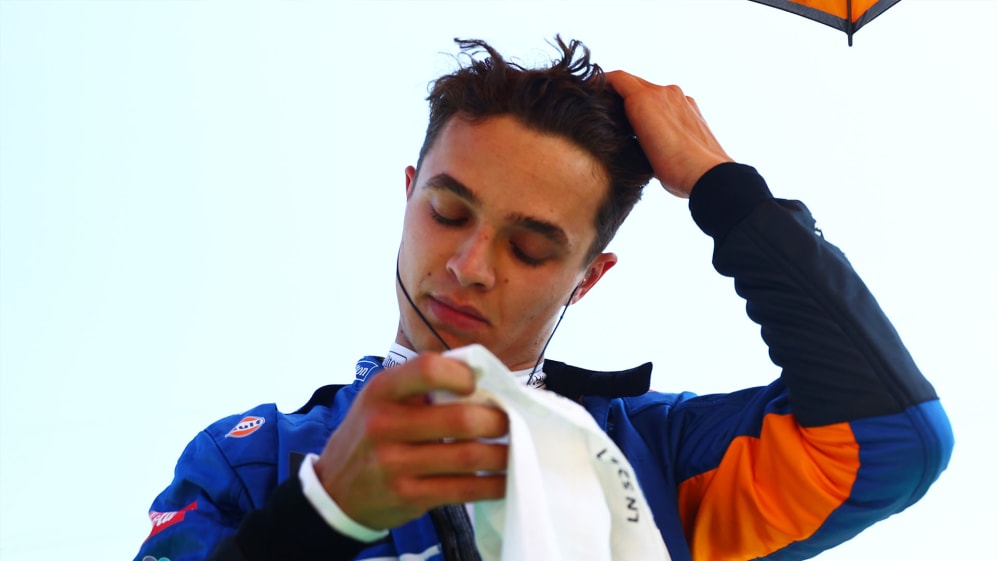 Lando Norris had designs on taking his first ever home podium after running P3 in the early stages of the British Grand Prix. But after a slow McLaren pit stop allowed Mercedes' Valtteri Bottas to claim a P3 he'd hold to the flag, Norris admitted to having mixed feelings after finishing fourth.
Following the red flag caused by Max Verstappen and Lewis Hamilton's dramatic crash on Lap 1 of the race, Norris enjoyed a great restart, jumping past Bottas' Mercedes to take P3 – having originally started the race in P5.
READ MORE: Hamilton overcomes first-lap collision with Verstappen to hunt down Leclerc for 8th British GP win
But Norris' Lap 21 tyre change saw him suffer a slow stop as McLaren struggled to affix his right-rear wheel, allowing Bottas back past, with the Finn holding third until the chequered flag as Norris was left to come home fourth, one place up from team mate Daniel Ricciardo.
"I don't know what to say," said Norris, who'd admitted ahead of the weekend that he was still suffering the after effects of a mugging seven days ago at Wembley. "It was still a very good race at the end of the day, I'm still P4 in my home race, and that's a good result from sixth yesterday. Just here, I just wanted that little bit more.
"I held onto third for the whole of the first stint, so we had pace to hold [the Mercedes] off, not necessarily to catch them up and do anything else. But because of the pit stop, I didn't get the chance to be ahead and defend for as long as possible. It would have been nice to fight for it and have that opportunity, but fourth and fifth for us as a team is still a good result."
The result still marked Norris' best ever finish at Silverstone, and was enough for him to move past Sergio Perez – who finished point-less down in P16 – for P3 in the drivers' standings. And despite Norris' disappointment, he was able to take consolation from a strong points haul, especially in front of his home fans.
WATCH: The moment Hamilton sealed British GP victory with late pass on Leclerc
"Fourth is still a very good result for us, so it's not like I'm really annoyed," he said. "I'm just annoyed that I didn't get the opportunity to fight and put on a good show and at least have some battling and some racing.
"It's still been a fun weekend," he added, "it's been a pleasure to have all the fans back, and it's been a lot more enjoyable because of that, and means a lot more as a driver. Incredible – I can't wait to come back next year and give it another shot."