I warned Stroll 'I'm coming for you' on the grid before British GP, jokes Ocon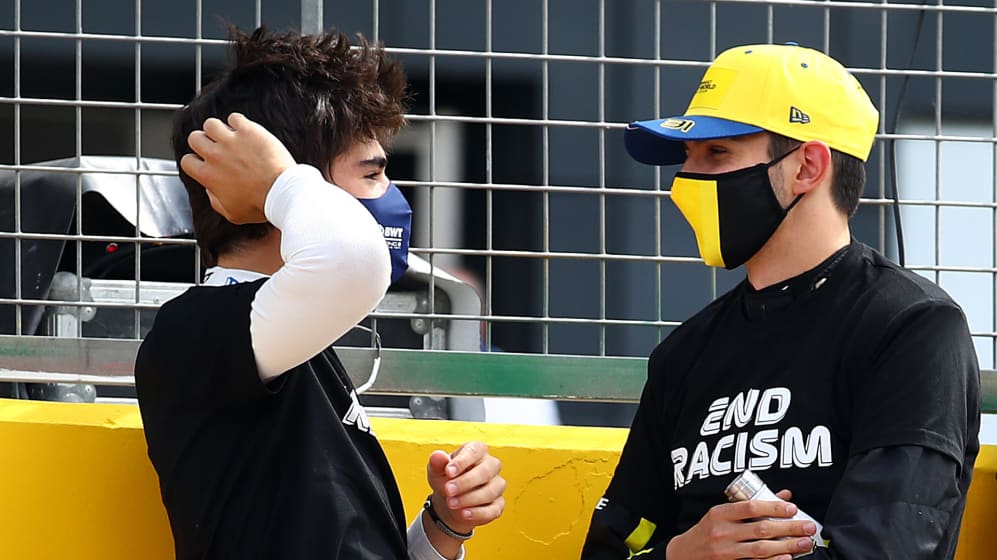 Esteban Ocon says he warned Lance Stroll before Sunday's British Grand Prix that he would overtake the Canadian when the race got underway – and the Renault man did exactly that on his way to a stellar sixth-place finish at Silverstone. But he told F1 Nation's Tom Clarkson and Alex Jacques that it was "frustrating" to be stuck behind the pink car for so long.
Starting ninth behind Stroll, Ocon was under two seconds behind the Racing Point driver for most of the race, and only after numerous attempts - that also earned Stroll shown a black and white warning flag for his movement under braking - did he make his way past on Lap 46 round the outside of Brooklands for P8.
READ MORE: Long final stint and 'biggest forces ever seen on tyres' led to failures in British GP, say Pirelli
"Yeah it was long," said Ocon as he recounted the 38 laps spent behind his rival and good friend Stroll on this week's F1 Nation podcast. "It was getting a bit frustrating at some point but funny enough we had a chat on the grid with Lance and I said to him: 'look, I'm coming for you!' [I] just threw it [out] like that.
"Of course I was never expecting for it to be that close, but yeah it was great. We've shown that we have a great speed in the race, and we have to put pressure like this on them. It was a good thing and [I] had the fight with my friend, which was nice," he explained.
"I felt more comfortable with the car and how we've set it up for quali, I felt great in Q1, Q2, and in the race as well so it has been a great weekend for understanding a lot of things and just [to] get it there where the car deserves to be. I think there's still a bit more margin but it's still a good step," he concluded.
Ocon has finished eighth, seventh and now sixth in three British Grands Prix since 2017, and will be hoping to go even better at this weekend's 70th Anniversary Grand Prix, which is also being held at Silverstone.
Listen to the F1 Nation podcast with Esteban Ocon above, or on Spotify, or Apple Podcasts.