Grosjean handed warning from stewards after 'potentially dangerous' defence of Sainz and Ricciardo
An opportune bit of Haas strategy put Romain Grosjean into fifth place early on in the British Grand Prix, leaving him to defend robustly against his faster rivals behind. But the stewards concluded after the race that he'd been slightly too robust in his defence from one or two of those rivals, as they issued a formal warning to the French driver.
Grosjean had benefitted from Haas' decision not to pit him under the second Safety Car (brought out for a huge Daniil Kvyat shunt) allowing him to climb up to P5 by Lap 15. But an overly strong jink while defending from the McLaren of Carlos Sainz landed Grosjean with a black and white warning flag for "unsportsmanlike" behaviour.
READ MORE: Hamilton limps to seventh British Grand Prix victory after late tyre drama
After Lando Norris had followed his team mate through on the Haas, Grosjean then aggressively moved over on the Renault of Daniel Ricciardo on Lap 36 – leading the stewards to review the "sketchy" incident (in Ricciardo's words) after the race, as they ultimately handed the "very dangerous Romain Grosjean" (in Sainz's words) his warning.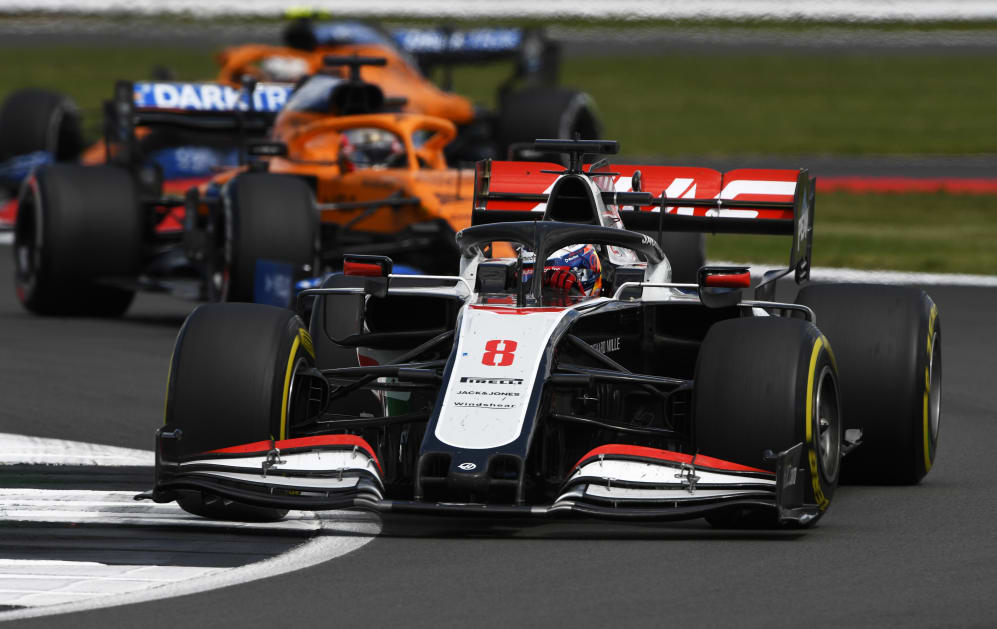 "Moving under braking when another car is approaching has been identified by the drivers as a very dangerous manoeuvre," ran the stewards' report. "Grosjean was given a black and white flag by the Race Director for moving under braking with Sainz. The stewards reviewed this case with Grosjean and Ricciardo. They also reviewed the video of the incident between them.
"Grosjean explained that in both cases his moves were before the braking zone, although in the second case, it was closer. When it was put to the drivers that these were late moves in relation to the approaching car, or 'Movement in Reaction', and also potentially dangerous, they agreed on this as a general principle.
"Ricciardo agreed that this situation, while close, was manageable by him as the following driver. The stewards issued a Warning, with the admonition that late movement in reaction to drivers following is also considered potentially dangerous and will be scrutinised by the stewards."
READ MORE: 'Luck hasn't been with me' says Sainz after last-gasp tyre drama robs him of points at Silverstone
The decision ultimately had no bearing on Grosjean's race result, as his strategy gamble failed to yield dividends and he ended up P16 – while team mate Kevin Magnussen failed to make the end of the first lap, after a collision with Red Bull's Alex Albon.
READ MORE: Albon calls Magnussen clash '50/50' as Horner praises 'really exciting' P8 recovery drive
"It's disappointing, the result, as I drove to the absolute limit from the beginning to the end of the race," said Grosjean before the warning had been handed down. "The first stint was fun. I found myself up in fifth behind the Safety Car and I was like, 'Oh, just like the good old days.' I was happy to stay out, we have to try these things with our car – just like we did in Hungary."