Feature
I was there… for Senna's emotional home victory in '91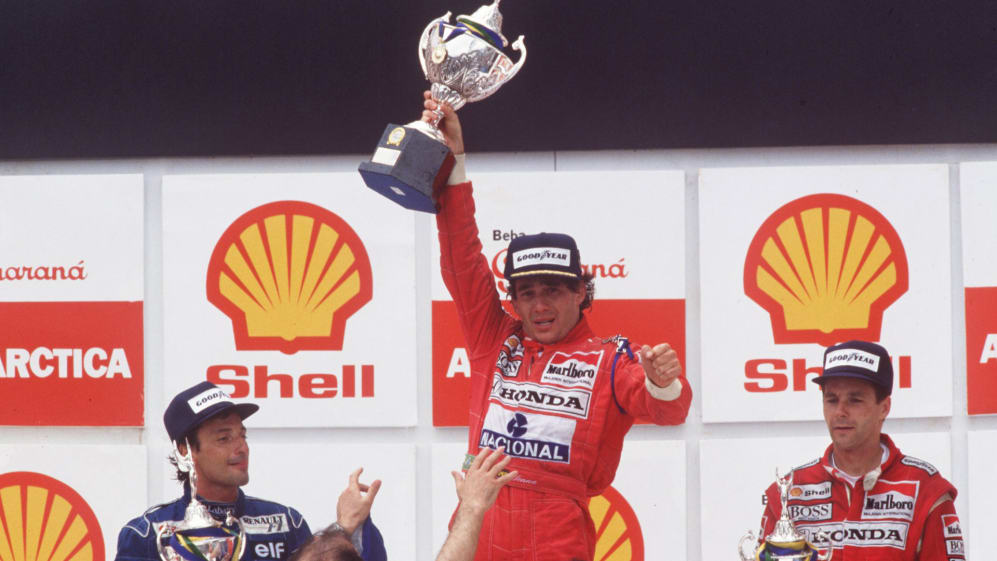 Hall of Fame Journalist David Tremayne has attended every race on the Grand Prix calendar since the beginning of 1988. Here he recounts his recollections of the 1991 Brazilian Grand Prix, Round 2 on that year's schedule and best remembered as the race when Ayrton Senna finally scored the home victory he'd always craved…
It was, he said, a gift from God.
After seven fruitless attempts, Ayrton Senna had finally achieved a heartfelt goal, to win in front of his countrymen.
READ MORE: Prost vs. Senna – The top 10 moments of F1's defining rivalry
When I arrived in Interlagos on Thursday, March 21, 1991, there was a tangible air of expectation that the local hero would finally deliver. It was one of those gut feelings you had, that this time the luck finally had to run with him.
In seven previous outings in Brazil, in both Rio and at Interlagos, his local track, Senna had managed two podium finishes – but after dominating the '91 season opener in Phoenix, surely he'd get no better shot at the success he craved on his home soil.
Brazilians revere their heroes, especially those as successful as Senna, and had largely tolerated his previous misfortunes, but they have great expectations of them. You could see that, while he loved racing at home, these weighed heavily on Ayrton.
In the end he delivered, but it would be one of the toughest of his 41 victories.
PODCAST: Jo Ramirez on being in the middle of Senna and Prost at McLaren
Senna's rain dance
There were plenty of things to talk about over dinner that Thursday evening. A baby-faced Ross Brawn had just unveiled the gorgeous purple sportscar beast he had designed for Tom Walkinshaw and Jaguar, the exciting XJR-14.
FIA chief Jean-Marie Balestre had been unusually silent about the recent CART Indycar race at Surfers Paradise, after brashly threatening all sorts of sanctions in Phoenix.
And there were renewed rumours that Mercedes were finally going to come back to F1, spearheaded by none other than Niki Lauda…
I felt it was my duty to win here
But on some fronts nothing had changed, prompting a strong sense of deja vu. It was raining just as it had been the previous year when we arrived, which made it a pain getting to the Autodromo Jose Carlos Pace, especially as I recall my colleagues and I were, for some reason, staying downtown, so had to fight miles of traffic with all the kids on mopeds speeding through gaps as they played endless and irritating warning beep-beeps on their feeble horns.
But the weather gave us a chance to watch Ayrton in the wet during the first practice session on Friday, and he was still dominant.
READ MORE: 10 of the best injury comebacks in F1 history
As Nigel Mansell had a few off-track adventures in the exciting new Williams-Renault, which was largely the work of the emergent Adrian Newey, and Riccardo Patrese damaged his when he whacked it over a steep kerb, I loved watching Ayrton sliding the McLaren MP4/6 Honda around with his easy elegance as he topped the session and then went even quicker when things had improved in the afternoon. I felt sorry for his team mate Gerhard Berger, who was the better part of a second slower; Nigel a disappointing third.
Saturday dawned wet too, but things quickly improved. Our Nige was fastest in the morning, which injected excitement into the proceedings. He was his usual ebullient self and now seemed to have a car that matched his talents. I smiled as he immediately put in a barnstormer of a lap in the afternoon's quali session, and chuckled that he'd tossed the gauntlet into the McLaren camp.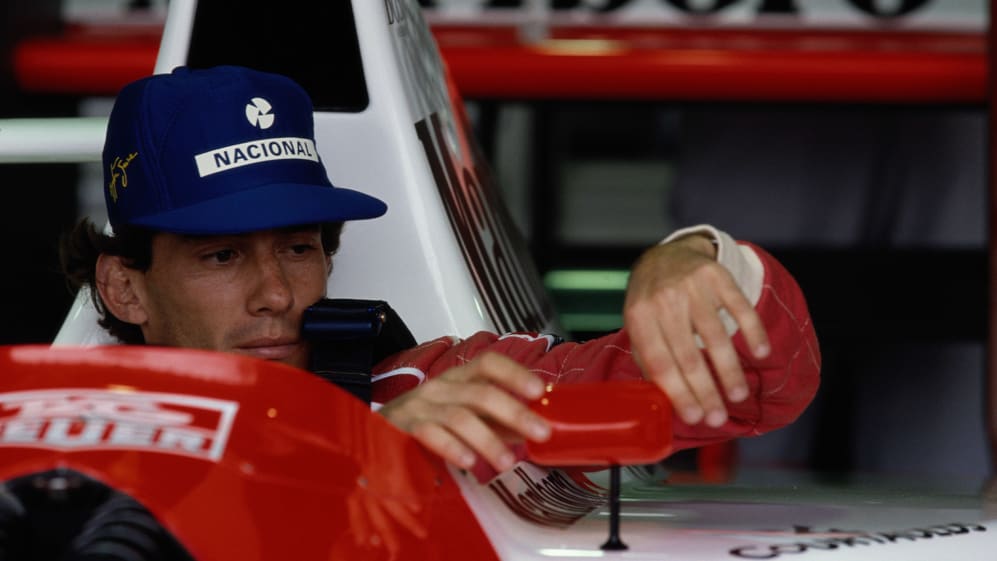 The qualifying 'miracle'
I loved 'Team Willie' because of Frank Williams and Patrick Head, and things looked good for them as the Head/Newey FW14 really started to come into its own. I thought Phoenix was a dump, but this was a proper race track where aerodynamics really mattered.
Ayrton looked pretty chilled, though, and responded quickly - I could feel my pulse rate rising. Things were getting interesting. Nigel then reeled off one of his big laps, which was so smooth it looked slow, before Patrese lowered the bar yet further in the other Williams.
READ MORE: Ten of the best Michael Schumacher moments
That made me chuckle again, because all winter Nigel had been expecting that the Italian would be a dutiful number two who wouldn't make waves. But Riccardo was rising to the occasion as never before. You could see he loved driving for Frank, and had out-qualified Nigel in Phoenix, and now it was happening again. When we talked later, Nigel's jaw was clamped firmly shut as he praised Riccardo's effort.
But you just knew that Ayrton still had a shot in his locker, and we in the press room cheered as he duly wrapped up the 54th pole position of his career. Like everyone else, I'd come to expect such miracles, and he so rarely disappointed.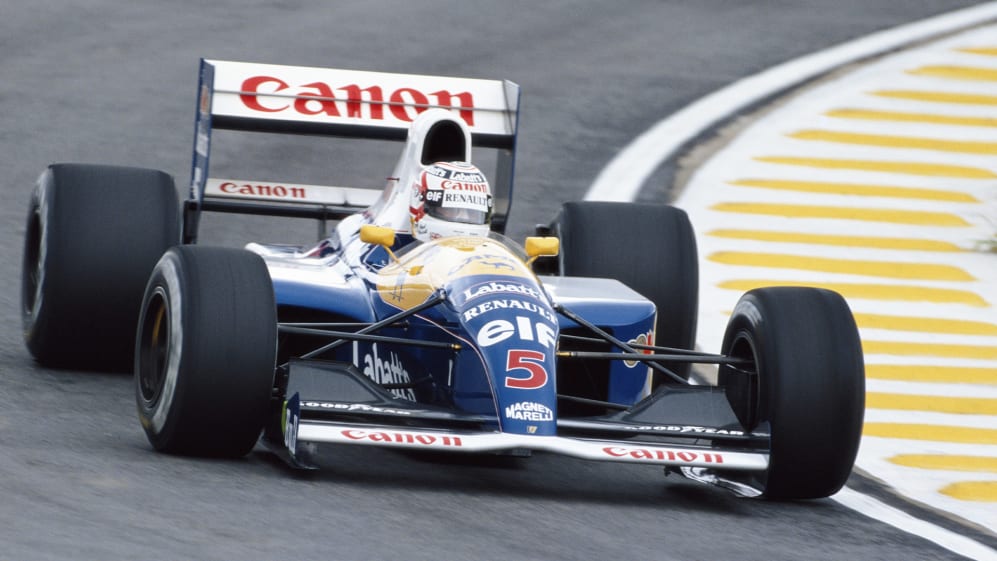 He was smiling broadly when he told us about it and described it with wry modesty as a "well-driven lap", and how, when he'd seen the two Williams in the low 1m 17s, he'd known that it was a major challenge. "I knew that it would take two things. One, we had to change the car technically. Two, I had to drive to a higher level. I'd had a very good first run, and I knew it would not be easy to go any quicker."
But he did, of course, because he was Ayrton Senna. I was happy for him. Me and 50,000 others, who were waving and cheering him as they danced for the rest of the afternoon.
QUIZ: Put your Brazilian Grand Prix knowledge to the test
It was a fillip for him, too, and not just because he'd wanted to give his countrymen something. In Phoenix, his hotel room had been broken into during the race. And here, while he and the team had been celebrating his 31st birthday in the garage on Thursday, with some high jinks and cake lobbing that made us laugh because it didn't sit well with Ron Dennis, a miscreant had walked off with an envelope containing several grandstand tickets Ayrton had secured for friends. He was very definitely not amused.
He looked relaxed on Sunday morning, though, once we'd arrived after the inevitable battle in traffic, like a man who knew he was on the brink of destiny. We all looked forward to a serious race. So did the crowd, who were waving and cheering themselves hoarse with expectation.
By the finish I had nothing left...
Race day: Mansell's 'banzai charge'
It rained yet again, after Mansell had headed Alain Prost's Ferrari and Patrese in the warm-up and Senna had been only fourth fastest. But it had dried out again for the start, and Ayrton went to the line in the spare MP4/6 after preferring it to his regular chassis. And he immediately opened a gap of eight-tenths over Nigel, as Riccardo got too much wheelspin off the line, and was 2.6s up by the sixth lap. But, as we'd hoped, the Briton began pushing very hard and after 21 laps only a second separated them. Now we had our race.
Prost's Goodyears had already cried enough, and Nigel pitted for fresh ones on the 25th lap. In the days leading up to the race Damon Hill had conducted some promising tests at Silverstone which had helped Williams to enhance their semi-automatic transmission's software, but when he went to re-join Nige, was clearly struggling to select a gear. You felt for him, especially as by the time he finally got one, his stop had cost him 14.6 agonising seconds.
PODCAST: Mika Hakkinen on Schumacher, Senna and recovery from injury
Ayrton's stop a lap later took only 6.93s, so as he retained his lead I thought he was a shoo-in for the win. By lap 28 the gap to Nigel had settled at 7.26s and all looked good for the local boy, especially as he had radioed in before his stop and the resultant change in tyre pressures on his second set of Goodyears made the MP4/6's balance better.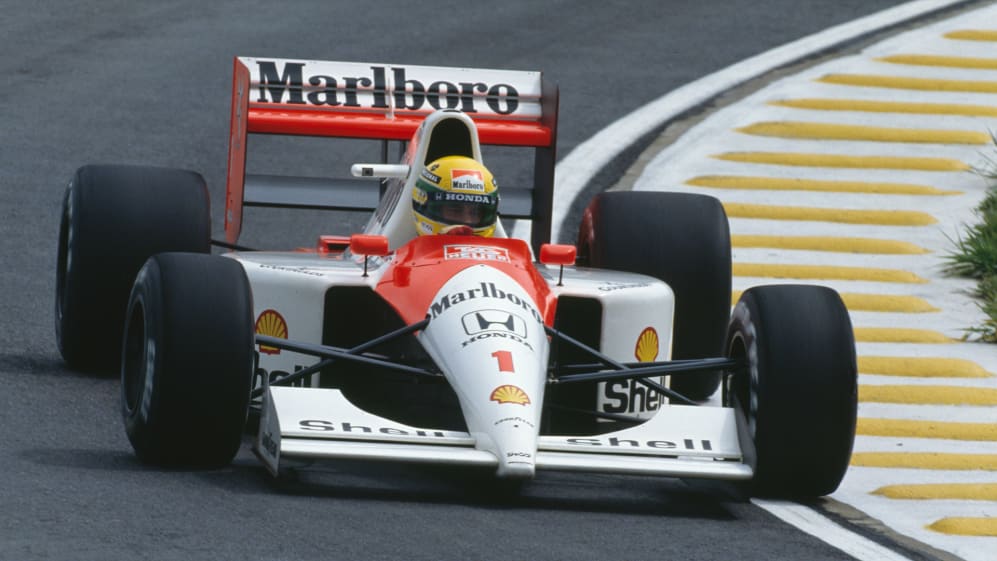 Nigel, however, was on one of those banzai charges that I loved watching. He was at his best as he steadily reduced the gap to 2.970s by the 42nd lap. The press room watched spellbound. Forget the trailing Ferraris, it was now crystal clear what a threat Williams were going to be to McLaren this year. I relished it. It was exactly what F1 needed.
WATCH: 5 shock moments from Brazilian Grand Prix history
Neither home, nor dry…
Ayrton eased the gap open in traffic, but then came reprieve. Nigel's right-rear tyre had sustained a cut on its centreline. In he came again, this time for 9.5s. When he re-joined Ayrton was 34.8s up the road and the task seemed impossible. But this was no ordinary race and as it transpired, even with that setback, Nigel could have won.
Unknown to anyone outside McLaren, Ayrton was now the one with gearbox gremlins. Around lap 50 fourth gear went AWOL.
"I tried to miss it out, going from fifth to third or third to fifth," he'd later reveal, and that explained some odd noises we'd heard after he'd sped past the press room windows and downshifted for Turn 1.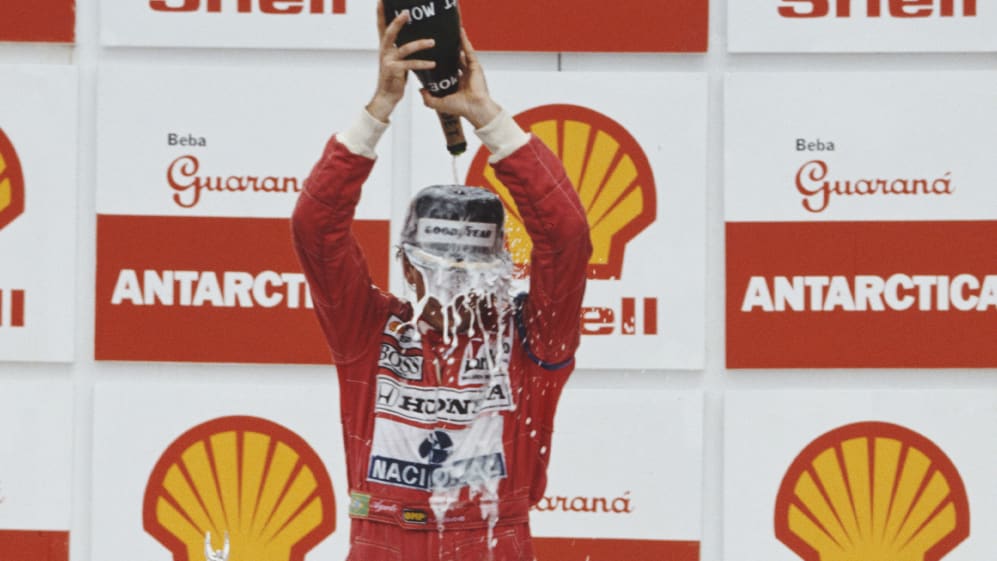 By lap 56, when the first spots of rain began to fall, Nigel was only 18.9s behind and going like the clappers. But then his transmission malfunctioned again. After problems in Phoenix Williams were running five rather than six speeds here, believing the problems arose in the shift from fifth to sixth, and vice versa. But that must have confused his gearbox, as it downshifted itself from fourth straight to first, prompting the Williams to rotate. After one of his famed spin turns Nigel got going again, only to discover that his sequential transmission, too, had lost fourth. He was out. 'Damn! There went our race.' Or had it?
Ayrton was still neither home, nor dry.
"With seven laps to go, third and fifth also went missing," he'd explain, which meant trying to circulate in sixth.
WATCH: Spectacular and emotional tribute to Ayrton Senna in Sao Paulo
As Ayrton's lap times went out to 1m 28s, Patrese smelled blood in the water and started to slash into a 20s deficit. Good old Riccardo! It was great to see his new lease of life. But, you guessed it, his transmission was also misbehaving.
"Should I be conservative and try to finish second?" he pondered. "Or should I push?"
Fortunately for Ayrton, he opted for the conservative route.
Okay, it was going to be Ayrton's race, and I was cool with that. He'd waited long enough, and a home victory would be such a great story. But he was really struggling. In the slow corners he was pulling only 2000 rpm and the engine was nearly stalling. In the fast corners it was really hard to stop the car, as it always wanted to push on with the limited engine braking. "I tell you," he told us later, "braking from 300 km/h to 70 for the first turn was not easy!"
READ MORE: Ayrton Senna in the F1 Hall of Fame
Fighting through the pain
By clever manipulation of his lines he reduced his lap time penalty to three seconds rather than six, but the rain worsened just as he began to suffer crippling shoulder cramps. They left him in such physical pain that his crew could hear him over the radio wailing during the final laps as he nursed his car and himself.
"The cramps were partly because the shoulder straps were so tight," he said later, "but also because of emotion! The rain really didn't help me and I was hoping they would stop the race. I saw Patrese coming and I didn't think I would make it."
And then he added something that made me realise just what racing at Interlagos truly meant to him, the huge burden that he carried. "I felt it was my duty to win here."
He was fighting not just his McLaren or Patrese's Williams. He was fighting himself. Somehow he clung on, to take a massively emotional victory by just 2.99s. On the slowing down lap as he savoured what he had finally achieved, we could hear his cries of joyous relief mixed with agony over the radio. To me they sounded almost inhuman. Like an animal caught in a trap, or a religious zealot in full spate.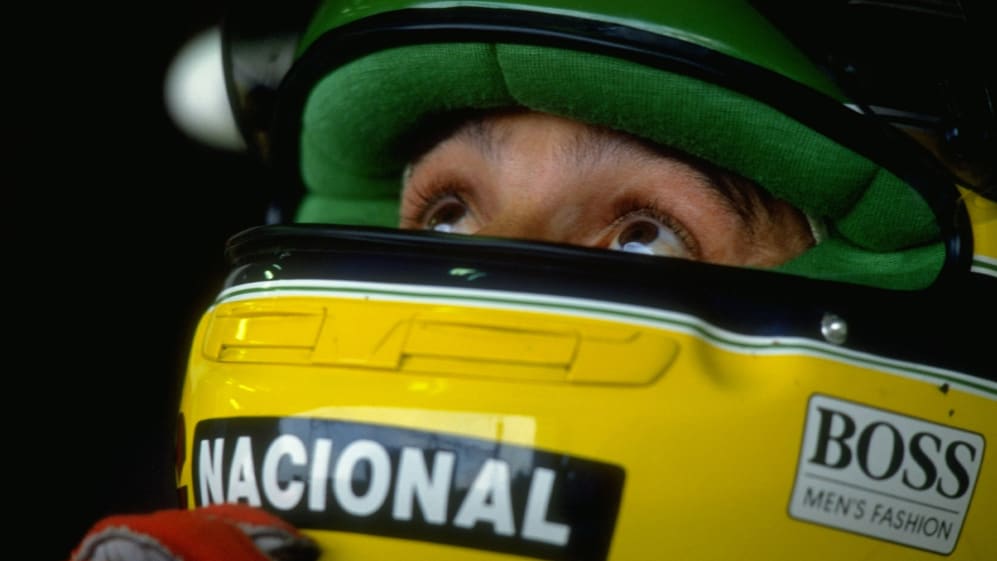 We watched spellbound as, in parc ferme, he was so exhausted he had to be helped from the cockpit by a concerned Professor Sid Watkins and driven in the medical car to the podium. And despite his achievement, which drove his adoring countrymen hysterical with pleasure, he was in such agony that he could barely lift the trophy, and nor could he bear the embrace of his father Milton, whom he begged not to touch him. You couldn't fail to feel happy for him, yet intensely moved by what you were witnessing, as we saluted him together with 70,000 ecstatic Brazilians.
I found his faith and courage moving again when, later still, he reflected: "By the finish I had nothing left. God gave me this race."
READ MORE: 'He obliterated the opposition' – remembering Senna's first F1 win
The streets outside Interlagos were jammed even at the late hour at which we left. And as I recall, that was the year our gang of British journos - Alan Henry, Maurice Hamilton, Nigel Roebuck and I - drove our hire car to our hotel, then hired a taxi to lead us to Guarulhos Airport. Sao Paulo always was a maze for us hacks.
On the way, every time I reflected on Ayrton's 28th win and its aftermath, one of his truly heroic drives, it gave me the chills. It still does.