'I wish it was like this more often' – Ricciardo delighted with P7 finish as he explains Tsunoda crash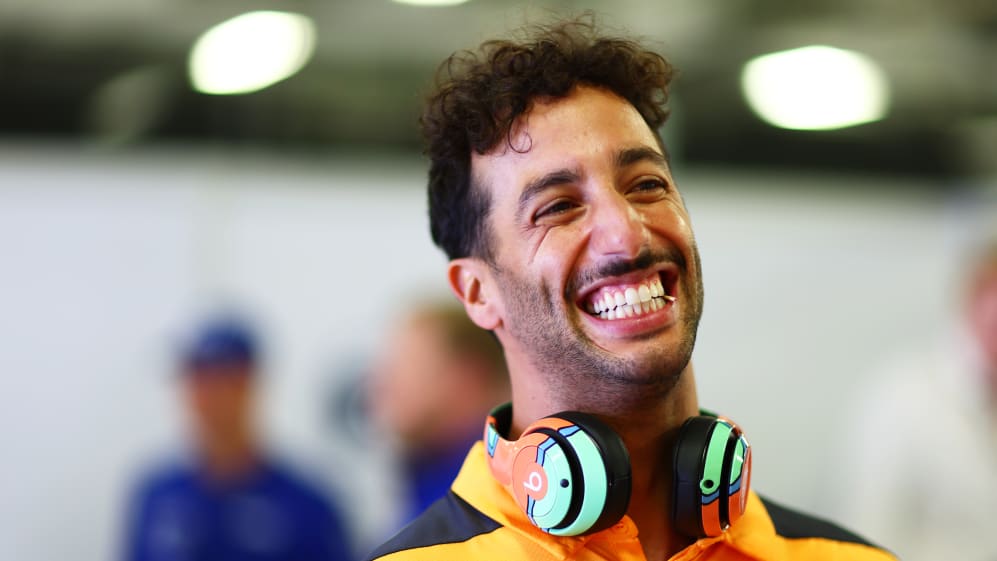 Daniel Ricciardo may have blotted his copybook with a dramatic collision with Yuki Tsunoda midway through the Mexico City Grand Prix. But after battling his way to a P7 finish, the Australian was left with mixed feelings after one of his strongest performances of 2022.
Gaining ground on Tsunoda on Lap 51 of 71, Ricciardo tried to make a move for P11 down the inside of Turn 6, but the McLaren driver ended up hitting the right-hand sidepod of the AlphaTauri, sending it airborne and into the run-off.
READ MORE: Verstappen makes F1 history as he beats Hamilton to victory in Mexico for 14th win of the season
While Ricciardo continued on, Tsunoda brought his car back into the pits and retired from the race, with the Australian receiving a 10-second penalty for the collision – albeit a late charge on the soft tyres earning him P7.
After the race, Ricciardo said: "I just saw the replay and it wasn't blatant. I've gone in, locked [up] and crashed into him. I feel like I held a pretty tight line. It was maybe a little bit me, there's a lot of blind spots, but all we needed was to give each other 30 more centimetres and then we were good.
"The truth is, I wasn't actually trying to lunge him in the corners, I was just trying to stay there, hold him a little bit wide then get the exit with the fresher tyre. But anyway, look, a 10 seconds penalty was more than enough to justify that, and I came back through.
"I actually didn't respond to Tom [Stallard, race engineer] when he said you've got [a] 10 seconds [penalty]. I was like, 'The one race where we've got pace!' So anyway, I got my head back down and we eventually pulled a big enough gap on the others so [I'm] happy."
HIGHLIGHTS: Watch as Verstappen dominates to take historic win in the 2022 Mexico City Grand Prix
Tsunoda was looking to claim back-to-back points finishes after his P10 result in Austin, but pondered what might have been and questioned Ricciardo's approach to their wheel-to-wheel scrap.
"It's such a shame. Until then it was super good. [We] managed [the race] well, pushing in the first stint on the soft tyre, getting positions, and it's so shocking how he overtook – it was almost impossible. I don't know if he had damage, but it's pretty shocking, what I had, and so frustrating."
Despite the incident with Tsunoda, Ricciardo would later go on to earn the Driver of the Day accolade after his fiery drive through the field that saw him do enough to take P7, his 10-second penalty notwithstanding.
FACTS AND STATS: Verstappen sets new season records for points and wins
And with the Australian now having just two races left with McLaren after he and the team agreed to part company a year before the conclusion of his contract, there was a hint of the bittersweet at Ricciardo's storming performance, as he finished two spots ahead of team mate Lando Norris.
"It's so nice," he said of the performance. "I wish there was an explanation why it hasn't been like this more often, races where I can just lean on the car and kind of put it where I want.
"Obviously there's only a few left, better late than never, happy to have had an attacking race. I feel normally if we're in the points, we're looking in the mirrors, so to come through the field felt good and yeah, the team I'm sure feel happy as well, and relieved after the penalty."