'I'd always be Kimi in computer games' – Hamilton leads tributes to Raikkonen after Finn announces retirement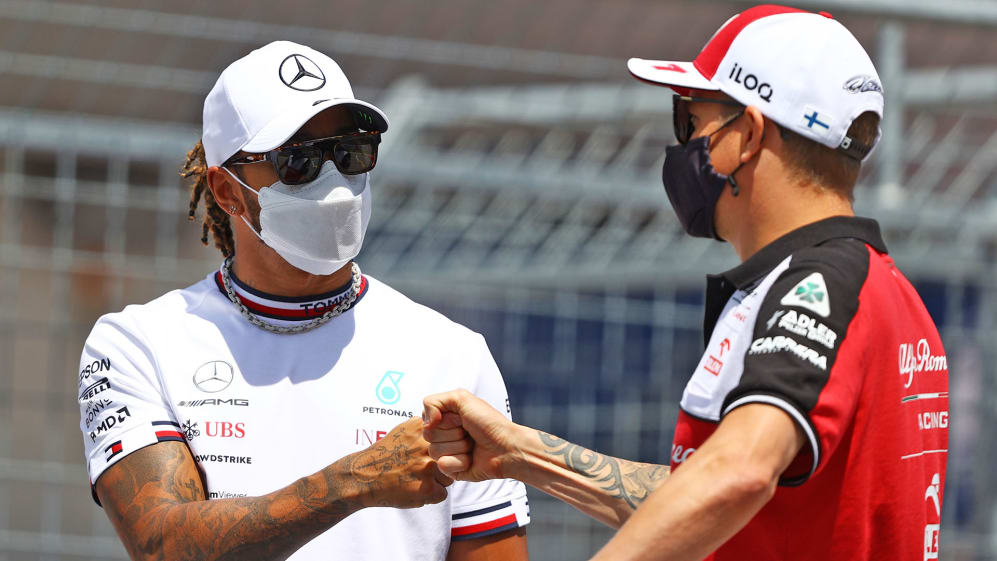 "A bit of a legend", "very unique" and a "an incredible talent" were all phrases used by the current crop of F1 drivers to describe Kimi Raikkonen, following the Iceman's announcement that he would leave the sport at the end of the year – with Lewis Hamilton, who replaced the Finn at McLaren in 2007, leading the tributes.
Raikkonen's 19th season competing in the sport – having made his debut in 2001 – will be his final one, with seven-time champion Hamilton, speaking at Zandvoort ahead of the Dutch Grand Prix, revealing how the Finn had been one of his idols growing up.
"I remember before I got to Formula 1, in computer games I'd always be in Kimi's car," chuckled Hamilton. "So I had this crazy experience of racing against him, losing a championship to him and then [having] lots of great battles [with him]. He will be missed."
READ MORE: 'I did it my way' – Raikkonen says he has no regrets as he calls time on illustrious F1 career
Hamilton's assertion that Raikkonen was "tough but very, very fair" in on-track battling was echoed by another of Raikkonen's great rivals and team mates, meanwhile, with Fernando Alonso saying that the Finn was "always fair, always respectful, always a tough competitor but also cool... No tricks.
"In that aspect I will miss him because you knew you could trust Kimi when you were side by side," added Alonso, who partnered Raikkonen at Ferrari in 2014. "He will never do any crazy thing or anything that would put you in danger."
ANALYSIS: What Raikkonen's retirement means for Alfa Romeo's 2022 line-up – and the rest of the driver market
One driver who knows Raikkonen better than most is another former Ferrari team mate Sebastian Vettel – who joked when asked what he would miss most about the Finn in Formula 1.
"The silence!" said Vettel, adding: "He's an incredible talent and seeing that first-hand as a team mate for some years was impressive, just the amount of speed he has right from the get-go and the ability he has to get used to different cars, different conditions. He definitely earned his place and had a long, great career."
Raikkonen also has the bizarre accolade of having competed against the fathers of several drivers on the current grid, namely Jos Verstappen and Michael Schumacher. And it was clear to see that many of the younger F1 drivers held Raikkonen in great esteem, with AlphaTauri's Pierre Gasly telling the media: "There is only one Kimi and he is very unique, so clearly he is going to be missed by everybody in the paddock.
"I remember my first memories of watching F1 are from the 2002-2003, so Kimi was already there... and then I ended up in Formula 1 racing against him. So very privileged and for sure we'll miss such an iconic driver in the paddock."
BUXTON: Raikkonen's departure deprives us of a true original – we may never see his like again in F1
Current Williams driver George Russell, meanwhile, shared a slightly more irreverent story of his own first meeting with Raikkonen.
"The first time I ever spoke to Kimi, the conversation ended with him twisting my nipples!" said Russell. "[It was] at the FIA Gala in 2018. He's one of a kind, and respect for everything he's achieved on-track and off… as well. He's a bit of a legend and for sure he'll be missed – there's no one like him."
Finally, Raikkonen's fellow countryman Valtteri Bottas paid tribute to his compatriot, telling the media in Zandvoort: "As a youngster I was following him closely when he started in F1.
"At that time, I was doing my first season in single seaters in Formula Renault when he won his title with Ferrari.
READ MORE: 'There isn't any driver out there like Kimi' says Alfa boss Vasseur as Raikkonen announces his retirement
"He's obviously a big star in Finland, a bit of a legend and it was always good fun to watch him and nice to race with him because he's one of the drivers that when you race with them, you're quite comfortable going wheel to wheel. He's always had good respect to his competition – and that's the way I like racing as well."