'I'd rather fight than finish P11 or P12' says Raikkonen as he and Perez escape penalty after late collision
Alfa Romeo's Kimi Raikkonen was sent spinning from P11 to P16 in the closing stages of the British Grand Prix after a tussle with Red Bull's Sergio Perez, but though the stewards chose to investigate neither driver picked up a penalty for the incident. Afterwards Raikkonen said it was the result of him spending the whole race "looking in his mirrors" rather than forwards.
Raikkonen was on the verge of the points-scoring places with Perez behind, the Mexican applying sustained pressure for a number of laps, until the Red Bull driver passed him on the exit of the final chicane on Lap 45. The Finn was then sent into a spin but Stewards investigated the incident and found neither to be at fault.
READ MORE: 'It was a desperate move' – Furious Horner hits out at Hamilton after Verstappen crash
Their report read: "Cars 7 [Raikkonen] and 11 [Perez] went through Turn 16 almost side by side, with Car 11 slightly in front on the inside of the left hand turn. At the entrance to Turn 17, Car 7 was forced onto the kerb to avoid contact and spun as a result.
"In discussions with the drivers and team representatives, they all felt that no one was predominantly at fault. The Stewards agree and take no further action."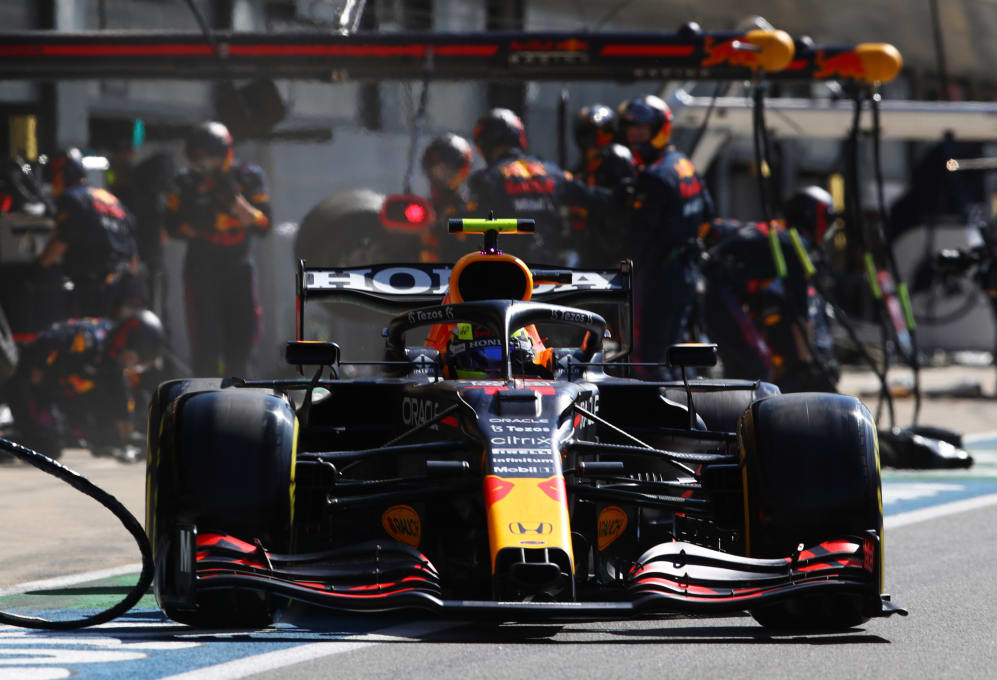 "It wasn't too bad a race until the contact with Perez. We knew it would be a difficult afternoon but we had a good start and were able to run in the top ten for a while. I had a nice battle with Sergio, we went side by side in quite a few corners but suddenly the space was gone: I am not sure what happened but I spun and that was it," said Raikkonen.
"In the end I think I'm watching more my mirrors than [looking] forward all the time. The race is purely trying to defend. We need to be faster. I tried. I'd rather fight for positions than finish 11th or 12th."
After the incident Perez pitted for fresh rubber and took fastest lap, denying winner Lewis Hamilton a bonus point for himself and Mercedes. As a result, Raikkonen finished ahead of the Red Bull driver in P15.
Red Bull left the British Grand Prix without any points for the first time since 2008 as Hamilton took a historic victory and Max Verstappen retired in a high-speed crash.
READ MORE: Verstappen transferred to hospital for further checks after British Grand Prix crash