Feature
IDEAL LAP: Bottas quickest – but returning Hamilton poised to strike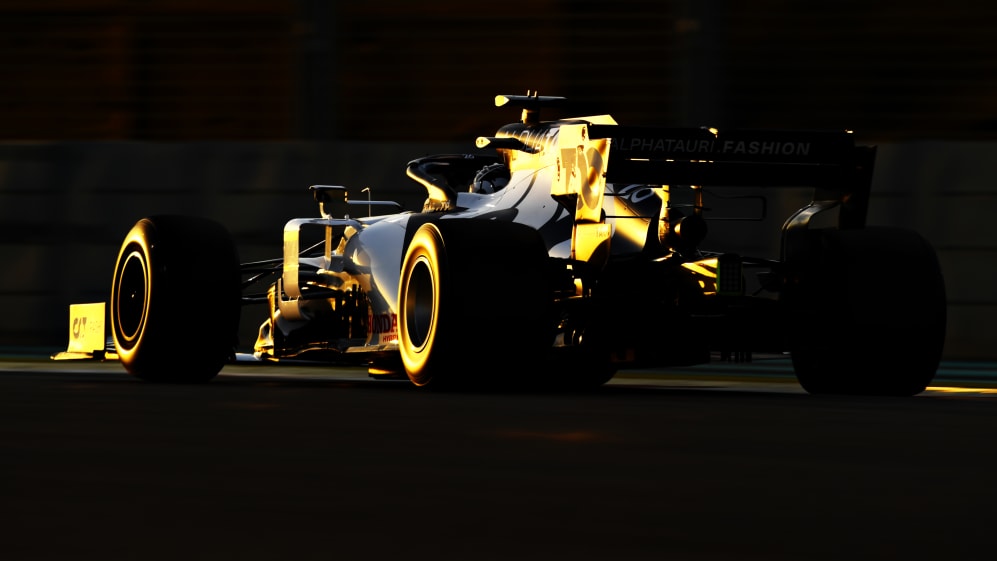 Valtteri Bottas set the pace in Friday practice for the Abu Dhabi Grand Prix, but if every driver had managed to put their best mini-sectors together, would the Finn still have ended up on top? The data suggests not…
The graph below plots a driver's classified lap time against his ideal lap time. What's an ideal lap time? Allow us to explain…
Ideal lap explained
An F1 track is broken into three sectors for timing purposes. However, those sectors are also split into smaller 'loops' or mini-sectors. In our ideal lap calculation, we add together a driver's quickest individual loop times from a session, regardless of which lap they were set on.
This gives us a theoretical best lap for each driver i.e. what their fastest lap time would look like if they set their best times in each loop on the same lap. If there is a large gap between a driver's actual lap time and their ideal lap time on the graph, that suggests they are potentially able to lap a lot faster than they showed in any given session. All they need to do is hook up a perfect lap…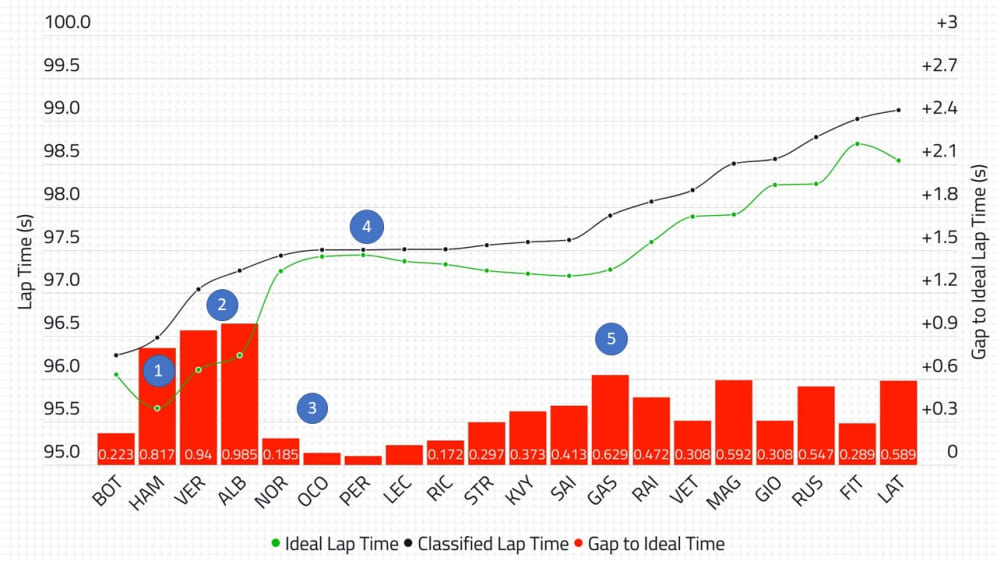 What the graph shows
1 Hamilton set to be the one to beat
Lewis Hamilton said he was grateful to be back in his Mercedes after missing the first Grand Prix of his career following a positive Covid-19 test. And while he didn't set the timesheets alight, it was clear he's lost none of his pace. The Briton should have gone quickest, having set a lap that was two tenths quicker than Bottas' best, only for it to be deleted for exceeding track limits. But it should have been even better according to our mini-sectors data, with Hamilton leaving 0.8s on the table in his first day back in the car.
2 Plenty more to come from both Red Bulls
Max Verstappen's soft tyre run was ruined when he got baulked by Racing Point's Sergio Perez, who was on a long run, so ultimately not representative. Had he got a clean lap, with all his best mini-sectors, our data suggests he could have gone nearly a second quicker which would put him close to on par with Bottas. Might explain why he's feeling optimistic about his chances this weekend versus Mercedes.
3 Norris best of the rest
There's an expanse between Mercedes/Red Bull and the rest of the field at Yas Marina. The leader of the chasing pack was Lando Norris on Friday and even when all the best mini-sectors are taken into account, the McLaren driver remains in that position, with a bigger advantage having left nearly two tenths of a second out on track.
4 Ocon and Perez get almost everything out of their cars
Esteban Ocon was in good spirits on Friday evening, the Frenchman still riding high after his maiden podium last time out in Bahrain, and it was understandable given it looks like he got everything out of the car based on our data. However, had everyone hooked up their best mini sectors, Ocon would have dropped to P12. And Perez, who was just one place behind him in the standings and will have a hefty grid penalty after engine component changes, would drop to P13.
5 Gasly should be a top 10 contender
Pierre Gasly found himself unusually outside of the top 10 in Friday practice, but had he got all of his best mini-sectors together, the Frenchman could have gone 0.629s faster. That would have put him ninth overall in the rejig. Only Hamilton, Verstappen and Albon had bigger gains to find. The midfield is mighty close, with fifth down to 12th separated by just two tenths of a second, so the AlphaTauri driver, a race winner in 2020, should very much be in the fight for points.