Norris relishing tight midfield battle in Abu Dhabi, even though it 'makes our lives more difficult'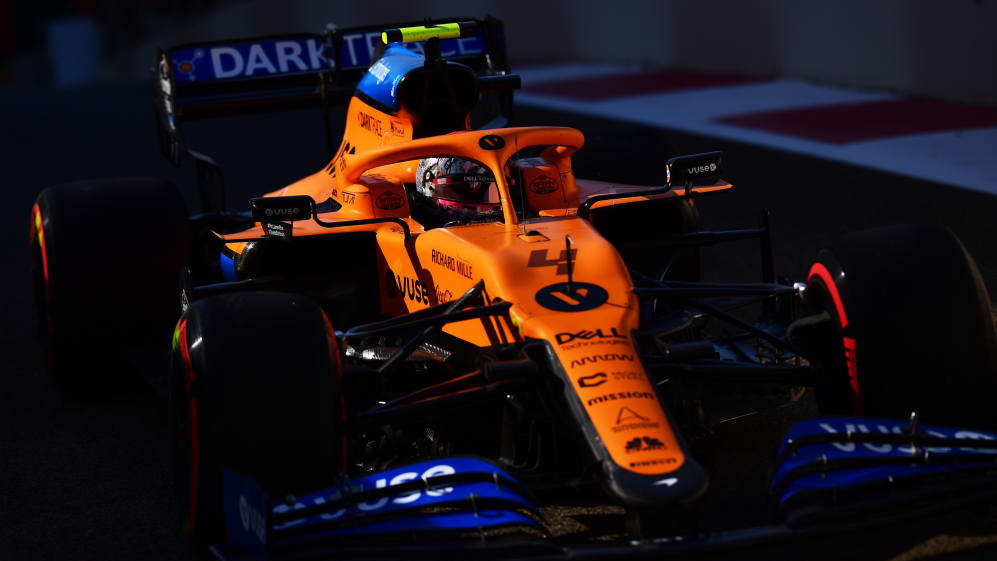 Lando Norris ended Free Practice 2 in fifth place, and the fastest of a tightly packed group of midfield runners, with the gap from Norris to his 12th-placed McLaren team mate Carlos Sainz just 0.178s. And while Norris admitted he was enjoying the tight battle against his rivals, the closeness of the field was making him nervous for McLaren's chances of closing down the gap to Racing Point in the constructors' championship this weekend.
McLaren head into the Yas Marina weekend 10 points adrift of Racing Point in the constructors', with Renault a further 12 points behind McLaren. But with all six of those teams' drivers finishing FP2 in the top 12 and seemingly in the fight for Q3 tomorrow (although Sergio Perez will start at the back of the grid after a change of power unit elements), Norris said that qualifying would likely be high stakes on Saturday.
READ MORE: FP2: Bottas leads Hamilton under the lights in Abu Dhabi as Verstappen takes P3
"I don't think it's anything to be happy about," said Norris of his P5 in FP2, with Sainz and Norris having finished FP1 in 11th and 13th respectively. "Just a lot of motivation, I guess, to push on and try and make some more improvements for tomorrow. But there was very little difference between me and Carlos and we're split by seven cars or something. It's cool, it's nice when it's like this but it also makes our lives very difficult.
"There's definitely some things we've got to work on," Norris added, "but it's not like there's loads left in the car. Today we didn't do a bad job, and we maximised already some areas, so there's things to come and some time to come, but we're not going to transform the car overnight. There's going to be some small improvements and we'll just hope the other teams don't have any big improvements to make."
Sainz, meanwhile, was left puzzled, after feeling happier with the initial impressions of the McLaren than he had been at the Sakhir Grand Prix weekend – but complaining that the MCL35's performance wasn't as strong on the soft tyre as he was used to.
"It was a bit different to what we expected to be honest," said Sainz of his Friday. "The general feeling with the car this weekend has been better straight out of the box. We've found a better baseline than in Bahrain 2, which gave us a bit of an encouraging feeling.
MUST-SEE: Fernando Alonso drives his 2005 title-winning Renault R25 at Abu Dhabi
"But at the same time, every time this week we put a soft tyre on, we've been very slow. It's something to find out because it's normally the opposite with our car. Normally we put soft tyres, low fuel and the car gets better. But today, for whatever reason, we had some problems extracting some performance out of the soft tyres, so we need to find them because obviously qualifying here is pretty important.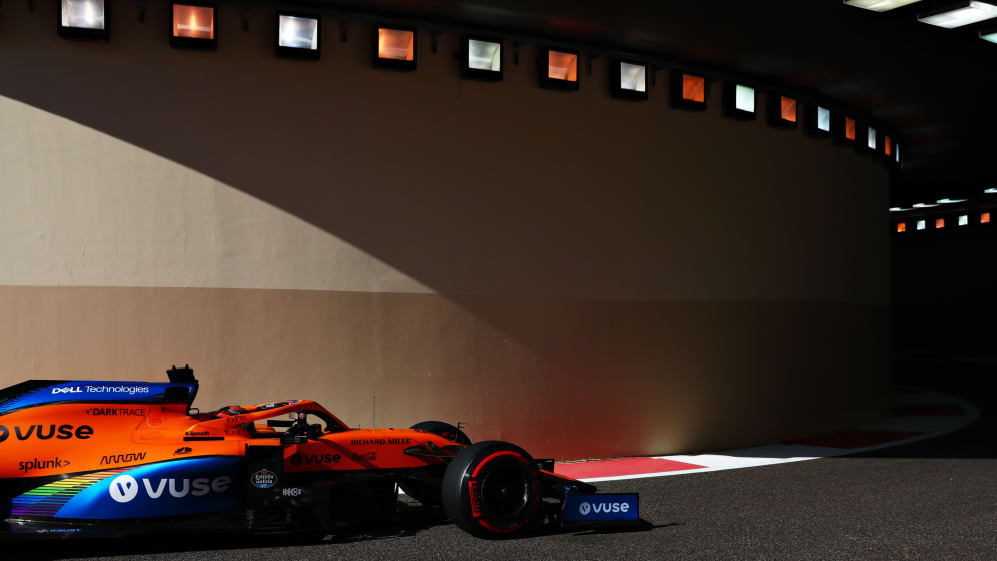 "It could be a good one," added Sainz of his prospects for qualifying, "especially because today, I don't think we extracted the maximum out of the car. We were definitely a bit underperforming on the softs, so I feel like if we put a good lap together tomorrow and we manage to find the problems we are having on this compound, we all of a sudden can be looking a bit better."
READ MORE: Russell, Grosjean, Leclerc and Vettel reveal one-off helmet designs for Abu Dhabi Grand Prix
Meanwhile, despite FP2 having been red flagged following a fire for Kimi Raikkonen's Alfa Romeo, interrupting the team's long run plans, Norris said that McLaren were "as ready as we can be" for the rest of the weekend.
"Obviously it was a bit disrupted with the red flag," said Norris of FP2. "But we have a good understanding of both [long and short runs]. Maybe a little bit different to what we were expecting, or what it was last year in some aspects, but we did our homework and I feel like we're as ready as we can be."