Feature
IDEAL LAP: Does Bottas have the pace in hand to beat Hamilton to pole at Monza?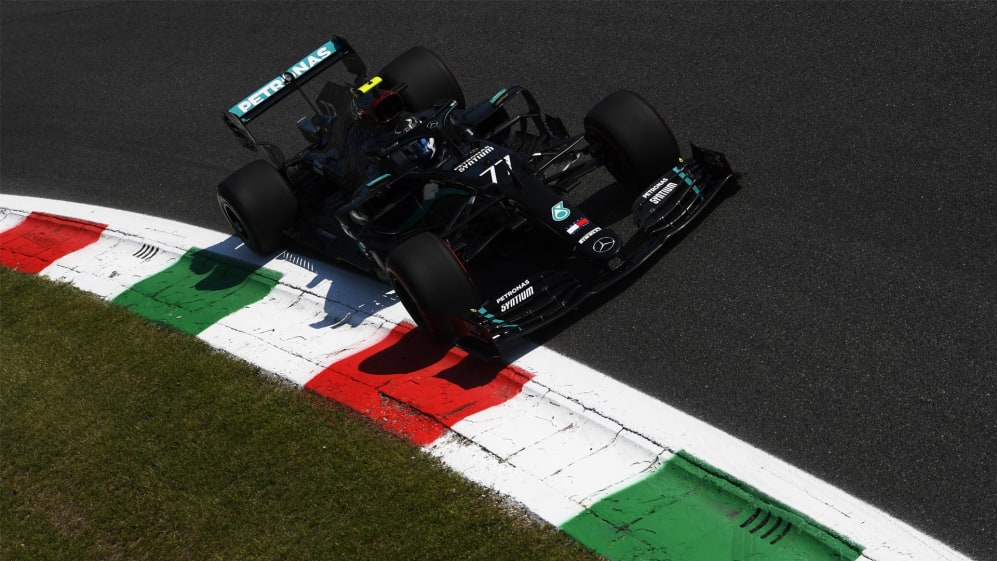 Lewis Hamilton gained the upper hand on Mercedes team mate Valtteri Bottas in second practice for the Italian Grand Prix, but had both drivers hooked up all of their best mini-sectors, would that have remained the case? And do rivals Ferrari have anything to smile about on home soil? Let's check the data...
The graph below plots a driver's classified lap time against his ideal lap time. What's an ideal lap time? Allow us to explain…
REPORT: Hamilton heads Bottas as Norris takes impressive third in second practice at Monza
Ideal lap explained
An F1 track is broken into three sectors for timing purposes. However, those sectors are also split into smaller 'loops' or mini-sectors. In our ideal lap calculation, we add together a driver's quickest individual loop times from a session, regardless of which lap they were set on.
This gives us a theoretical best lap for each driver i.e. what their fastest lap time would look like if they set their best times in each loop on the same lap. If there is a large gap between a driver's actual lap time and their ideal lap time on the graph, that suggests they are potentially able to lap a lot faster than they showed in any given session. All they need to do is hook up a perfect lap…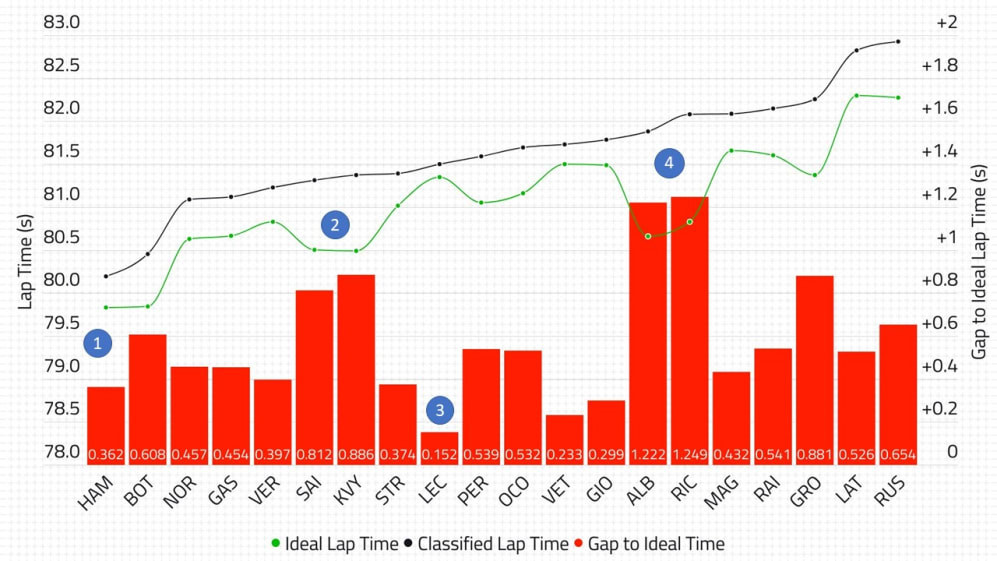 What the graph shows
1. Nothing to choose between Hamilton and Bottas
It was first blood to Bottas in first practice, but Hamilton turned the tables on his team mate in the second session at Monza, ending up 0.262s clear. As you'll see from the graph above, both drivers could have gone quicker had they hooked up their best sectors.
Hamilton has 0.362s in his pocket, with Bottas almost double that. That means if they had achieved their individual peak, they are neck and neck.
READ MORE: 'It's going to be a nightmare' – Hamilton braced for more qualifying shenanigans at Monza this year
2. More to come from Sainz and Kvyat
Carlos Sainz was pretty happy with his efforts in Friday practice, the McLaren driver inside the top 10 in both sessions. So too was AlphaTauri rival Daniil Kvyat. But they could have been even happier if they had hooked up all his best mini-sectors, the duo capable of a lap time that could have been 0.8s quicker than what they managed.
3. Albon and Ricciardo are much faster than they look
Several drivers had their lap time deleted for exceeding track limits during practice, with Daniel Ricciardo and Alex Albon getting their wrists slapped when it mattered – on their low-fuel soft compound runs in FP2. It's why neither were too worried with their finish in the final classification, and explains why they were 1.2s off their respective ideal laps.
4. Vettel and Leclerc did what they could
Ferrari knew this was going to be a difficult weekend – and it's so far proved to be. But according to our data, it wasn't for want of the drivers trying. Off all the field, Charles Leclerc's ideal lap was the closest to his classified time, just 0,152s adrift, while Sebastian Vettel was second closest, 0.233s off. It looks like being a touch weekend ahead for the red cars...
READ MORE: Ferrari drivers targeting Q3, despite labelling SF1000 'a handful' around Monza