'I'm not at all to blame' – Bottas takes no responsibility for dramatic restart crash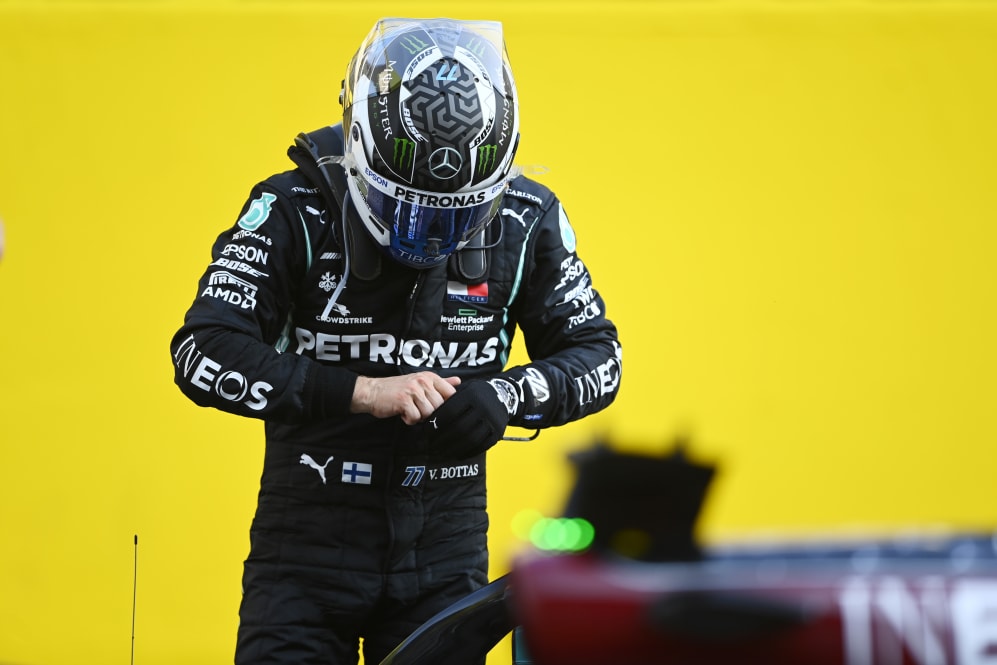 The first ever Tuscan Grand prix was punctuated by not one but two red flag stoppages, the most dramatic of those coming at the Lap 7 Safety Car restart, as behind race leader Valtteri Bottas several drivers were caught up in a horrific-looking shunt on the pit straight. But after eventually finishing the race second to his Mercedes team mate Lewis Hamilton, Bottas denied that he'd been responsible for causing the crash.
In the early part of the race at Mugello, the field were running behind a Safety Car brought out after a chaotic first lap that saw Max Verstappen and Pierre Gasly retire from the Grand Prix at Turn 2, with a number of runners also caught up in the incident. A strong initial start for Bottas, though, had seen him jump polesitter Lewis Hamilton – and as he prepared for the restart on Lap 7, the Finn was seen to weave slowly down the pit straight, leaving it late before accelerating away from Hamilton.
READ MORE: Hamilton beats Bottas to win crazy Tuscan GP, as Albon secures maiden podium
Behind, though, a number of drivers appeared to try and second-guess Bottas' restart, leading to carnage as Antonio Giovinazzi rear-ended the Haas of Kevin Magnussen, with Nicholas Latifi and Carlos Sainz also taken out in the incident – fortunately without any injury.
"I'm not at all to blame for that," said Bottas after the race. "Everyone can look at everything they want but I was doing consistent speed until I went. Yes, I went late but we start racing from the control line, not before that, so the guys behind who crashed because of that, they can look in the mirror. There's no point whining about it.
WATCH: Nicholas Latifi 'couldn't avoid' Tuscan GP restart crash
"We're allowed to race form the control line, [and that rule] has been there for a while I think," Bottas added. "The difference this year is the Safety Car, they are putting the lights off quite late, so you can only build the gap pretty late on. So of course, when you're in the lead you try to maximise your chances…
"I don't know who decided what happens with the Safety Cars, but they're trying to make the show better by turning the lights [off] later, so you can't build a gap early and then go, like, a corner before the race start. Maybe it's time to think if that's right and safe to do so."
After the crash resulted in a red flag, Bottas would ultimately lose out to Lewis Hamilton at the subsequent race restart, with Hamilton going on to secure his 90th win. But Hamilton was backing his Mercedes team mate over the incident at the race-end.
READ MORE: 'We shouldn't have been in that position' – Verstappen rues power problems that led to lap 1 crash
"It's absolutely not Valtteri's fault at all," said Hamilton. "They've been moving the switching off of the Safety Car lights later and later and later. We're out there fighting for position, and especially when you're in a position like Valtteri, you've earned the position of being in the lead and then – obviously they are trying to make it more exciting but today was probably a little bit over the limit. But he did exactly what anyone would do."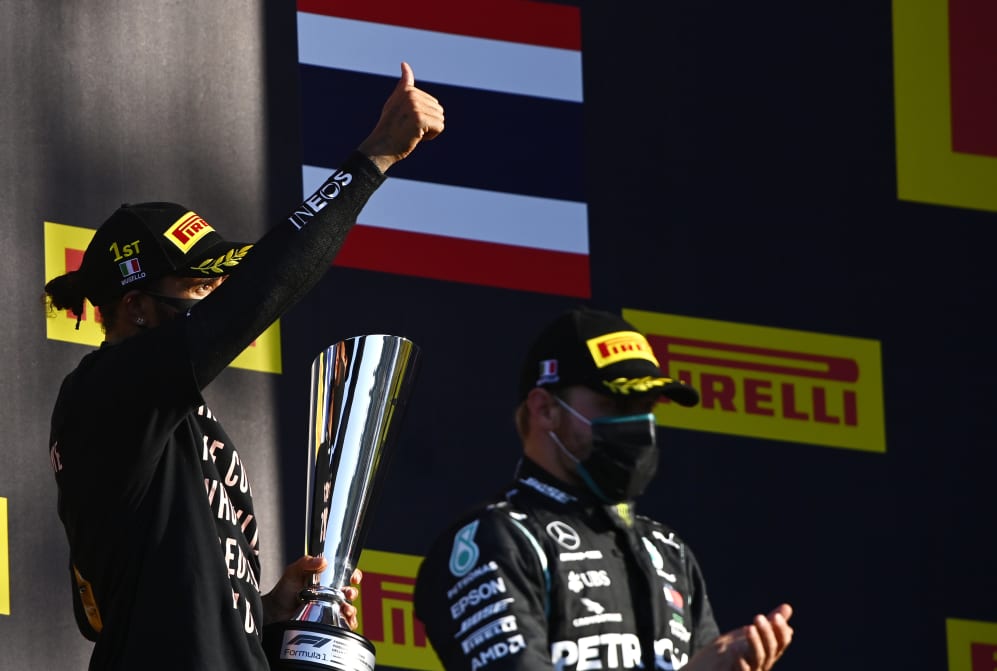 Meanwhile, the race stewards would later exonerate Bottas too, handing warnings to the drivers involved in the crash, while ruling that: "The driver of Car 77 (Valteri Bottas)… complied with the regulations. Car 77 had the right under the regulations to dictate the pace."
More generally, Bottas was left to reflect on another loss to Hamilton in 2020, with the Finn having even briefly fallen behind the Renault of Daniel Ricciardo to third at the second race restart – after an off for Lance Stroll brought out another red flag – before repassing to finish P2 ahead of Red Bull's Alex Albon, with the Finn now 55 points behind Hamilton in the drivers' standings.
READ MORE: Stroll blames puncture or suspension failure for massive crash at Mugello
"It feels like we had three races today," said Bottas. "The first part was really good – but it was pretty short. Once I lost the position to Lewis, it was really tricky to get it back... Obviously I tried everything I could. The middle stint, I was pushing really hard behind him, just trying to maintain a good distance. But obviously when you're behind, you need to slide the car more in the corners, so I ran out of tyres at the end and we had to go on the hard tyre.
"On the second restart, I just felt like on the left-hand side, there were a little bit of marbles so the start was pretty bad, lost one position but managed to gain it back, so I was trying at the end. But there was not much more I could have done."