'I'm not here to let everyone past' – Norris defends collision with Leclerc after 'disappointing' DNF in Sao Paulo
Lando Norris endured a foreshortened but eventful Sao Paulo Grand Prix after colliding with Charles Leclerc in the opening stages of Sunday's race before retiring later with an "electrical" issue – leaving Norris to review a "disappointing" afternoon.
Norris overtook Leclerc at the start to get up to fifth, but after the Safety Car restart – brought about by Daniel Ricciardo and Kevin Magnussen crashing out on Lap 1 – the two drivers made contact at Turn 6, with Leclerc spinning off into the barrier.
While both were able to continue, Norris received a five-second time penalty for his part in the incident. After the race, he gave his side of the story, making it clear that he did not believe he was solely to blame for the collision.
READ MORE: 5 Winners and 5 Losers from the Sao Paulo Grand Prix
"He tried to go round the outside, there was a bit of contact. I obviously didn't want any contact, I need a clean race," said Norris. "But I'm not just going to let everyone past, I'm not here to let everyone past. I tried to hold my line and I held my line as much as possible.
"Maybe I could have given five centimetres more and he could have given five centimetres more. We are on [the first lap of the restart], he tried squeezing me on the entry; maybe he should have expected a little bit more off me not being able to hold the inside the line the whole way through. But I did my best."
READ MORE: 'It wasn't clear we could make it to the end' – 'Super proud' Wolff on how close Russell came to losing Sao Paulo win
He continued: "I feel that it was a bit of a racing incident at the end of the day. I know he came off worse and that is a shame. I obviously didn't want for that to happen. But that wasn't the problem. That was just life and the rest of it, we were just way too slow. The car wasn't performing well today at all, and we didn't even finish the race, so disappointing."
When asked if he had any damage after the incident, Norris said: "I want to believe there was a little bit of damage. Maybe I'm completely wrong and making it up. But I'm sure there was something small, more in the steering; it felt a little bit of centre after the incident.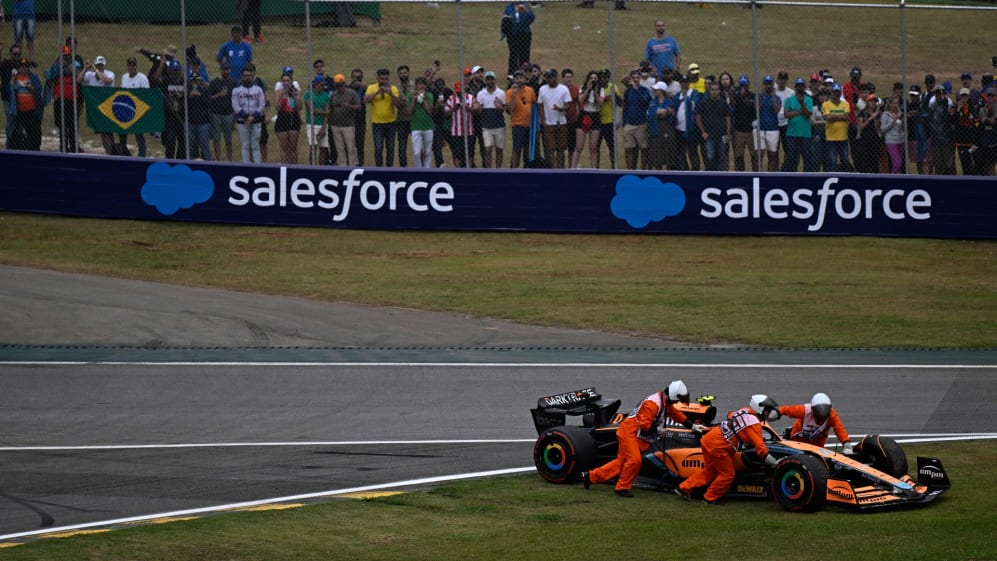 "But it didn't cause us any pace drop I don't think. Maybe a tenth a lap or something, but we needed maybe half a second a lap or something, so a shame."
MONDAY MORNING DEBRIEF: Why Red Bull had no answer for Mercedes and Ferrari in the Sao Paulo GP
Later in the race, Norris was running in 12th when he stopped on track, telling his team "I've lost power". The Briton later revealed the cause of the issue, although he says a top-10 finish was unlikely even if he had been able to finish.
"I think an electrical issue," Norris revealed. "I doubt we would've finished in the points at the end of the race. We were just very slow, as simple as that. Maybe we would have finished 10th, possibly. We obviously didn't even end the race. Yeah, it was a bit of a shame."
McLaren's non-score at Interlagos puts rivals Alpine – who claimed 14 points in the Sao Paulo Grand Prix – very much in the box seat to take P4 in the constructors' standings at the season finale in Abu Dhabi next weekend, Alpine currently heading McLaren by 19 points.