'Lap 1 incidents are brutal' – Magnussen and Ricciardo reflect on race-ending collision in Sao Paulo
It was a short Sao Paulo Grand Prix outing for Daniel Ricciardo and Kevin Magnussen after the two drivers made race-ending contact on Sunday's opening lap. After the incident, both drivers gave their version of events...
Ricciardo and Magnussen were battling for ninth on the first lap of the race when the the McLaren driver tagged the rear of the Dane's VF-22 on the entry to Turn 8, resulting in the Haas racer spinning around.
Both drivers looked to have gotten away without significant damage until Magnussen rolled backwards into the path of Ricciardo as he attempted to go past him, with the second collision sending the Australian into the barriers and both racers out of the Grand Prix.
READ MORE: Russell takes maiden victory as Hamilton backs up Mercedes 1-2 in Sao Paulo
Speaking after the race, Ricciardo – who has been given a three-place grid penalty for the Abu Dhabi Grand Prix after being judged to have been at fault for the collision – admitted it was a "brutal" way for both drivers' races to end.
"Lap 1 incidents are brutal for sure," said Ricciardo. "I don't think there is anything worse than a Lap 1 incident because you obviously get so excited to go racing. The start was solid, I had [Pierre] Gasly. I haven't seen a replay yet but what I remember was I had a decent run through six, seven and I remember cutting back to the inside for eight and I was kind of having a look but also just trying to brake with a little bit of clean air.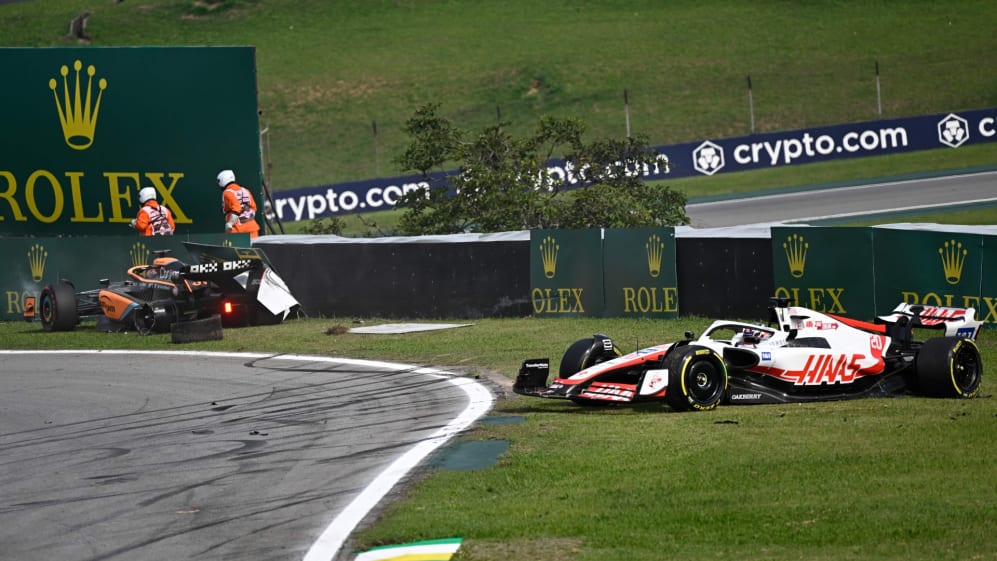 "I remember braking, I remember then Kevin protecting the line, so I was then just trying to pull back in line and I remember it bottling up a bit and then obviously at the apex I gave him a little touch. To be honest it didn't feel like much and then as soon as I saw him about to slide I was like 'oh' and then the second part, obviously that is when we made bigger contact."
MONDAY MORNING DEBRIEF: Why Red Bull had no answer for Mercedes and Ferrari in the Sao Paulo GP
He added: "I don't know… I could have braked harder or more or if it was just the way he squared up the corner or the angle, I don't know. Also, I'm not here to say it's his fault, my fault; of course I mean if it's my fault of course I'll apologise.
"But it's more just I'm sorry for both of us for not being in the race and sorry for our teams. That's the part that hurts the most... and Lap 1 incidents, they are certainly the worst."
Magnussen – who took his maiden F1 pole position on Friday – was disappointed that Haas were not given the chance to "capitalise" on the improved pace they had shown in Brazil, meanwhile.
FACTS AND STATS: Russell and Hamilton take first British 1-2 since 2010
"That was obviously a race I wanted to be part of," admitted Magnussen. "I think our car has had great pace all weekend… Daniel didn't do it on purpose but of course it's no use for us. But we will move on.
"We are not always happy, and we've been this weekend. It's a shame that we weren't able to capitalise fully today because our car had great pace this week."