Imola race winner Hamilton says he wants to stay in F1 but there's 'no guarantee'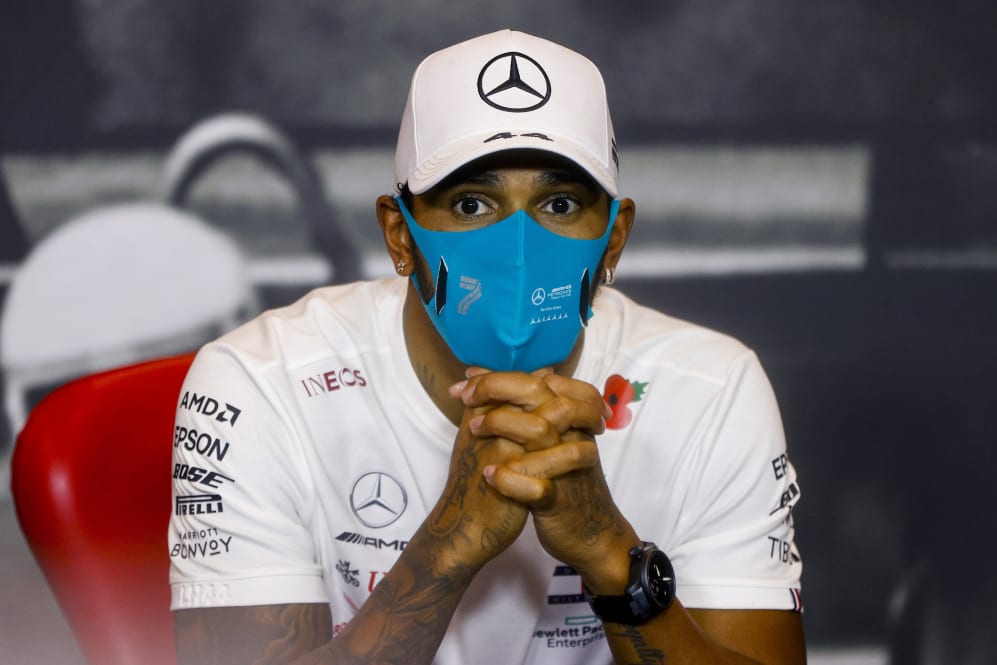 On the day he helped Mercedes to a record-breaking seventh straight constructors' crown, Lewis Hamilton said that while he would like to race in Formula 1 next season, there's "no guarantees" that he will as the reigning six-time world champion has yet to sign a fresh deal with Mercedes.
The Briton's contract expires at the end of the current campaign and while he and Mercedes Team Principal Toto Wolff have insisted consistently that they want to continue the partnership, they have as yet not sat down to hammer out a new contract.
READ MORE: Hamilton wins wild race in Imola as Mercedes clinch seventh-straight constructors' title
Wolff intends to stay with Mercedes beyond this year, though he admits what role he fulfils is yet to be decided. Told that Wolff may not be in the team boss role next year, Hamilton who earlier on Sunday won the Emilia Romagna Grand Prix replied: "I don't know if I'm going to be here next year, so it's not really a concern for me at the moment.
He added: "We are in November and it's crazy that Christmas is not that far away. Naturally, I feel great and feel very strong. I feel like I could keep going for plenty of months.
"I would like to be here next year but there's no guarantee of that for sure. There's a lot that excites me of the afterlife, so time will tell."
Those comments were put to Wolff later on Sunday, with the Austrian saying he hopes that Hamilton will stay on.
READ MORE: Ricciardo shocked to take 'surreal' Imola podium and share 'shoey' with Hamilton
"I guess if he were to decide to step out of Formula 1, which I don't think is going to happen and I hope is not going to happen, I think we are going to have a pretty frantic driver market out there," he said.
"But I think it's the moment and the emotions, we are all happy but very tired also. It's the same for me. I completely relate with his feeling, that you question yourself and you think about all the other things that matter when you switch on the new in the morning and you switch it off in the evening it is all about the struggles that we all face."
Lawrence Barretto, Senior Writer for F1.com says...
Hamilton's comment that there are "no guarantees" he will be around next year have caused quite the stir – but they should be taken with a pinch of salt.
The Briton was speaking in the immediate aftermath of his 93rd Formula 1 Grand Prix victory, when as Wolff said, emotions are running high.
The reality is that Hamilton wants to stay in F1. He wants to win his eighth world title. And he wants to do that with Mercedes.
But he is also out of contract at the end of the season and with few realistic options available elsewhere on the grid, he has very little leverage.
Amid the challenging global conditions, it's likely Mercedes will be keen to control their finances when it comes to dictating Hamilton's salary – while the six-time world champion, soon to be seven-time world champion, will feel his worth has increased. This makes for a tricky negotiation.
So it's perhaps not a surprise that Hamilton said what he said, as he looks to get a deal that works for him.