Ricciardo shocked to take 'surreal' Imola podium and share 'shoey' with Hamilton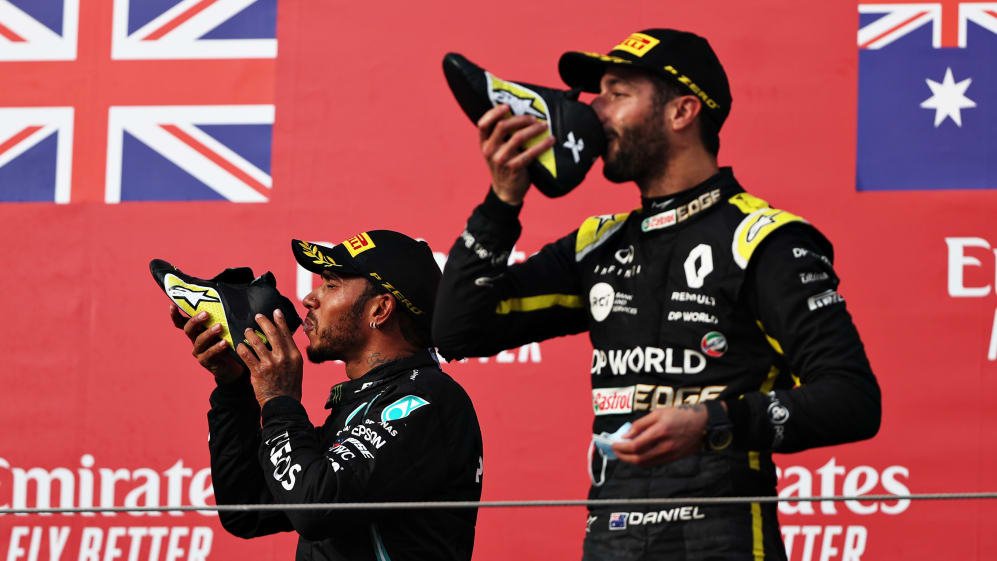 It turns out Formula 1 podiums are like buses for Daniel Ricciardo, who waited ages for his first with Renault before a second followed just three weeks later, here at Imola – where he shared an unexpected 'shoey' with Lewis Hamilton.
Ricciardo had threatened a podium for a long time this season before finishing third at the Nurburgring, and he followed that up with another third place in the Emilia Romagna Grand Prix. Given how unlikely the podium looked late in the race, the Australian admitted he took just as much pleasure from the result this time round.
READ MORE: Hamilton wins wild race in Imola as Mercedes clinch seventh-straight constructors' title
"They're all pretty good, for sure," Ricciardo said. "I'm also not going to take this for granted. It's the second in three races but I'm excited as I was in Nurburgring.
"It was a bit more unexpected, this one. We were running P5 with roughly 15 laps to go I think and then there was the issue with Max [Verstappen] that brought out the Safety Car so that put me in fourth on track. Then [Sergio] Perez pitted, which I was obviously smiling about because I was like: 'That's given me third on track', and I knew hanging on with the hard [tyres] on the restart was going to be tricky but I was more than happy to fight for it at the end.
"Track position is obviously very important around here, so I think both myself and the team were very willing to keep me out on track and we held on. The threat at the end was [Daniil] Kvyat and that was very surprising. I wasn't sure where he came from, but I was told he was on a soft and was coming on strong, but [I] held on and just very, very happy.
"It's pretty surreal actually. Obviously the first one and to get two now in such close proximity is awesome."
READ MORE: Albon at a loss to explain spin as Sainz relieved to escape 'close call' with Red Bull driver
There was time for a shoey on the podium this weekend and Lewis Hamilton even joined in, as Ricciardo's result moved Renault one point clear of McLaren and Racing Point into third in the constructors' championship.
"It's so close. That's awesome. Obviously I saw Esteban [Ocon] off fairly early in the race I believe with a mechanical [issue], so that's a shame. I don't know where he was on track but I know he would have had the pace to, I'm sure, collect points today.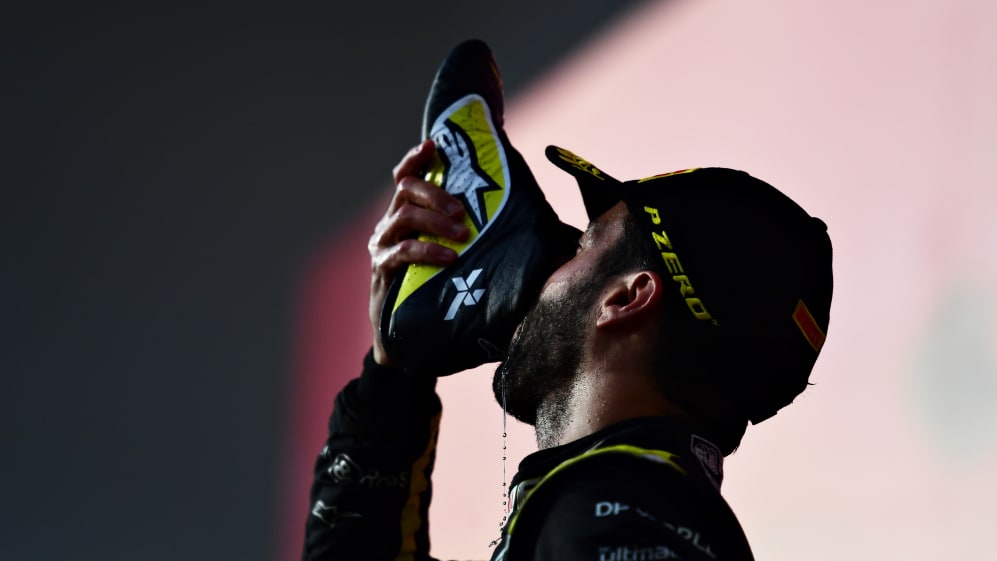 "Obviously it's great that we got big points with one car but I think if we're going to keep our noses in front then for sure we need both cars in the points. So it's a shame he had some reliability issues today. But we've still got a few races to go and I think we'll fight to the end for sure so I'm excited for that."
And Ricciardo's excitement wasn't just limited to the fight for third in the constructors', as he shared a surprising moment with the championship leader…
READ MORE: Facts and stats – Hamilton ties another Schumacher record while Mercedes re-write record books once more
"I didn't forget this time – the shoey. I was about to drink a beautiful fresh one and I heard Lewis saying 'take your other shoe off' and I was like 'No…'. Because honestly, I think it was three years ago on the podium he goes: 'I'll never, ever do that, I'll never drink it. You can offer me, you can force me, I'll never do it'. And he even asked for it today! So it took me by surprise, but 2020 is the year of the strange so it was good fun; very happy."