Inaugural F1 Academy champion Marta Garcia to receive fully funded FRECA seat for 2024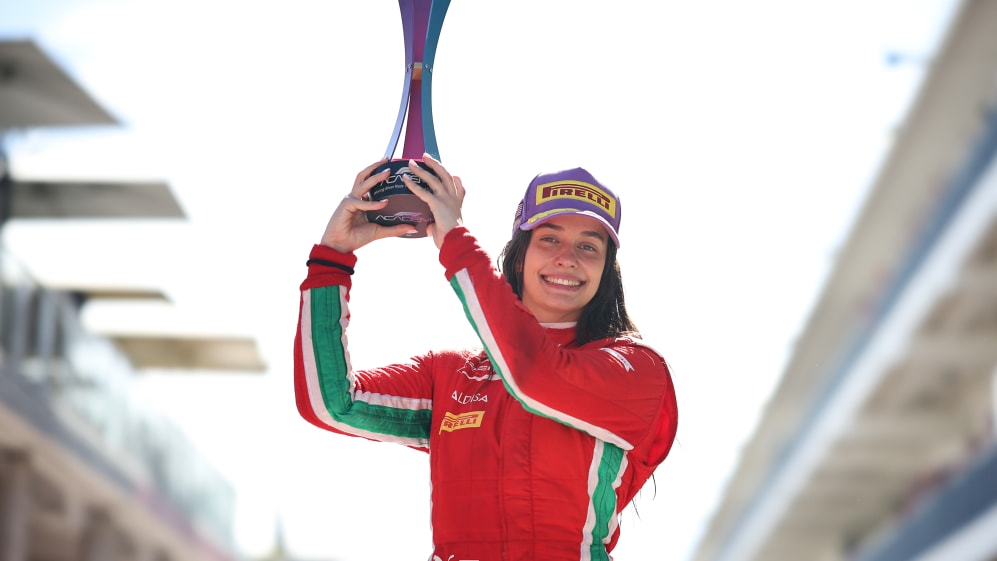 F1 Academy has announced that the winner of its inaugural season, Marta Garcia, will receive a fully funded seat with PREMA Racing for the 2024 Formula Regional European Championship by Alpine (FRECA). F1 Academy, PREMA Racing, Tatuus and Pirelli will all provide a financial contribution towards the cost of the seat.
This announcement underlines F1 Academy's commitment to prepare drivers for a higher level of competition and support their progress up the single seater ladder. Each season F1 Academy will work in close collaboration with the F1 Academy teams to support its winner in progressing up the motorsport ladder.
READ MORE: Garcia reflects on becoming inaugural F1 Academy champion and praises Hamilton
Launched in 2021, after the Formula Regional European Championship and Formula Renault Eurocup merged, FRECA has quickly become an established and respected proving ground for young drivers looking to develop the skills they need to progress from an F4 level series to the FIA Formula 3 Championship.
As part of a milestone agreement, FRECA will also grant its top teams a season-long fourth entry if they sign a driver who finishes P1, P2 or P3 in the F1 Academy standings.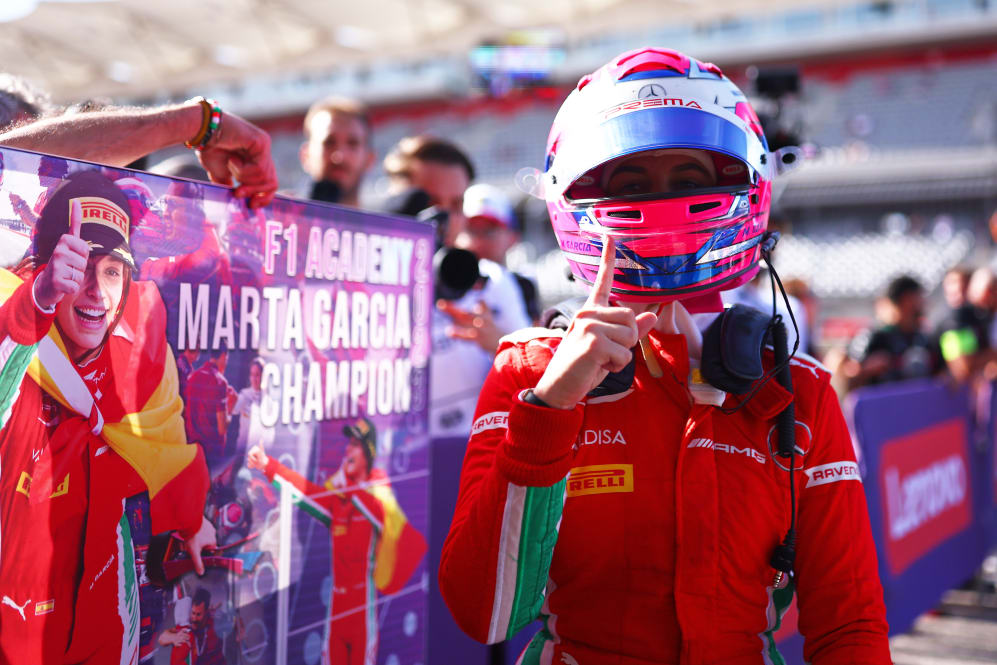 These amendments to FRECA's sporting regulations reflect a shared ambition to support the progression of F1 Academy's top drivers while promoting an overall increase in female participation in the Championship.
"So thrilled and excited to be racing in FRECA next year," said Garcia. "Coming from F1 Academy, it's going to be a big step. We know we will have to work a lot with the team to succeed but I'm really determined to do well.
"I can't thank F1 Academy enough. It is such a fantastic initiative, and it is the right way to do it, trying to take drivers with the best results to the top level. What an amazing opportunity, I'm looking forward to it and to the work that we have ahead, inside and outside the track."
WATCH: Relive the moment Marta Garcia celebrates being crowned the first ever F1 Academy champion
Rene Rosin, Team Principal at PREMA Racing, said: "We are really happy to continue working with Marta for 2024. We were really impressed by her approach and professionalism, and the progress she made throughout the year showed that she is ready to take the next chapter of her career.
"This step is also a great testament to the work done by F1 Academy in the development and promotion of young woman talent in motorsport. The Formula Regional European Championship by Alpine is a challenging and competitive championship, but we think that Marta will be up to pace, and we will support her to get there as quickly as possible."
Change in F1 Academy driver contribution for 2024
In addition to supporting its inaugural winner in FRECA, F1 Academy will also reduce the driver contribution from €150,000 to €100,000 for the 2024 season. This reduction further demonstrates the series' ambition to create a more accessible entry point to the single seater ladder for young women.
"F1 Academy is all about progression and creating more opportunities for young women across motorsport, so to offer a fully funded seat in FRECA for our inaugural champion is a significant moment," said Susie Wolff, Managing Director of F1 Academy.
"The fact that she will also continue to race with PREMA, whom she has built a relationship with and are current team champions in this category, will also aid in her future development.
"I am proud of the progress we have made in our first season, and as we begin to build for our 2024 season where we will join the F1 calendar, this announcement, alongside the decision to further subsidise the 2024 F1 Academy driver contribution to €100,000, is a statement of our continued commitment to make motorsport more accessible and break down the barriers faced by female drivers."
READ MORE: F1 Academy announces calendar for 2024 season
Bruno Famin, VP of Alpine Motorsports, added: "Since 2021, the Formula Regional European Championship by Alpine has been an essential step in the Road to F1 ladder, enabling promising drivers to develop their skills and race craft.
"We are happy to welcome the F1 Academy winners within FRECA, creating another entry point for young talent and supporting them in their journey towards the top."