'My eyes were watering' – Garcia reflects on becoming inaugural F1 Academy champion and praises Hamilton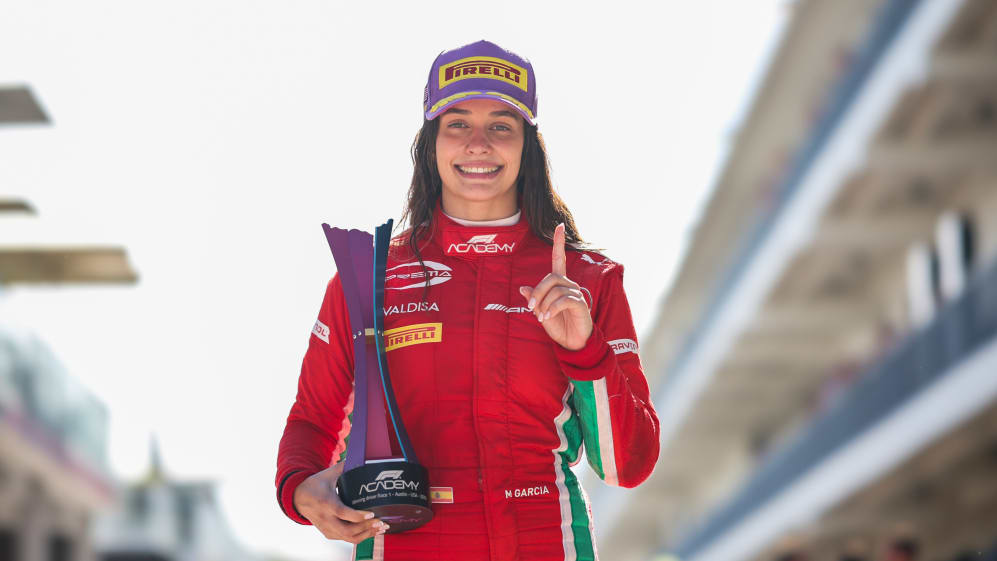 Marta Garcia has reflected on how it feels to be the first ever F1 Academy champion following the series finale in Austin.
The Spaniard sealed the title in Race 1 at the Circuit of The Americas, clinching her seventh race win of the season to make history as the inaugural series champion.
Looking back on how it felt, Garcia admitted that it had been an emotional moment.
READ MORE: Marta Garcia wins inaugural F1 Academy title after thrilling Race 1 victory in Austin
"It's amazing, [there were] mixed emotions, a lot of emotions," she explained. "When I crossed the finish line my eyes were watering, I was crying. But it's because of all of the work that we've been doing during all this year, working with the team so hard, in the simulator, outside of the track, everywhere.
"On track [there were] a lot of tough days. We had a lot of months as well from May to July, working a lot through a lot of racing, so it's great, it's like this feeling of 'we did it' after all this work."
Her title-bearing win in Austin – during F1 Academy's first weekend on the support bill of a Formula 1 event – stands out for Garcia as the highlight from her campaign.
"I would say [that] win was probably the best, because obviously we're with F1 here in Austin, all the crowd, everything, [and] because it was the championship win as well," the PREMA Racing driver said.
"So it was both winning the race and winning the championship, so of course [I was] super happy with that. I would say that was the highlight."
When asked if racing alongside F1 had added to the excitement of becoming champion, Garcia responded: "Yeah, of course. Being here, it's great – [we're with] F1 and we're being broadcasted.
READ MORE: F1 Academy announces calendar for 2024 season
"It feels like [we have] a lot of support, because at the end of the day, when we were racing before, we were racing [in] other categories where there was less people, or [we were] maybe even alone, so being here it feels like much more proper racing, and it's just great also to have a lot of support from the fans here in Austin.
"There's a lot of Hispanic people as well, so it's really good because they speak Spanish, they know me a lot of them, and it's so cool!"
After returning to parc ferme following her title-sealing Race 1 victory in Austin, Garcia was greeted by another champion in the form of Lewis Hamilton, who had met with the F1 Academy drivers earlier in the weekend.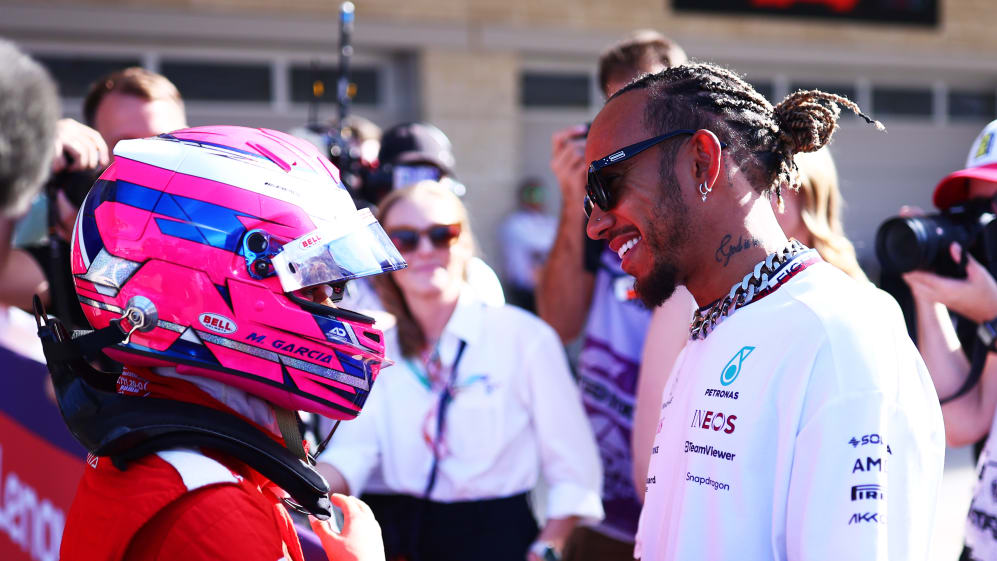 Garcia admits that this was a special moment, and shared words of praise for Hamilton's support.
"It was amazing," the F1 Academy winner said. "I've always looked [up] to Lewis, he's one of my favourite drivers in F1, and just having him there – waiting for me, to congratulate me – it's amazing.
"I think it's thanks to Lewis as well for trying to inspire people and also giving visibility to F1 Academy – he's really inclusive, so it's just great.
READ MORE: Hamilton praises F1 Academy 'progress' with all 10 Formula 1 teams having drivers and liveries in 2024
"Also Carlos [Sainz], of course. I'm following Carlos's year, he's done well, he's won a race, he's doing really good, and just being able to have some nice talks with him is really good."
F1 Academy has set itself the aim of creating change for women and girls. As part of this, the series has launched initiatives including Discover Your Drive and the Champions of the Future Academy.
Garcia believes that 2023 is only the beginning for what the series can achieve, with every round on the 2024 calendar set to be on the support bill to Formula 1, while all 10 F1 teams will provide a driver to the category and have their livery on one car.
"As we say, it's getting started," Garcia reflected. "I think there is a lot coming right now – 10 F1 teams for next year, so [it's] good to be with F1. I think it's going to be massive.
"I think it's great for the opportunities for young women. Right now it's just been the first year, but I think [this is] nothing – there is a lot to come. There [are] a lot of things that will come and I'm sure it's going to be great, and also with the programmes [F1 Academy runs like] Discover Your Drive and Champions of the Future.
READ MORE: McLaren sign F1 Academy's Bianca Bustamante as first female member of Driver Development Programme
"All of this is really good, and I think there [are] still more things to come, more things to be able to do, and [it] will be mega."
Following her history-making title win, Garcia is likely to be a role model for many young women and girls looking to enter motorsport. In terms of her words of advice for those who might be hoping to follow her path, the 23-year-old said: "I would say if you like motorsport, just get into motorsport, get a car, [tell] your dad or your parents 'I want to race, I want to try'.
"Just try it and see if you like it, and then if you like it, just do it. If you have the support, just do it – there is a lot more support [available], like Discover Your Drive. I think there's going to be much more support as well [in the future]. I would say, follow your dreams and keep going."