Issue with car concept could be factor in 2019 struggles, say Ferrari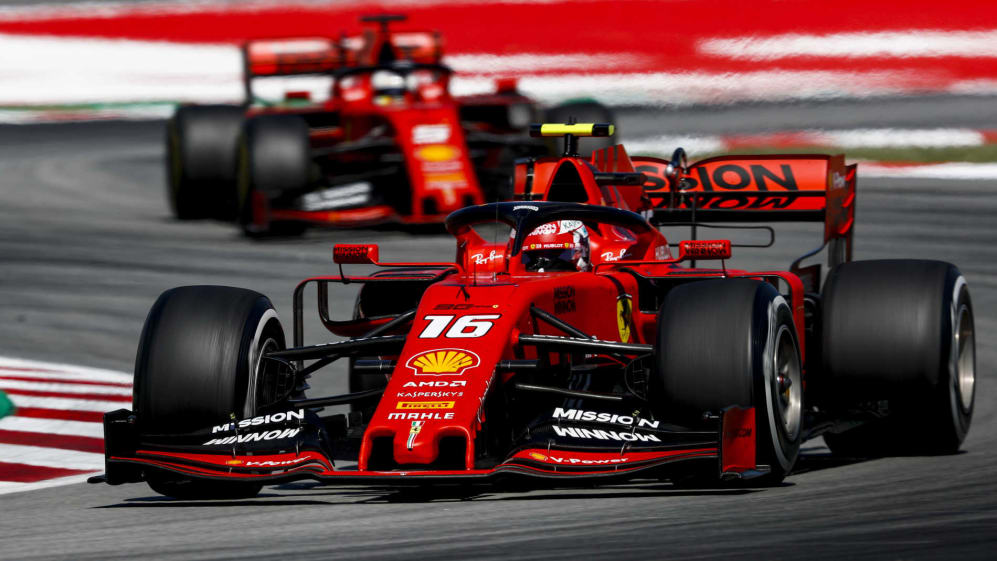 How, after they were so strong throughout 2019 winter testing, have Ferrari not managed to finish higher than third this year? It was a question that was once again dominating thoughts in the paddock after the Spanish Grand Prix – and it turns out Team Principal Mattia Binotto has not ruled out the possibility of a flaw in the team's overall design concept being the root cause of the Scuderia's struggles.
One of the big talking points ahead of the 2019 season were the changes to the cars brought on by alterations to the aero regulations. Much was made of Ferrari's differing front wing approach compared to many of the other teams, with initial running in the Barcelona pre-season tests appearing to show that the Ferrari concept had been on the money.
READ MORE: Fourth-placed Vettel says he 'compromised own race' in Spain
But at the Spanish Grand Prix, Sebastian Vettel couldn't get within eight-tenths of Valtteri Bottas' Mercedes in qualifying, while in the race itself, Vettel finished fourth ahead of team mate Charles Leclerc as Mercedes brought home their fifth one-two of the year. And it left Binotto hinting that a fundamental issue in the car's design concept could be a possible culprit.
"We're losing a lot in each single corner," said Binotto when asked to analyse the team's weaknesses in Barcelona. "Quite a lot of understeer. It's something which we really need to analyse. Any early conclusion today would be the wrong conclusion. It will take some days to have a proper conclusion. [It could be] a matter of balance, a matter of downforce – maybe even car concept. I think we do not have answer."
Pushed on how catastrophic it would be were Ferrari to discover that a concept issue was at the heart of their problems, Binotto replied: "I don't think it is a disaster.
"If it is a concept design, it depends what it is – and I think there are things that you may address in a season.
"How long it will take is difficult to answer. I think more important for us is to understand how to address them, and then I'm pretty sure we can do it quickly."
Adding to Ferrari's disappointment was the fact that they'd brought both an aero upgrade and fast-tracked a power unit update for Barcelona. And despite both elements "working well", Binotto admitted that Ferrari's best this weekend had still fallen short.
"I think certainly we're disappointed for the race, we're disappointed for our performance in the weekend. Our hope was to deliver more.
READ MORE: Ferrari vs Mercedes - The title rivals' key Barcelona upgrades
"We brought here some upgrades – aero, engine – and we were expecting somehow to be in the fight, but it has not been the case. The upgrades worked well. Power-wise, straight-line speed, we are good enough, but certainly we have some weaknesses on the car that were highlighted through the weekend. It's up to us to try and understand, to work, to asses, to improve in the future. It can only make us stronger in the future.
"[But] the season is still long, we will never give up. I think that's our approach, so there's much to learn from here."
Post-Spain, Ferrari now trail Mercedes in the Constructors' standings by a whopping 96 points. A fix for the Scuderia, quite simply, can't come soon enough.