'It can turn around very quickly' – Verstappen insists he's not thinking of the title despite dominant win in Mexico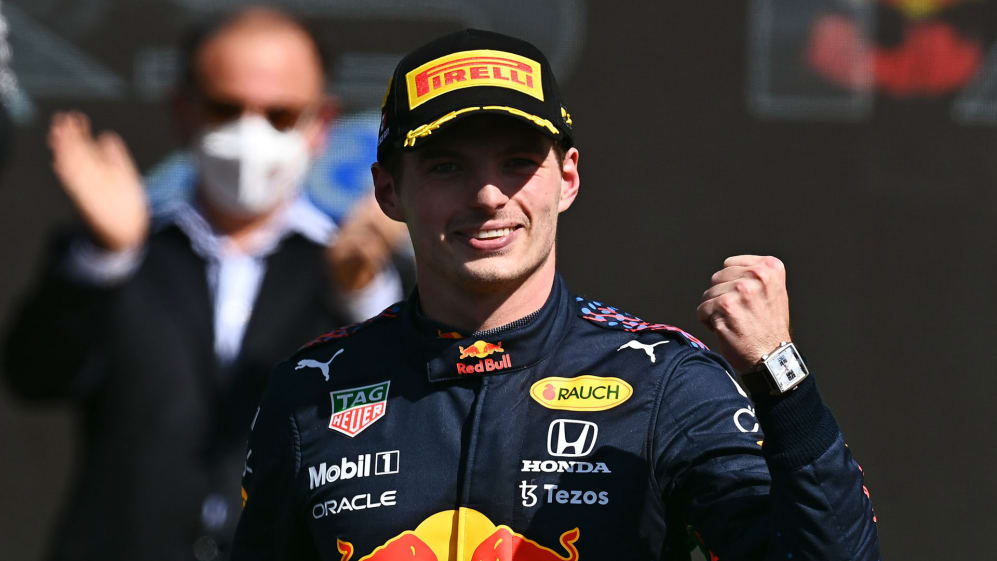 Max Verstappen has extended his title lead to 19 points with a record third Mexico City Grand Prix victory but the Red Bull driver said there's no reason to get carried away – even if another one of his favoured venues hosts the next race of the championship.
The Dutchman qualified third in what he called a "terrible" session on Saturday but swept around the outside of the Mercedes – polesitter Valtteri Bottas and P2 rival Lewis Hamilton – when the lights went out on Sunday. From then on, Verstappen's pace was superior and he won by over 16 seconds. But afterwards he insisted his thoughts aren't on the title just yet.
READ MORE: Verstappen extends championship lead after jumping both Mercedes at the start to win in Mexico
"No, it's a long way to go, but it's of course looking good, but also it can turn around very quickly," warned Verstappen. "But I'm looking forward to Brazil. I have also good memories there.
"I don't believe in momentum," he added. "So every single race we have to try and nail the details and we didn't do that yesterday, so you know, things can go wrong very quickly or can go right. It's going to be really tight and exciting to the end. This has always been a track [that is] really good for us so I expect Brazil not to be like it was today."
However, he did admit that Red Bull's qualifying struggles were a bit of a mystery, before he explained how he took advantage and usurped the Mercedes at the start of the race.
"Yesterday I don't know. It was just a bit unexplainable," continued Verstappen. "But today, of course, it was very important, the first lap and the start… We went three-wide and it was about who was going to brake the latest and I got both of them into Turn 1, so that it gave me the race and I could just control it from there.
READ MORE: Mexico polesitter Bottas laments 'very tricky' afternoon after race-ruining first lap contact with Ricciardo
"It was nice, three-wide, and it was all about just trying to brake as late as you can. I kept it on the track and went from third to first and that was basically what made my race, because then I could just focus on myself. We had incredible pace in the car, so I could just do my own thing. And I mean, you never know what the others are going to do, right? But we made it stick."
Brazil is where Verstappen won in 2019 and has taken two podiums for Red Bull before, and after winning so comfortably in Mexico, the championship leader is expected by many to repeat that performance at Interlagos next weekend to consolidate his championship lead.
"The car was really, really good. We basically controlled it to the end. It's always been a good race for us you know, so we shouldn't get ahead of ourselves because again in Brazil it's going to be a tough battle," he reiterated.