'It felt good to pass a Mercedes!' says Stroll after lightning start helps him to P4 in Spain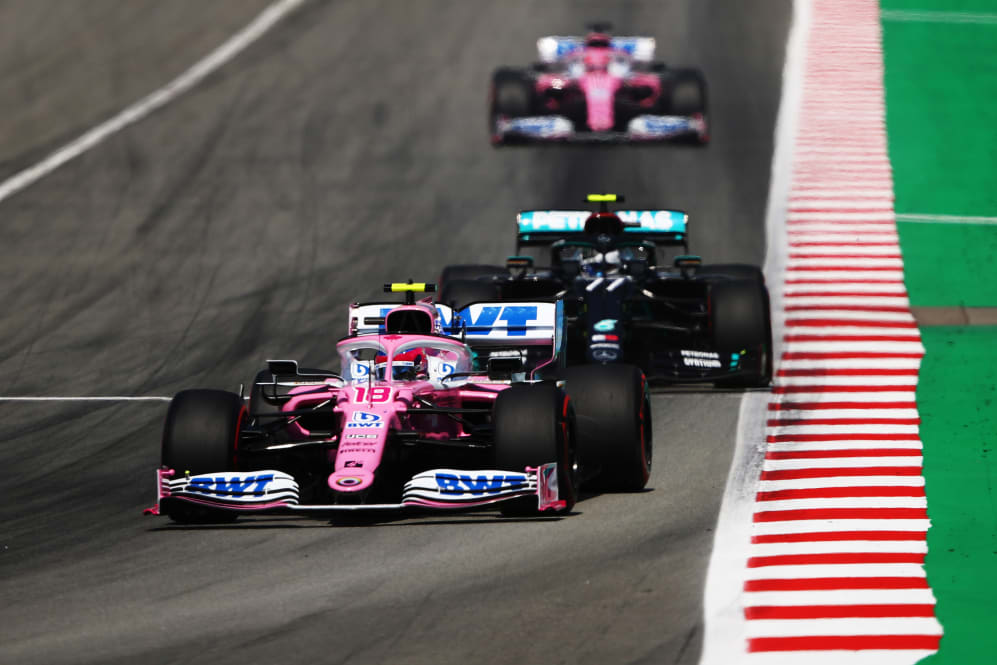 A searing getaway off the line at the 2020 Spanish Grand Prix set Lance Stroll up for a fourth-place finish, as Racing Point took their biggest points haul of the season at the Circuit de Barcelona-Catalunya.
Just a tenth of a second had separated the returning Sergio Perez and Stroll in qualifying, as they lined up fourth and fifth respectively on the grid. And although the drivers would finish in that position on the road – Stroll having switched from a one to a two-stop strategy mid-race, while Perez chose a one-stop – a five-second penalty for Perez for ignoring blue flags propelled Stroll to fourth ahead of his team mate after the chequered flag.
READ MORE: Perez brands blue flag penalty 'really unfair' after fifth place finish on F1 return
"I had a great launch off the line," said Stroll, who spent much of the race running in close quarters with Perez. "It felt good to pass a Mercedes for a few laps in third, it was nice. And then it was just a tyre management race. We were aiming for a one-stop and then converted to a two, and it was nice to get fourth in the end.
"P4 was the maximum today. It was good to battle with Checo on track for a bit too, even if it probably gave Otmar [Szafnauer, Racing Point CEO and Team Principal] a few more grey hairs!"
Commenting on his drivers' races, after Racing Point took 22 points at the Spanish Grand Prix to lift them to third in the constructors' standings, Szafnauer said: "Lance made his usual strong start off the grid and then both cars ran in close company for most of the race. Lance maintained his advantage over Sergio during the first pit stops, until we switched him to a two-stop race, while Sergio tried to make the one-stop strategy work.
"There's no doubt we maximised the points that were available to us. It was difficult to fight the top three on pure pace, but converting our qualifying positions into race results feels very satisfying – especially with split strategies."
READ MORE: The Winners and Losers of the 2020 Spanish Grand Prix
Stroll will now build up to his almost-home race – his mother Claire-Anne is Belgian – at Spa-Francorchamps on August 28-30. And although it's a track Stroll has revealed in the past is not one of his favourites, he was confident of another strong result for Racing Point.
"I'm very excited for Spa," said Stroll. "It's a track that should suit our car in theory so I'm looking forward to it."