'It was an easy pass' says Verstappen, after late move on Hamilton seals French GP victory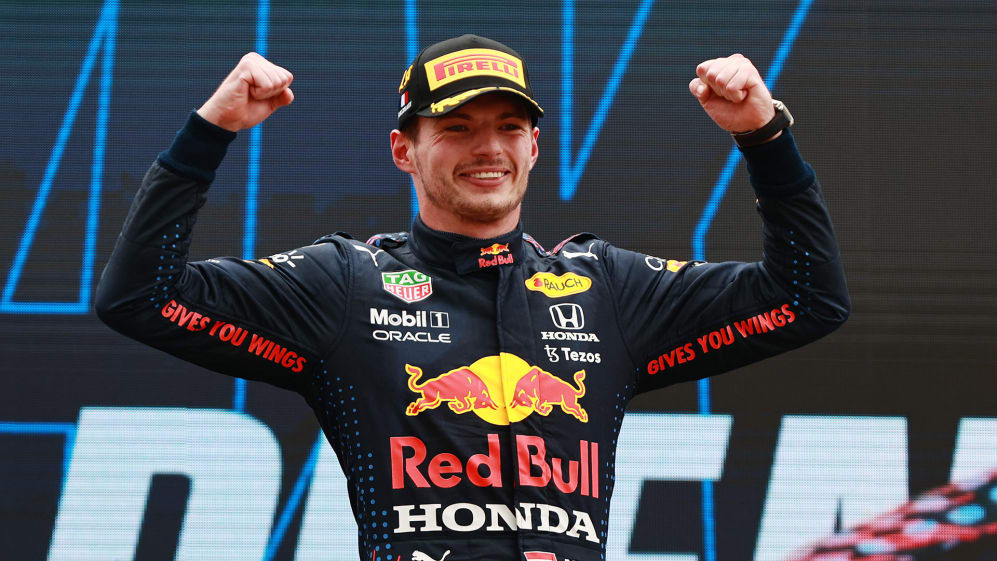 Max Verstappen took his third victory of the 2021 with a superb drive at the French Grand Prix that saw him pass rival Lewis Hamilton with two laps of the race to go – with Verstappen praising his Red Bull team's strategy for putting him in a position to pull off an "easy pass" on the Mercedes of the seven-time champion.
It had initially looked like Verstappen had lost out to Hamilton, after the Dutchman – starting from pole for just the second time this year – made a mistake at Turn 1, taking to the run-off as Hamilton swept through into an early lead.
READ MORE: Verstappen triumphs over Hamilton after late pass in scintillating French Grand Prix
But a crucial decision to switch to a two-stop strategy – aping the strategy decision that saw Hamilton beat Verstappen at the Spanish Grand Prix in May – allowed Verstappen and Red Bull to hunt down Hamilton, the Red Bull driver moving past Hamilton on Lap 52 of 53 before securing the team's first ever victory at a Circuit Paul Ricard that's previously been a Mercedes stronghold.
"It was certainly not easy, especially the beginning I would say it was really tricky for me," said Verstappen of his race. "I had my moment in Turn 1, and I honestly really got caught out. I turned in thinking it was fine and then suddenly kept losing the rear, so had to go off the track and then of course I lost the position.
"I was really upset at the time but you also have to just think ahead. It was still a long race, a lots of things could happen and I just tried to follow.
"We opted to go for the two-stop and I was like, let's see if it's going to work out, because you never know of course around here.
"But then as soon as I was getting closer, I could see Lewis on the tyres he was on, they were really worn and there was not much left on it, so as soon as I got in the DRS, with the top speed and the wing level we chose, it was a fairly, let's say, easy pass, of course also having fresher tyres [too]. It worked out but it was very tight."
WATCH: Mercedes stunned as Verstappen passes Hamilton after pit stop
Another key to Verstappen's race had been getting back into the lead after the first round of pit stops, thanks to an undercut that even Verstappen admitted had been unexpectedly powerful on Sunday.
"My out-lap was good [after my first stop]," said Verstappen. "But I didn't expect the undercut to be so big. But when I went out, I suddenly had so much more grip on the tyres everywhere. I don't know how fast Lewis' stop was, or whatever, so I need to look at it again. But I think nobody – including us – expected to undercut Lewis."
Verstappen's victory meant that, for the first time in the turbo-hybrid era, Red Bull have won three consecutive races, with Verstappen also stretching his lead over Hamilton in the drivers' standings to 12 points, after claiming fastest lap in France for good measure.
And the Red Bull driver admitted that the picture was looking "promising" for his team ahead of back-to-back race at their home circuit, the Red Bull Ring, beginning in a week's time with the Styrian Grand Prix.
DRIVER OF THE DAY: Verstappen's heroics win your vote in France
"It's very promising," said Verstappen, having beaten Mercedes at a Paul Ricard track where they triumphed in both 2018 and 2019. "We've had good results [at the Red Bull Ring] in the past – but it's not a guarantee. We have to again set up the car well there and read the conditions well.
"I don't know what the weather's going to be like. So looking forward to it. I'm for sure expecting it to be close again but we'll find out when we are there."