'It was pretty shocking' – Bottas blasts blue flag-ignoring backmarkers in Styrian GP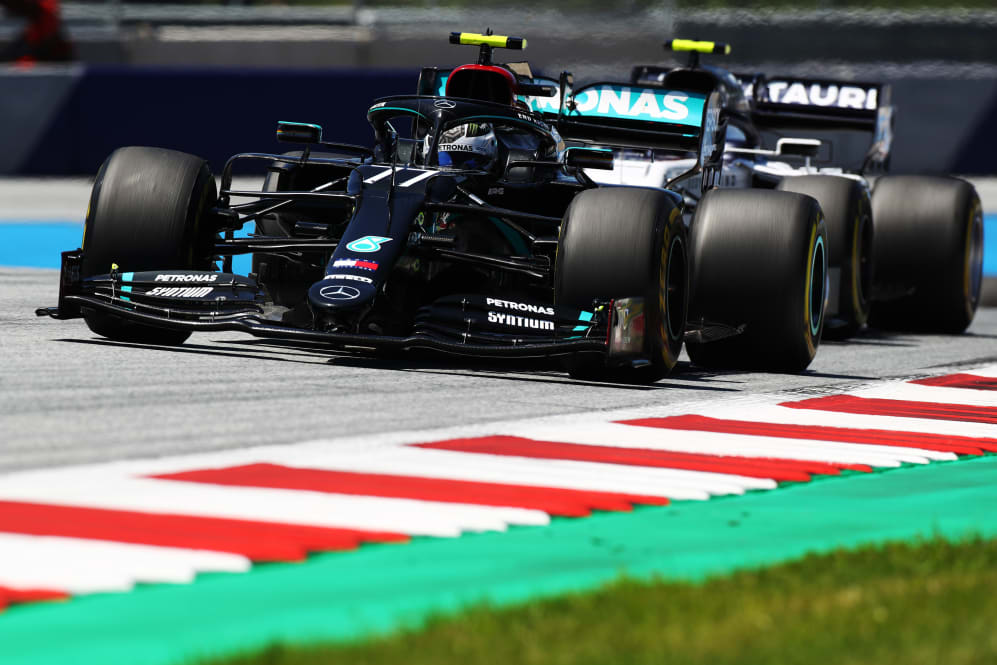 Valtteri Bottas' pace was seen to drop off significantly midway through the Styrian Grand Prix, during his hunting down of Red Bull's Max Verstappen. But according to the Mercedes driver, the cause was a simple case of backmarkers failing to jump out of the way when blue flags were flown.
Bottas had pitted relatively late in the race, switching his soft tyres for mediums on Lap 35 before going after the second place of Verstappen. But getting towards Lap 46 of 71 in the race, Bottas' pace stabilised, as the Finn closed on a squabbling pack of cars made up of the Haas of Kevin Magnussen, the two AlphaTauris of Daniil Kvyat and Pierre Gasly, and the Alfa Romeo of Antonio Giovinazzi, who were scrapping over positions 10 to 13.
READ MORE: Red Bull 'just too slow' to stop Mercedes in Austria, says Verstappen
"I don't know if it was shown on TV but I went through quite a bit of traffic," said Bottas after the race. "There were many backmarkers and… it was pretty shocking that sometimes I spent more than a lap with them having blue flags and just not moving away.
"They were racing each other in front of me and not really caring that they had blue flags so I hope that will be looked into. So I think that's why I lost quite a bit of momentum that time."
Once Bottas had cleared those cars – flicking a middle finger at Giovinazzi for good measure (as you can see in the clip above) – he was then able to close and pass Verstappen after a brief-but-exciting fight, before finishing P2. And having started the race in fourth, Austrian Grand Prix winner Bottas felt that that was as high as he could realistically have got, as he critiqued his performance in Saturday's wet qualifying.
"I should have been stronger [in qualifying]," said Bottas, who'd complained of brake glazing in the wet conditions. "There were obviously some things affecting the performance but even from my side, the lap was not that clean. I should have been at least P2, so that's why… today was a bit more difficult and could have been possibly a good battle with Lewis.
READ MORE: Styrian GP victory 'a great way to bounce back' after opening weekend struggles, says Hamilton
"I think the performance of the car was great [in the race]," he added. "I know Lewis had a strong weekend. He did a good job [but] based on last weekend, I know what I'm capable of. I really feel many improvements in my driving since last year, so that's why I'm confident it's going to be a good battle for the championship this year.
"So I'm not going to let one weekend, even multiple weekends, drag me down. I've learned that. Just going to focus on the job and improving myself as we go."
Bottas' strong performances in the opening two races of 2020 means he leads currently leads the championship by six points over team mate Hamilton.
2020
Drivers' standings after the Styrian Grand Prix
POSITION
POINTS

1

Valtteri

Bottas

Mercedes

43

2

Lewis

Hamilton

Mercedes

37

3

Lando

Norris

McLaren

26

4

Charles

Leclerc

Ferrari

18

5

Sergio

Perez

Racing Point

16