Report
Bottas beats Leclerc and Norris to win dramatic Austrian GP as Hamilton is penalised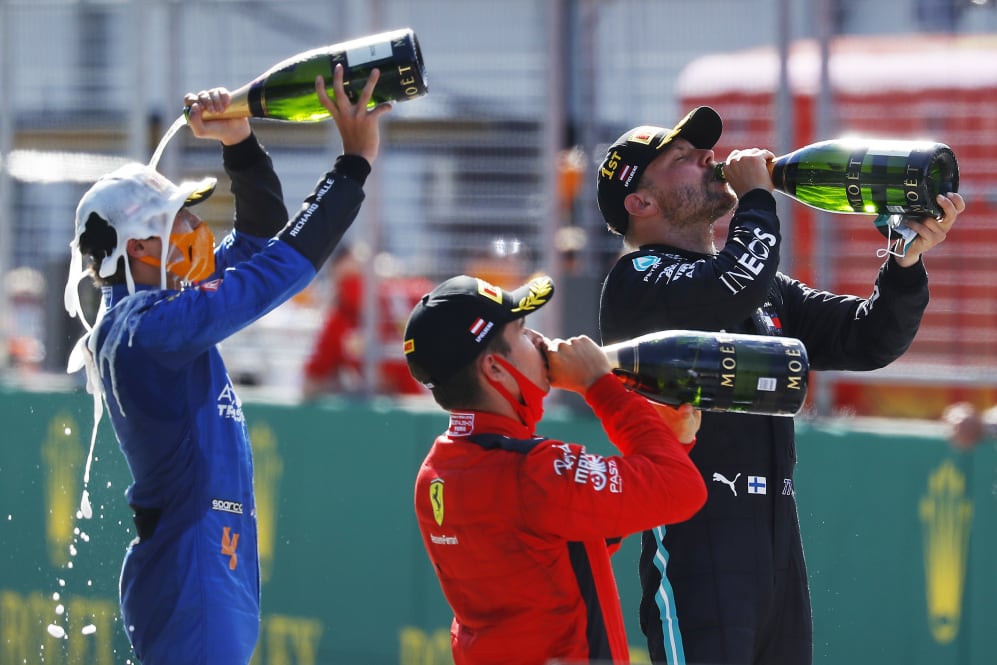 Valtteri Bottas has struck the first blow in the 2020 season, winning the Austrian Grand Prix from Ferrari's Charles Leclerc, as Lewis Hamilton was demoted from a second place finish on the road to P4 after a five-second penalty for contact with Alex Albon – handing McLaren's Lando Norris his first F1 podium for finishing P3.
The Mercedes duo of Bottas and Hamilton enjoyed a comfortable performance advantage throughout the 71-lap encounter. But with 10 laps to go, the race exploded into life, with Hamilton handed his penalty after nerfing Albon into a spin on a Safety Car restart on Lap 61.
A late surge for Ferrari's Charles Leclerc after a difficult weekend for Ferrari saw him climb to third by the flag, meaning he inherited second after the Hamilton penalty, while a late pass on the Racing Point of Sergio Perez was enough to give Norris the net P3, meaning McLaren begin a season with a podium for the first time since 2014.
READ MORE: 'Speechless' maiden podium finisher Norris says 'I thought I fudged it up'
Behind Norris, Hamilton took fourth, ahead of the second McLaren of Carlos Sainz and Perez. Then came the AlphaTauri of Pierre Gasly in seventh, ahead of F1 returnee Esteban Ocon in eighth, with Alfa Romeo's Antonio Giovinazzi P9 and Ferrari's Sebastian Vettel – who spun early on in the race after contact with Sainz – in P10, just one place ahead of the final finisher, Williams' Nicholas Latifi.
It was a nightmare race for Red Bull's Max Verstappen, meanwhile, who experienced a loss of power after just 11 of the 71 laps, costing him a chance of shooting for a third straight win at the Red Bull Ring – while team mate Albon appeared to suffer a similar problem just two laps from the end.
FORMULA 1 ROLEX GROSSER PREIS VON ÖSTERREICH 2020
Austria
2020
Race results
POSITION
TIME
POINTS

1

Valtteri

Bottas BOT

Mercedes

1:30:55.739

25

2

Charles

Leclerc LEC

Ferrari

+2.700s

18

3

Lando

Norris NOR

McLaren

+5.491s

16

4

Lewis

Hamilton HAM

Mercedes

+5.689s

12

5

Carlos

Sainz SAI

McLaren

+8.903s

10
AS IT HAPPENED
Mercedes were struck a blow with less than an hour to go before the race start. With the stewards having ruled on Saturday evening that Hamilton had not been at fault during qualifying for failing to slow under yellow flags brought out when team mate Bottas slewed off the track, a challenge to the decision submitted by Red Bull on Sunday led to the stewards reversing the decision, dropping Hamilton three places on the grid, from second to fifth (just as his penalty for impeding Kimi Raikkonen did last year) while promoting Verstappen to second alongside Bottas.
With that narrative crackling in the background, once the drivers had presented a united front against racism on the grid with a respectful moment of silence, it was time for Formula 1 to get back on track and battle to commence, 217 days since the sport's last Grand Prix.
Bottas was impeccable off the start, quickly pulling clear of Verstappen, who gave Norris a little squeeze at Turn 1, forcing the McLaren off – with Hamilton and Leclerc also taking to the run off behind him.
Hamilton was seeking to make places early doors after his pre-race penalty, but an attempt to go around the outside of Albon at Turn 4 on Lap 1 saw the Mercedes get squeezed by the Thai driver with a smart defence. The pair would have a rendezvous at the same corner later on in the race…
Bottas had quickly pulled a solid couple of second lead over Verstappen by the start of Lap 3, but the Dutchman was biding his time, knowing that his medium tyres – with Verstappen the only driver in the top 10 to start on them – would mean he could stay out longer than the Finn.
Verstappen and Red Bull's careful strategising came to nought on Lap 11, though, when Verstappen lost drive coming out of Turn 1, forcing him into retirement and ruining his chances of taking a third straight win at Red Bull's home race.
WATCH: Disaster for Verstappen as mechanical issues ruin chance of third Austrian GP win
There were more mechanical problems a few laps later when the cameras picked up Renault's Daniel Ricciardo limping around the track, the Australian also forced into retirement. Just a few laps after that and Racing Point's strong opening weekend in 2020 was tarnished when Lance Stroll, who'd been in heated discussions on the radio about a sensor issue on his RP20, was also forced out of the race.
The drama kept coming, with Haas' Romain Grosjean spinning on his own at Turn 4, before a few laps later, his team mate Kevin Magnussen ploughed on at Turn 3, appearing to have lost his brakes. His parked up VF-20 brought out a Safety Car on Lap 26 of 71, with all drivers in the top 10 pitting, Bottas thus retaining his lead over Hamilton, Albon, Norris and Perez.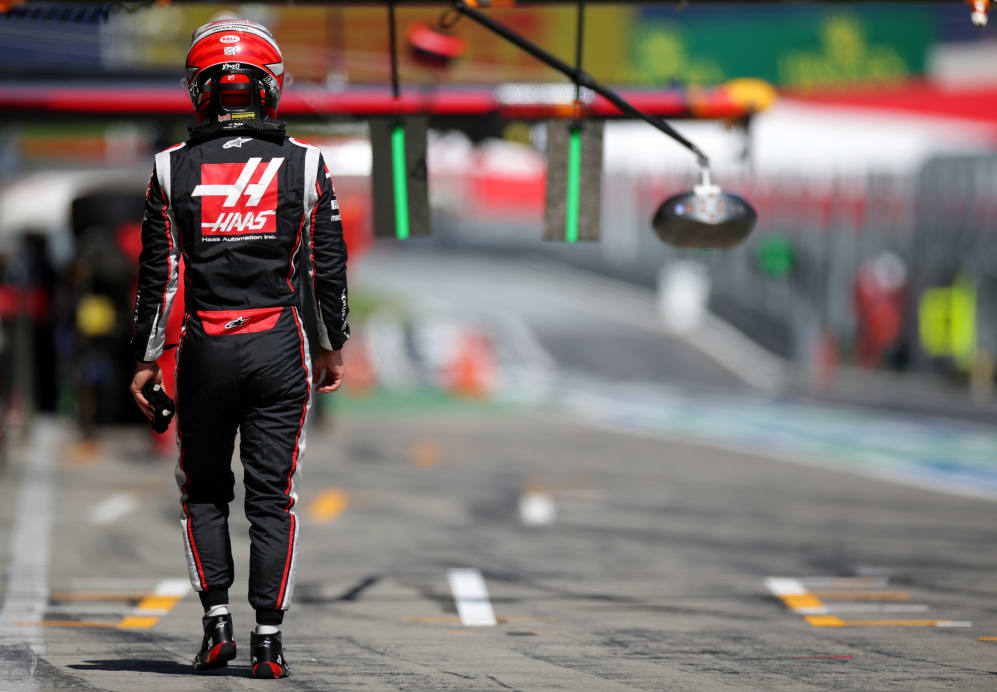 Bottas performed a perfect restart on Lap 31, gapping Hamilton nicely. Behind, though, there was a certain irony as Sebastian Vettel – having been unable to make much headway thus far in the race – looked to take advantage of Leclerc and Sainz's scrap over P6 and sent his Ferrari up the inside of Sainz at Turn 3. But the move was never really on, the pair touched and Vettel was sent into a spin, dropping him to 15th as the man who'll replace him at Ferrari next year continued on his way.
With 30 laps to go and the Mercedes pair a clear 10s up on Albon in third, both Bottas and Hamilton were ordered by the team to stay off the kerbs, with frets on the Mercedes pit wall about disturbing the sensors on the cars' gearboxes.
They weren't the only team with worries, with Haas enduring a second retirement when Grosjean ran off at Turn 4 with an issue, while George Russell, having impressively managed to keep the recovering Vettel behind him in his Williams, was also forced into retirement on Lap 51, bringing out another Safety Car.
With Mercedes opting not to change tyres on Bottas and Hamilton's cars, Red Bull decided to pit Albon from third, allowing Perez up into the podium places, but handing a potential advantage to the Thai driver, who re-joined the race in P4, in the final laps.
Racing had resumed for just a few seconds on Lap 55 when yet another Safety Car was brought out, after Kimi Raikkonen's front-left tyre scarily removed itself from his Alfa Romeo as the Finn rounded Turn 9. Before the Safety Call was called, though, Albon had made it past Perez at Turn 3 to claim third place.
The Thai driver then looked pacey at the restart on Lap 61, and immediately closed on Hamilton. Albon slung it around the outside at Turn 4 and was narrowly ahead when the pair sensationally touched, spinning Albon into the gravel – with contact with Hamilton, as it had done in Brazil last year, costing Albon a shot at a podium, as he dropped to last place. The Thai driver, however, would retire from the race a few laps later, capping off a bad day for Red Bull.
READ MORE: Horner calls for Hamilton apology as Albon says he could have won in Austria without collision
Hamilton was duly handed a five-second race penalty for the Albon incident – a fact which had severe consequences for the British driver given the tightness of the field after the Safety Car. Having looked more comfortable since switching to the medium tyre on Lap 51, Charles Leclerc's Ferrari – which had shown no better than midfield pace in the early stages of the race – appeared to come alive in the latter stages, as he passed Norris for P4, before taking Perez for P3, as Ferrari began to look slightly more like their old front-running selves.
As Bottas crossed the line to win on Lap 71, after surviving three Safety Car restarts, the Finn was jubilant, having produced his second season-opening win in as many years, as Hamilton was pushed down from P2 to P4.
Leclerc admitted that a podium of any description, let alone second, was "a huge surprise", after qualifying a dismal P7, going on to call his race one of his best. Having passed Sergio Perez with two laps to go, Lando Norris continued to demonstrate McLaren's resurgent trajectory, benefitting from the Hamilton penalty to take his maiden F1 rostrum in third, with what was McLaren's second podium in three races – while Norris even took an extra point for fastest lap, to cap a mighty weekend from the 20-year-old, who'd also enjoyed his best ever qualifying on Saturday.
Sainz confirmed McLaren's fine opening gambit for 2020 with fifth place, having made his own pass on Perez in the closing stages, while Pierre Gasly scored points on AlphaTauri's 'debut' with seventh – unlike team mate Daniil Kvyat, who slid off the track with a left-rear puncture two laps from the end, one of nine drivers to fail to reach the chequered flag in a day of attrition at the Red Bull Ring.
So, F1 is back for 2020 – and it's Valtteri Bottas who's got his year off to the best possible start at the end of wildly eventful Austrian season opener.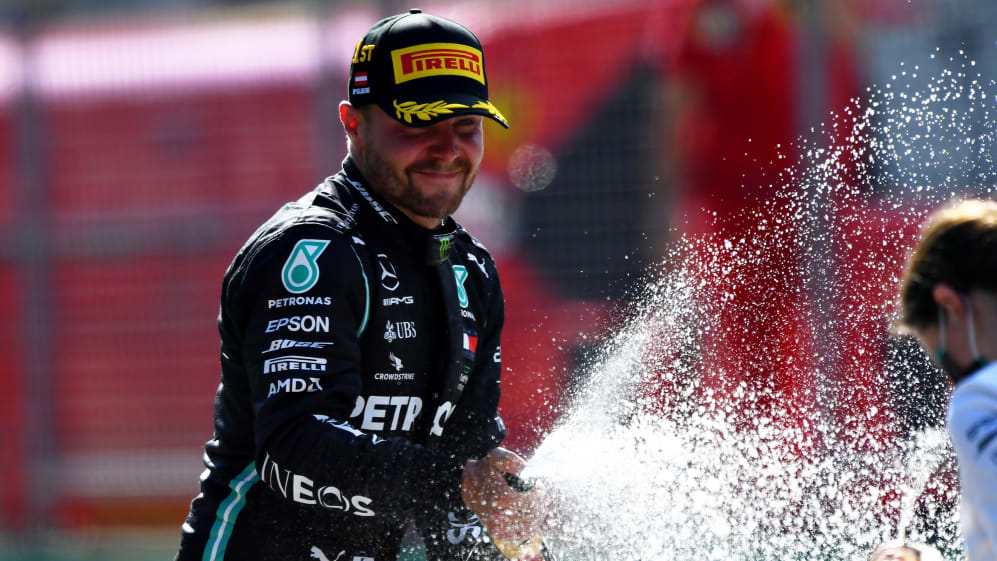 The key quote
"There was definitely quite a bit of pressure all through the race. One Safety Car was still okay. With the last Safety Car it was like, 'Come on, not again.' There were so many chances of Lewis having to get the lead even if I made a small mistake. He was really quick today, I managed to keep it together and control the race from my side. There's no better way to start the season." – Valtteri Bottas
READ MORE: Bottas says he 'dodged many bullets' to win season-opening Austrian Grand Prix
What's next?
More of the same please, with the teams set to stay on the ground in Spielberg until next weekend, when we'll be back with the Styrian Grand Prix on July 10-12 at the Red Bull Ring. Can the teams fix the issues they discovered in race one? How serious are those Mercedes sensor niggles? And can Max Verstappen strike back after a disappointing opening round? Tune in to find out next week...