'It would have been risky' – Binotto explains why Ferrari opted against Sainz/Leclerc swap in Brazil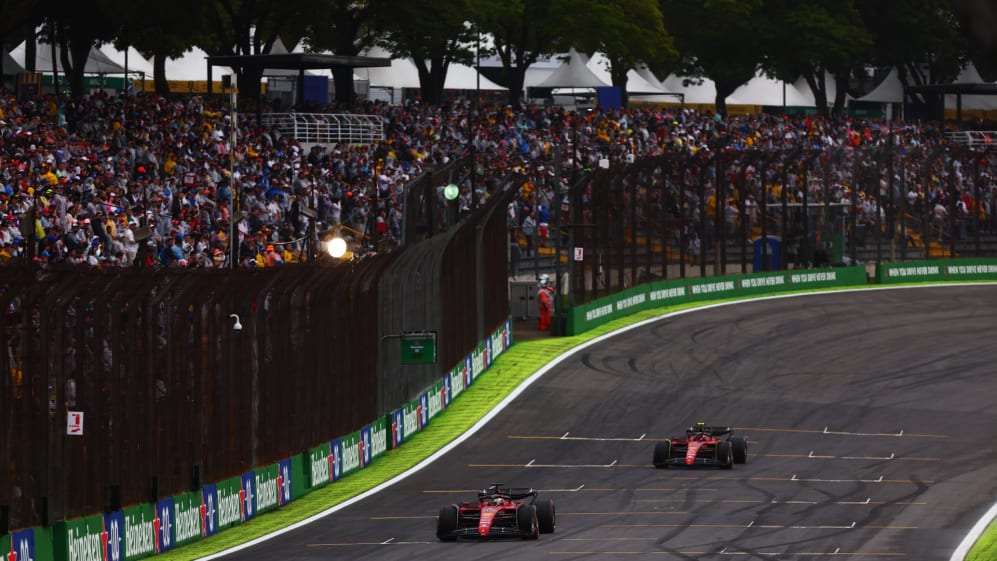 Ferrari had two key reasons for not asking Carlos Sainz to let Charles Leclerc past to help the Monegasque's points tally in the closing stages of the Sao Paulo Grand Prix, according to team boss Mattia Binotto.
Sainz and Leclerc were running third and fourth respectively when a Safety Car was sent out to cover Lando Norris' stoppage – Leclerc impressively bouncing back from a trip to the barriers after an early-race clash with the McLaren driver.
READ MORE: 5 Winners and 5 Losers from the Sao Paulo Grand Prix
Leclerc jumped on the radio to ask Ferrari to consider his battle with Red Bull rival Sergio Perez for P2 in the drivers' standings, but the team brushed the request aside – Binotto later explaining that they were concerned by the lingering Fernando Alonso and Max Verstappen, and Sainz being investigated for passing Yuki Tsunoda during the final Safety Car period.
It means Leclerc and Perez are now locked on the same tally, each with 290 points going into the season finale in Abu Dhabi – after Perez's team mate Max Verstappen refused to let the Mexican through on the last lap.
Speaking after the race, Binotto said: "First, swapping the two cars on the last straight was certainly tricky, because Charles had Fernando and Max just behind, so it would have been tricky and somehow dangerous.
"But more than that, we knew that we were under investigation for what happened behind the Safety Car with Tsunoda.
"We were cleared up by Race Control at the time, so we were quite – let me say – comfortable, but without having a conclusion on that matter... it would have been risky, because a five-second penalty, for example, would mean that then Carlos would have been losing more than one position. So for the constructors' championship, it was certainly better to stick with the positions and the gaps on track."
While Sainz went on to complete the podium – without picking up a penalty – and Leclerc claimed fourth, Ferrari's advantage over Mercedes in the constructors' standings has been cut to 19 points after the Silver Arrows scored an emphatic one-two finish.
READ MORE: Sainz pleased with 'great fightback' to podium as Leclerc explains team orders request in Brazil
Nonetheless, it marked a recovery of sorts for the Scuderia after their inauspicious start to the Interlagos weekend, which saw Leclerc sent out on track in Q3 as the only driver on intermediate tyres – while the rest of his rivals banked a lap on softs before further rain arrived.
Leclerc was audibly unimpressed with the tyre call, making his feelings clear over team radio, but Binotto said: "Obviously, when you've got such weather conditions, it's always a lottery. I think the fact that Kevin [Mangussen] was on the pole, or [Lewis] Hamilton eighth on the grid, and [Sergio] Perez ninth, it's a lottery, no?
"We made it wrong, because certainly we are the only one on intermediate at the time, and not on slicks. Now, those types of mistakes, I think in such a lottery situation, they always happen, and those mistakes can turn into the right decision as well, no?
F1 NATION: Does Mercedes' sensational Sao Paulo 1-2 mean they're back in business?
"It's only weather changing that, maybe a minute after, was simply happening. But what I'm looking at, together with the team, was the process that brought us to such a decision, which I think is more important rather than the decision itself. Was it right or wrong? Why are we doing that when maybe the others didn't?"