'It's beautiful to drive' – The F1 drivers give their verdict after first day of running at brand-new Jeddah Corniche Circuit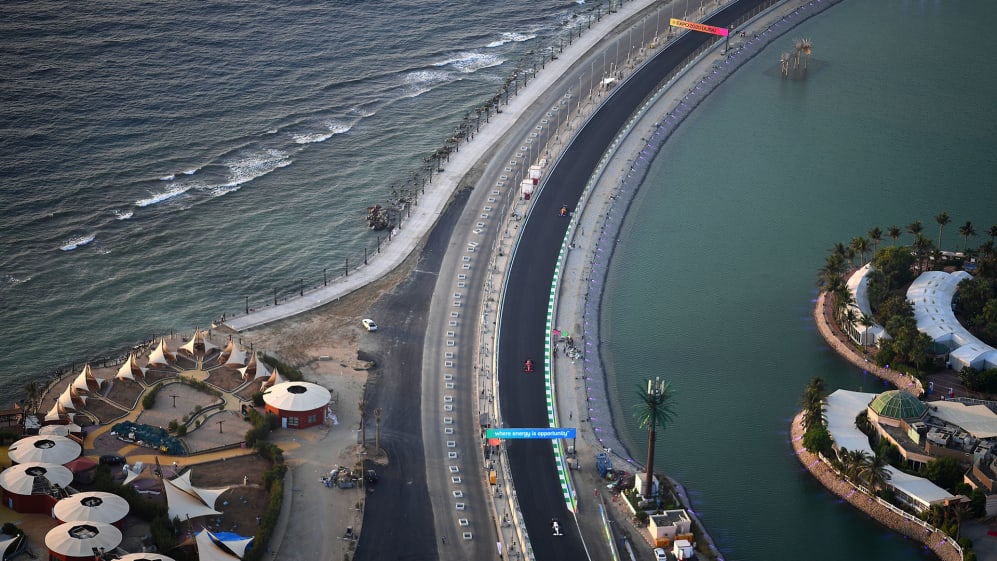 The Formula 1 drivers got their first taste of the 27-corner, 6.174km Jeddah Corniche Circuit on Friday, reporting back at the end of the day's running about the wild ride they'd encountered out on the Saudi Arabian Grand Prix track.
Lewis Hamilton topped both of Friday's practice sessions at the all-new venue, the seven-time champion straight into the groove on a circuit he described as "incredible".
"It's unbelievably quick – it really is incredibly fast," said Hamilton, who clocked a fastest lap of 1m29.018s in FP2 on Friday. "A lot of grip as well. But if you can get the rhythm, it's beautiful to drive."
READ MORE: Hamilton wary of Red Bull one-lap pace despite topping both Friday sessions at 'incredibly fast' Jeddah circuit
Hamilton's team mate Valtteri Bottas backed up his pace with second in FP2, with Bottas moved to exclaim on team radio midway through first practice that the circuit was "really cool" – the Finn elaborating on Friday evening: "It's quite hardcore. It's pretty full-gas and close to the walls and high-speed but that's what you want to enjoy and it definitely gives you an adrenaline rush."
Over in the Red Bull camp, Sergio Perez described the track as "fluid", but warned that traffic on the narrow circuit could be an issue come qualifying.
"It's a really nice, fast and fluid circuit out there, a really enjoyable one," said Perez. "A lot of fun out there.
"It's going to be tricky," he added of Saturday evening's qualifying session. "I think the qualifying with the traffic management, it's going to be trying to be there at the right place, you know? I think you saw a bit what happened when everyone was on the soft tyre at the end. It can get very tricky, very messy, very quickly."
READ MORE: Horner calls Red Bull's pace 'really encouraging' as they prepare for decisive battle in Jeddah
In the sister Red Bull squad, meanwhile, Pierre Gasly continued his sparkling run of Friday form by taking P3 in FP2, faster than either Perez or Max Verstappen could manage. And given how much Gasly appeared to be loving life out on track, it wasn't hard to see why.
"I must say, I really enjoyed it," said Gasly after FP2. "It's very high-speed, so we're going through the corners at some crazy, crazy speeds, and you get quite a lot of adrenaline, a big rush of adrenaline. The whole day has been very, very good for us."
It wasn't all plain-sailing in Jeddah, though, the track showing its teeth when Charles Leclerc came a cropper at the tail-end of FP2, the Monegasque careening into the Turn 23 barriers.
MUST-SEE: Massive Leclerc crash brings out red flags in FP2 in Saudi Arabia
It wasn't ideal – but despite his team mate's off, fellow Ferrari racer Carlos Sainz couldn't hide his relish after attacking a circuit he described as being like Macau, the Asian street circuit many of the F1 grid experienced in their junior careers during the famous Macau Grand Prix.
"It's different, very different to anything I've driven before really, to be honest," said Sainz. "The intensity that this track gives you and the thrill and the adrenaline is something that I haven't lived... since my Macau days.
"It's very different, very intense, very high-speed, very close to the walls," added Sainz. "I kept trying to get the turning points right just before brushing the wall on the insides. It's quite crazy out there but it looks like so far everyone has stayed safe today and hopefully we can keep it the same way going into tomorrow and Sunday."