'It's just really annoying' – Mazepin fumes at missed opportunity after Raikkonen pit lane crash in Hungary
On a day when an Alpine scored victory and both Williams finished in the points, Haas driver Nikita Mazepin described the pit lane contact that wiped him out of the Hungarian Grand Prix as 'very ****ing annoying', feeling that a chance for a big result for his team had been taken away from him.
Having pitted at the end of Lap 1 after suffering a puncture in the opening lap chaos, Mazepin was then one of 14 drivers who opted to pit for slicks ahead of the Lap 4 race restart following a red flag.
But just as Mazepin was pulling into his pit box, Alfa Romeo released Kimi Raikkonen directly into the path of Mazepin's Haas VF-21, immediately causing irreparable damage to the Russian driver's right-front suspension.
READ MORE: The red flag restart shaped the race – but was the call not to pit REALLY what cost Hamilton the win?
Discussing the crash, Raikkonen – who would ultimately finish the race P10, having received a 10-second penalty for the unsafe release – told the media: "Everybody decided to come and change tyres and then unfortunately they released me and I got hit. I pretty much knew that we were going to get penalised because that's what happens when you release in the wrong time. And that was pretty much the end of our race at that point.
"We had a good chance to score a lot of points, but obviously we gave them away."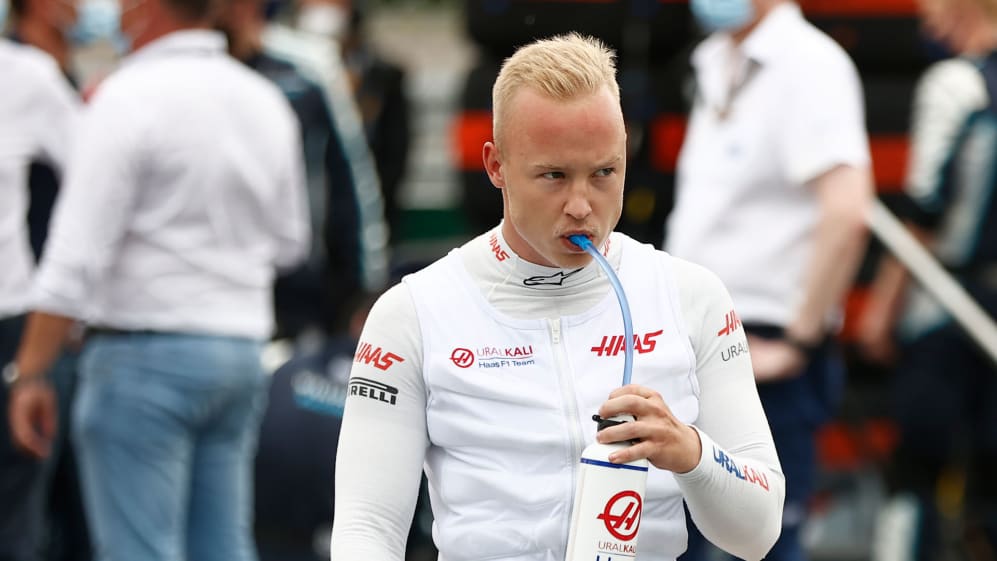 But if Raikkonen was grumpy over the incident, that was nothing compared to Mazepin, who told the press: "The lack of laps and lack of a result is very ****ing annoying.
"That's one race I really wanted to be in," he added, "not only for me but I think this race offers a lot of opportunities and my team does really need those opportunities, and it's just unfortunate that other teams make mistakes and send cars out.
READ MORE: 7 Winners and 6 Losers from the Hungarian GP – Who goes into the summer break on a high?
"I mean, it was obvious that I need to double stack. I'm not allowed to stay in the pit lane and hold people up, so I need to go somewhere, and I was willing to go into my box, I couldn't turn in any later, and the Alfa just came out and took my tyre off."
Asked, meanwhile, if he felt the crash had cost him the chance of a big result – although team mate Mick Schumacher would eventually finish outside the points in P12 despite a battling drive – Mazepin replied: "It could have been but it's not going to be. I strongly believe that I have a long career in Formula 1 but that's seriously not the way I want to go into summer break.
"You want to give it everything and at least leave this weekend tired with a sore body and a sore neck… It's just really annoying."