Feature
The red flag restart shaped the race – but was the call not to pit REALLY what cost Hamilton the win?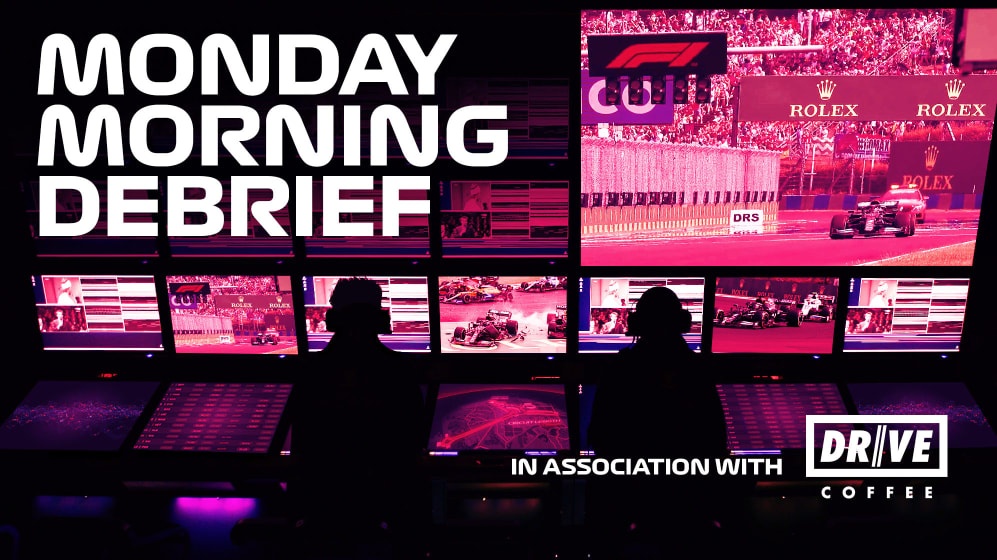 Once Valtteri Bottas' braking misjudgement on a wet track in the opening seconds had taken out himself and the Red Bull team, the shape of the Hungarian Grand Prix was determined by choices made at Mercedes in the running of Lewis Hamilton's race.
Hamilton came out of Turn 1 comfortably leading and with all his potential rivals either out or – in the case of Max Verstappen – severely compromised with damage. How could he lose from there?
READ MORE: Bottas and Stroll handed five-place grid drops for Belgian GP for triggering Turn 1 crashes in Hungary
Because subsequent events – the red flagging of the race, the drying track upon which it restarted half an hour later – made for some tricky decisions, which Mercedes fell foul of. It was this which paved the way for Esteban Ocon's remarkable breakthrough victory, the Alpine driver fending off Sebastian Vettel's Aston Martin the whole way.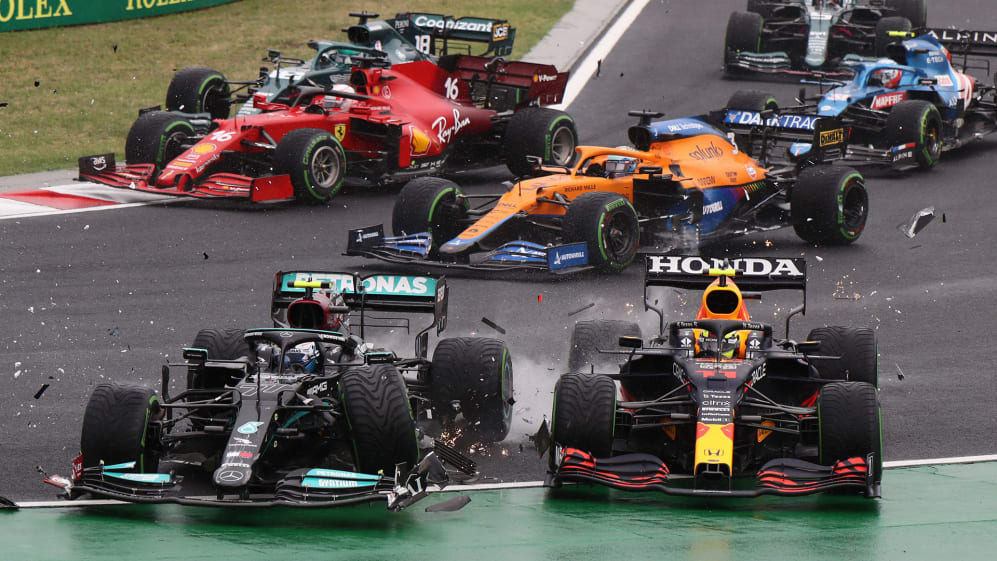 So just what went wrong at Mercedes? The extent to which the track had dried in that half-hour break had been underestimated by everyone. Tyre choice is free after a red flag, yet every single car lined up at the end of the pit lane still on intermediates. Everyone had played it safe and in doing so everyone had got it wrong. The track was comfortably dry enough for slicks.
So if everyone got it wrong, no one was at a disadvantage, right? Actually no. The leader – Hamilton – was now at a big disadvantage as the field was led round on a Formation Lap to the grid by the Safety Car.
READ MORE: Verstappen laments frustrating run to P9 in Hungary after being 'taken out by a Mercedes again'
You are permitted to pit at the end of the Formation Lap and not even take the grid. But there were two areas of difficulty for Hamilton and Mercedes: firstly, as the leader you are forced to be first to make the call and everyone else can make their call knowing what you've chosen.
Secondly, with the garages in the order of the previous year's constructors' championship, Mercedes were first in the pit lane. If everyone came in together, Hamilton would have to be held for a long time if he was to avoid an unsafe release penalty. Cars would have been streaming past as Hamilton was forced to wait and in that process he'd have likely lost many positions.
There was also a high risk of an incident – as demonstrated when Kimi Raikkonen was released into the path of Nikita Mazepin and a collision ensued. The best place to have your garage in this heavy traffic pit lane situation was up at the top, where Williams were. This enabled Nicholas Latifi to jump from fifth to third.
So Mercedes were adamant they didn't want Hamilton to stop on that Formation Lap. He would be the only car to take the grid instead as literally every other car made for the pits for slicks. This ended up far worse for Hamilton than being delayed in the pit box. So much faster were the slicks that even the car in last position at the end of the lap was only 13s behind Hamilton as he pitted.
READ MORE: Hamilton explains decision not to pit for dry tyres at restart as Wolff maintains Mercedes 'did the right thing'
With a pit stop taking 20s, he rejoined a solid last, several seconds off the back of the pack.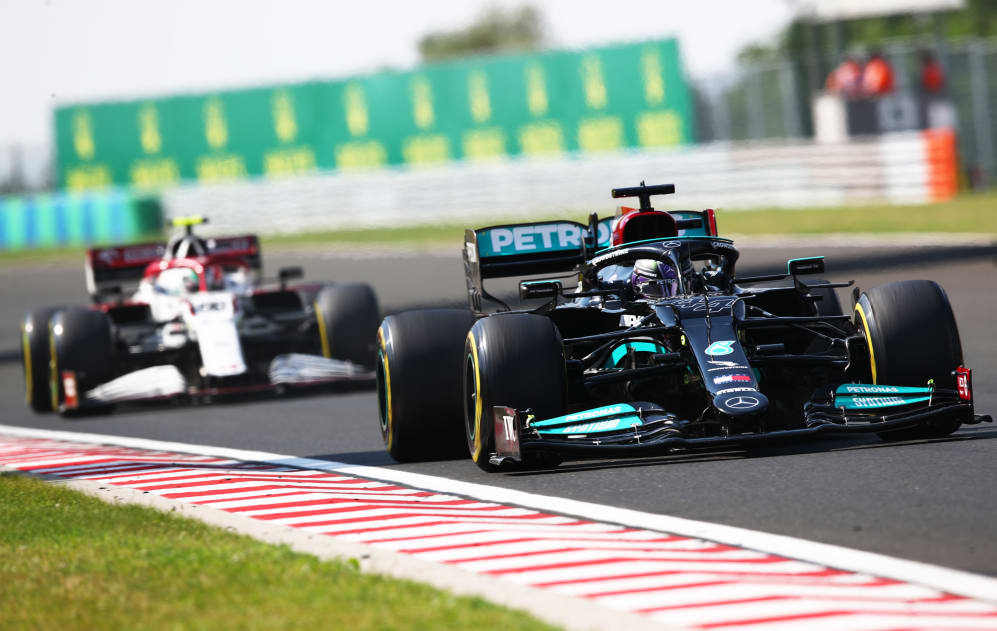 In theory the race was still winnable from there, given his pace advantage over a field that no longer had any truly fast cars in it. But that was contingent upon not losing too much time passing others. Fernando Alonso didn't oblige in that regard and engaged his former team mate in battle for 11 laps – just long enough to prevent Hamilton reaching Ocon and Vettel before the end.
Mercedes' track engineering director Andrew Shovlin was accepting of the errors, but points out that the choice of what to do on the Formation Lap wasn't the key one. "When we actually left the pit lane [for the restart] we were talking about, 'do we go on slicks?' because we could see it was drying out and that's really the decision that we got wrong.
READ MORE: Hamilton says he's still suffering effects of Covid as he's treated for 'fatigue and dizziness' after gruelling run to third in Hungary
"The mindset was, given the situation and with our competitors out, one of not making a mistake by slipping off and getting tangled in an accident. So we decided to be cautious and go on the inter.
"It was very surprising to see the entire field on the inter and then it was more surprising to see the entire field peel off behind us, but when you're first garage you've got the disadvantage that as you come in and do your stop you've got a train of cars following you in who all have pitboxes further down the pitlane and you've got to try and find some kind of a gap that you inch into.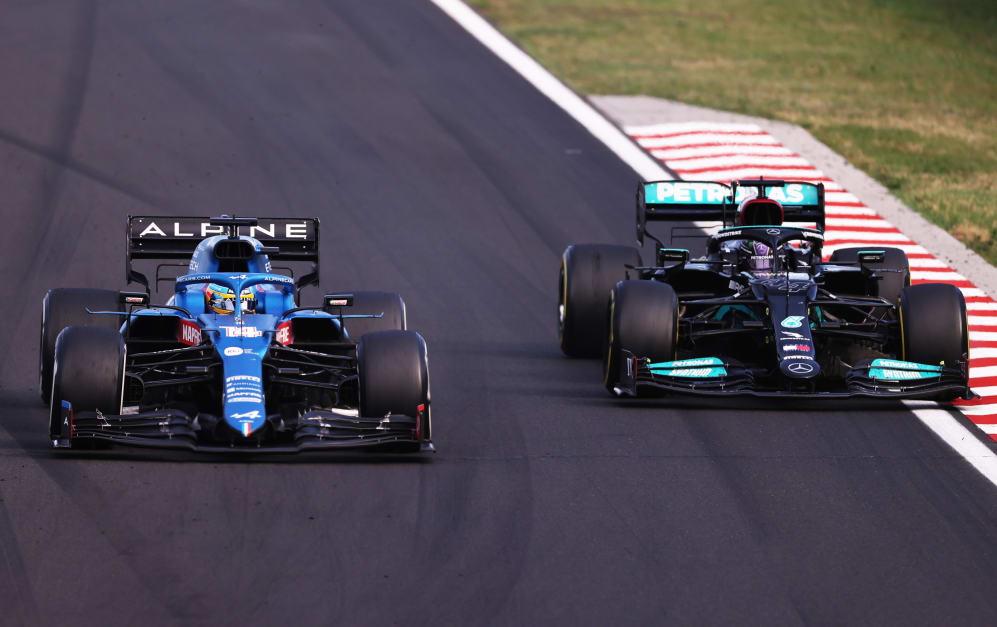 "There was no way Lewis could ever build up a five second gap on a formation lap because everyone is trying to bunch up and get in and we think we would have been, best case, sixth on the road, worst case P10.
"But it would have still been messy and risky which is why we go back to the real mistake we made was we should have rolled out of the pit lane on dries, as should everyone because then you don't need to make the stop. So it was unfortunate and we had an easy opportunity to win the race that we failed to take but we were all in agreement that we got it wrong together.
"So no one's being blamed for it, but it is one of those lessons you learn from and in this industry you try not to make the same mistake twice."
RACE HIGHLIGHTS: Lap 1 crashes, a red flag and Ocon's first win – All the action from a thrilling Hungarian GP