'It's part of the game' – No regrets for Leclerc over Monaco crash as he says he's 'very motivated' for Baku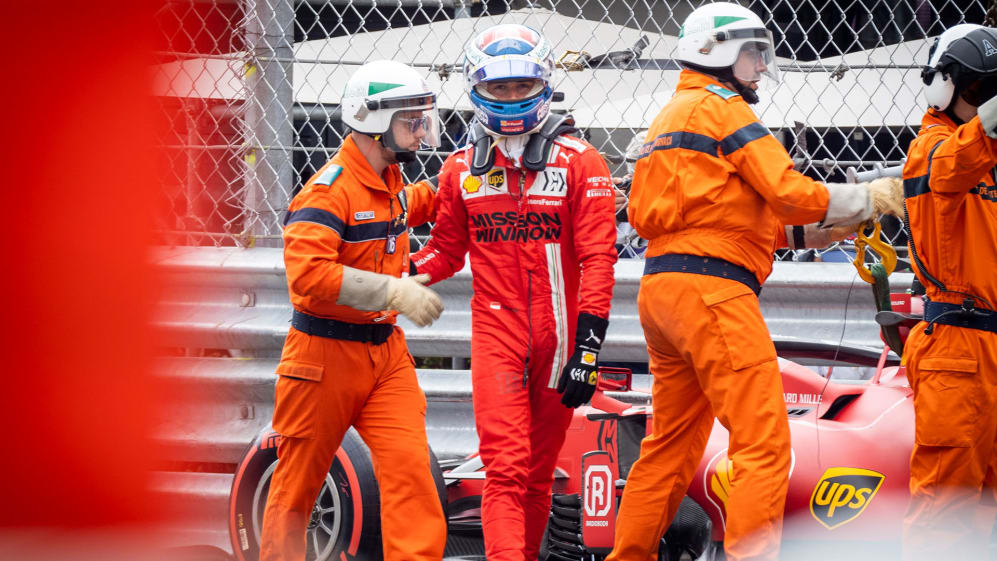 Charles Leclerc's Q3 crash on home turf at the Monaco Grand Prix ultimately denied him the chance to convert his pole position into what would have been a memorable win for the Monegasque. But Leclerc said that he was not going to be "too harsh" on himself for the error, as he eyed a return to form at the upcoming Azerbaijan Grand Prix.
With Leclerc having translated Ferrari's exceptional Monaco practice pace into provisional pole with his first Q3 run in qualifying, a misjudgement on the exit of the Swimming Pool complex on his final effort saw him break his right-front suspension before careering into the Armco barriers – with the impact cracking his left-rear driveshaft hub, an issue Leclerc only discovered on his laps to the grid ahead of Sunday's race.
READ MORE: Ferrari investigation finds that Leclerc qualifying crash WAS to blame for issue that forced Monaco DNS
But despite Leclerc ultimately being unable to take the start – the Monegasque maintaining his record of never having finished a race at home in any category – Leclerc said he had no regrets over his qualifying error.
"I feel like I've done a good job [in Monaco]," said Leclerc. "I had a nice qualifying in general but in the last attempt in Q3 I just tried a bit too much and went into the wall, which… can happen in Monaco.
"It's happened in the past and many, many times I am harsh to myself. But if there was any time during the weekend I had to push [it was] Q3 in Monaco. It's part of the game; you can always learn from it but I am not too harsh on myself for that one."
The Monaco crash bore similarities to Leclerc's accident in Q2 at the 2019 Azerbaijan Grand Prix, when – having set the pace throughout the weekend – he crashed out of contention at Baku's tight Turn 8. But with the Azerbaijan race up next, Leclerc said he was looking forward to getting back in the cockpit of his SF21 around Baku's streets as he goes in search of redemption.
"The luck was not on my side [in Monaco] but that's life, I will get over it and think about Baku," said Leclerc. "I'm very, very motivated to be back in the car and have a very good result soon.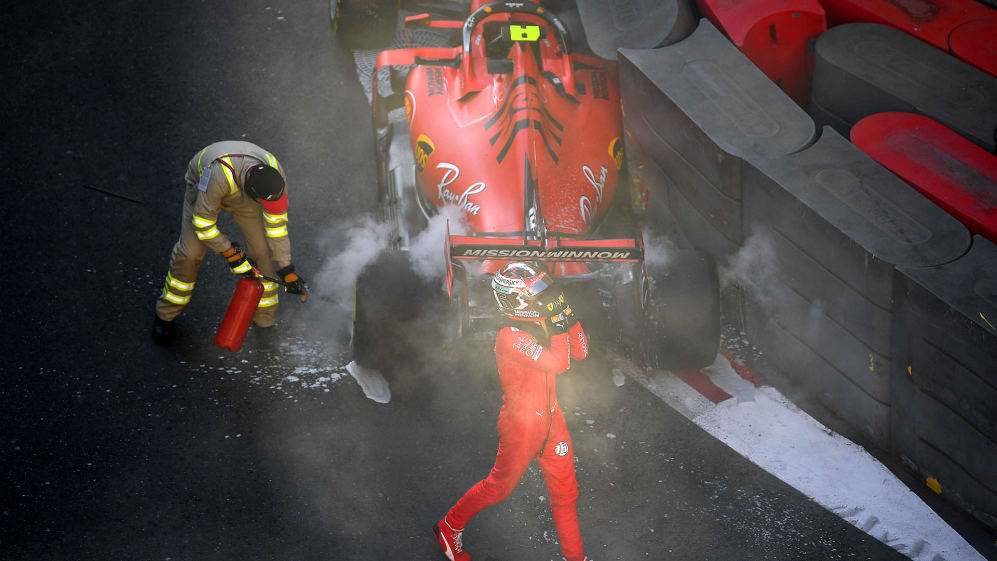 "Of course it is difficult, it's at home and it's not every day we have a chance to be in such a good place," added Leclerc of his Monaco travails. "But it's like this, it's part of motorsport and these things can happen.
READ MORE: 'We can't afford another weekend like Monaco' says Hamilton after losing championship lead
"What I'll try to remember from this weekend is all the positive signs we've had. We are coming back from quite far if we see last year, so we've done a good job to be improving race by race. Here it might be a one-off to be fighting for the win but it doesn't mean there has been no progress, so we are on the good road, we are working well."
Ferrari currently sit two points adrift of third-placed rivals McLaren in the constructors' standings, with five races of the season gone.