'It's very hard to accept' – Gasly on emotional return to Spa one year on from loss of Hubert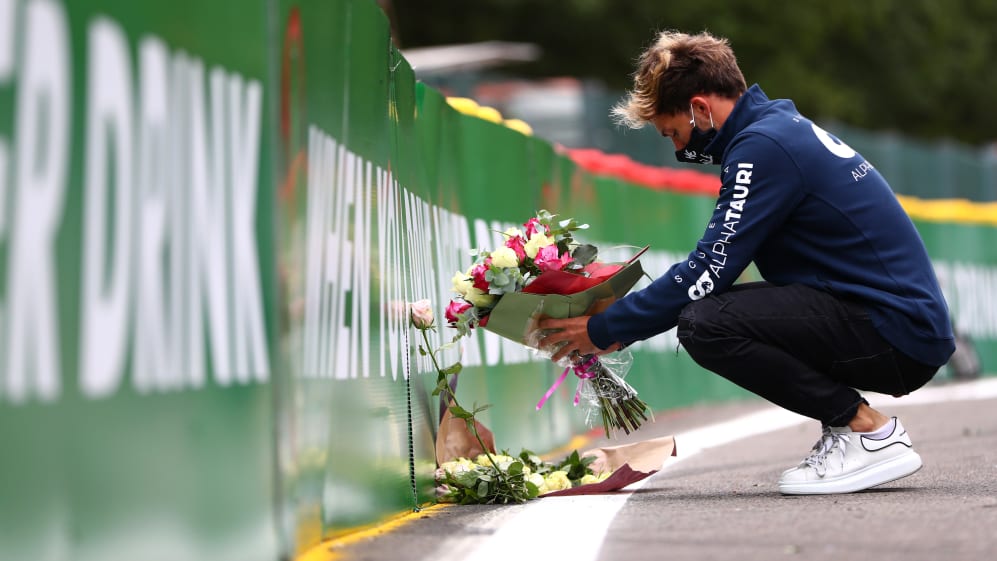 The whole motor racing community was shocked and saddened after F2 racer Anthoine Hubert lost his life in a crash at Spa last year – none more so than Pierre Gasly, who was one of his closest friends. Ahead of this weekend's Belgian Grand Prix, Gasly reflected on a difficult and emotional return to Spa-Francorchamps.
The AlphaTauri driver paid tribute to Hubert by laying flowers at the track on Thursday morning ahead of the race weekend, and afterwards he explained the mixed emotions he had about returning to the circuit.
READ MORE: 12 months on, F1 and F2 outline plans to honour Anthoine Hubert's memory
"I was a bit worried because you never know really how you react to that and I must say this morning it's been hard and strange, because Spa is my favourite track, and I always came here with great memories from my first win in single-seaters, in Formula 4, 2-litres [Formula Renault], GP2 – different wins I had here," he said.
"This year is a different story because as soon as I put one foot in the paddock I just had this images that came back in my mind and things I don't want to accept, or struggle to accept.
"During the track walk I just had images and footage in my mind I wish would have never happened. Unfortunately, that's just the danger of our sport and it's just hard to accept.
"I was with him after Budapest [in 2019] having Sunday dinner with him and we shared a nice moment with his girlfriend, and another friend on Sunday night after Budapest. This was the last time I saw him.
"He was one of the first ones to send me a text when Red Bull decided to put me back in Toro Rosso and yeah, for me, it's just very hard to accept he's not with us anymore."
I would never have achieved what I did without growing up with him...
Gasly holds fond memories of Hubert, who was his room mate at the French Motorsport Federation's school from the ages of 13-18. They raced together, studied together and grew up together.
"He was one of the guys I spent most of my time during my childhood," explained Gasly. "We were rivals, but at the same time I know I would never have achieved what I did without growing up with him, because we were pushing each other so much whether it was on or off the track.
READ MORE: Injured F2 racer Correa returns to Spa paddock to pay tribute to Hubert
"It made me a better athlete, made me a better driver and always pushed me to deliver well and find more for myself. He's been part of my self-development as a person and as a driver and I can only be grateful for that," he concluded.
Gasly heads into Belgium for his third Grand Prix at Spa-Francorchamps. He has finished ninth in his previous two races at the track for Toro Rosso.