'It's what we've got to settle for' – McLaren drivers upbeat despite solitary point for team in Japan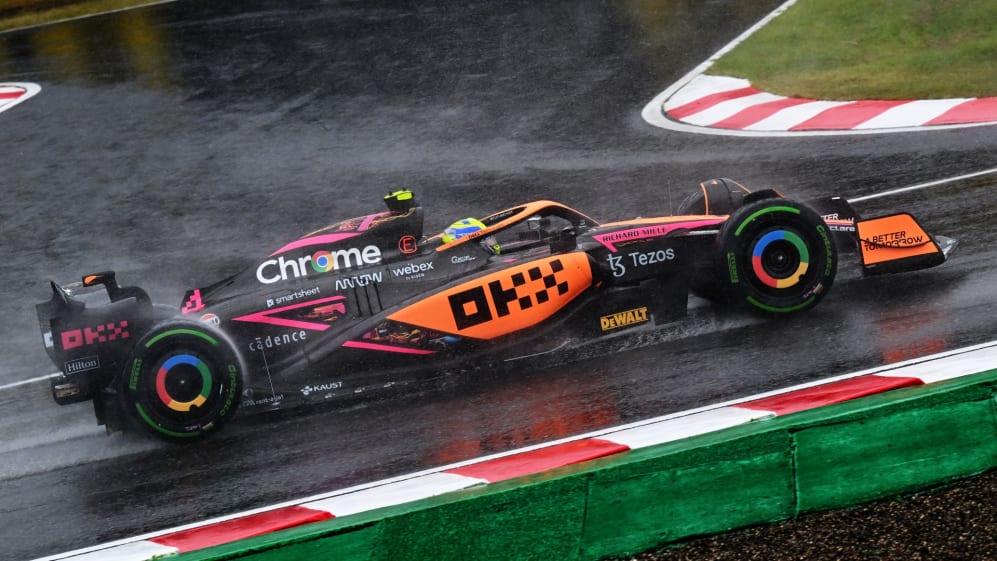 McLaren left Suzuka with just a solitary point after Lando Norris and Daniel Ricciardo finished the Japanese GP in 10th and 11th, respectively. After the race, both drivers reflected on a "tough" Sunday afternoon.
Norris lined up in 10th, but a slow start saw him drop to 13th before the red flag stopped the Grand Prix. After the race was restarted, Norris dived into the pit lane to switch from the wet tyres to the intermediates.
This allowed Norris to undercut his rivals and make it up to ninth before he was overtaken by the Mercedes of George Russell, dropping him down to 10th. While Norris was happy to take a point away from Suzuka, he was frustrated by his slow start.
READ MORE: 5 Winners and 5 Losers from the Japanese Grand Prix – Who mastered the wet conditions in Suzuka?
"Yeah, I guess happy," said Norris, when asked how he felt after the race. "I mean, I lost a lot of positions in the first start, had just a lot of wheelspin and dropped a huge amount. Bit unfortunate then but made up for it with the early pit stop.
"Seemed like whoever went on to the inters earlier made the most positions, like [Sebastian Vettel] for example did a good job and made a good call. But one point is better than nothing. I think I was P14 or P15 on the restart. So, I'm happy, it's one point; it's not a lot but it's what we've got to settle for today."
When asked just how difficult it was to drive in the wet conditions in the opening laps, Norris said: "The beginning, it was like you still couldn't see literally anything. The first start was too bad, I think that was obvious. It's impossible for us to describe to the viewers or to you, just how bad it is, how scary it is being in that situation.
MONDAY MORNING DEBRIEF: Why nailing the strategy was so tough at the rain-shortened Japanese GP
"We are going at whatever speeds we are trying to go; you genuinely cannot see 10 metres ahead of you. And if you are going at 150, 180mph, 300kph and a car stops like Carlos's, you don't see them until it's too late."
He continued: "It's tough. I don't know what it is, whether we need to have some, like, mud guards on the tyres, something so simple. But it's impossible to drive like that. Thank God it stopped but also happy to get it going again in the end."
Ricciardo, on the other hand, made a fast start going up from 11th to eighth but lost out in the pit stops after the restart, dropping down to 13th. However, he was able to get back up to P11 before the end of the race, leaving the Australian lamenting his extra lap on the extreme wet tyres.
"It was ultimately just the inter [that cost us]," said Ricciardo. "The ones brave enough to fit it early, they made it work. It was hard to read, hard with the spray, with visibility, not really seeing a clear line as well and not knowing if the inters are going to be ready. So, you kind of rely on the others as well, how they are going, but I think we were still kind of talking about it in the last chicane.
BUXTON: Why comparisons to Schumacher are inevitable after Verstappen's imperious run to his second title
"To be honest, although I was 11th, I was having fun. It's not normally as fun when you are outside the points, but I enjoyed the challenge of it. I felt like we had a bit more to show but [it was] probably more about tyres and managing them, which is where we maybe fell a bit short as well."
Ricciardo was also asked for his thoughts on his former Red Bull team mate Max Verstappen winning the title, to which replied: "Last year was such a battle and as a fan it was awesome to see, and this year, he just stepped it up again. It was pretty convincing, so I am happy for Max and Red Bull."