Feature
Jolyon Palmer: Why Hamilton's tyre tightrope act to seal Bahrain win was so impressive
Lewis Hamilton's win in Sunday's Grand Prix was simply sublime – and there was far more to it than simply a track limits discussion.
Mercedes were on the back foot throughout Friday and Saturday in Bahrain, but on Sunday their race pace critically was very similar to Red Bulls. The 0.4 second gap Verstappen enjoyed on Saturday appeared to be no longer there and Hamilton set up his win by being able to routinely stay within two seconds of the Dutchman in the opening stint, and then go for an undercut.
That undercut gave Hamilton the lead, and then Mercedes prevented Red Bull doing the exact same back to them at the next stops by pitting Hamilton a second time as soon as Verstappen was within range.
READ MORE: How Mercedes' aggressive tactics helped them beat Red Bull in Bahrain – despite having a slower car
Valterri Bottas' slow stop two laps later could have been incredibly costly though. It was this slow stop which made the rest of the race immeasurably tougher for Hamilton than it may have otherwise been.
If Bottas' stop had been routine, Verstappen would have either had to pit the next lap and therefore only have a three lap tyre advantage to Hamilton, or he'd have had to pass both Mercedes for the win, rather than just the race leader.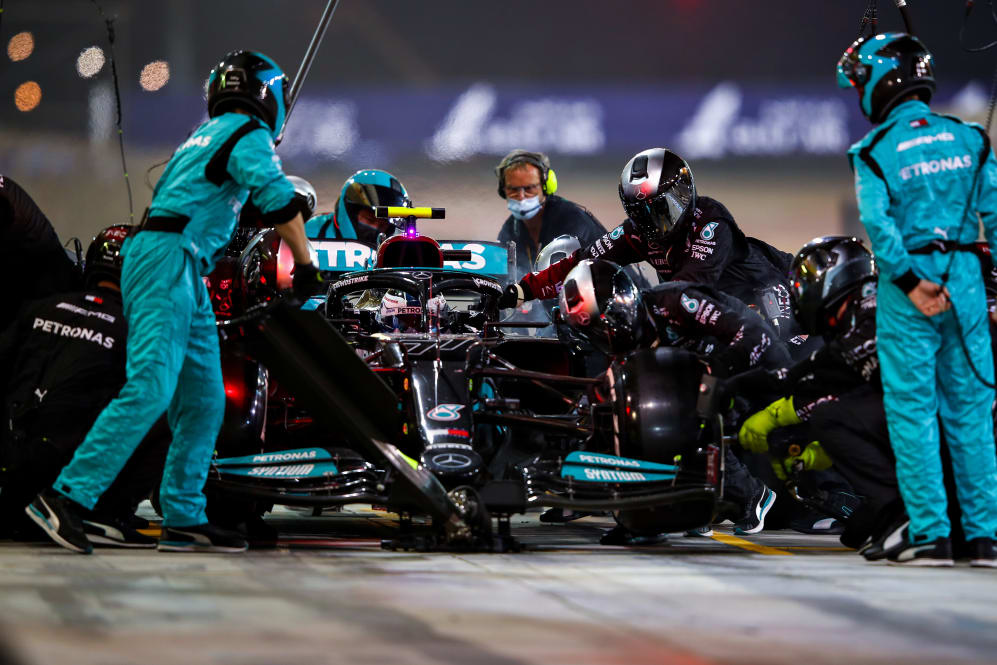 Mercedes were using Bottas as a rear gunner to manoeuvre Red Bull into a strategy that was sub-optimal, but it failed because of the Finn's slow stop, which opened the door for Max to win.
For Hamilton, measuring the pace of the last stint was incredibly difficult, and it's rarely achieved with such clinical perfection. The balance between pace and tyre life is on a knife edge, and it was such a long stint – 28 laps on a high degradation circuit.
READ MORE: Hamilton vs Verstappen – The data that shows what was really happening in the cockpit during their Bahrain battle
Push too hard to open up a gap to Verstappen and Hamilton would enjoy a more comfortable gap to the Red Bull once Verstappen pits, but then have nothing left in the tyres to defend against him if he got caught.
Not push hard enough and Verstappen would come out of the pits right on the tail of the race lead, with 11 laps fresher tyres, and even though Hamilton would have kept life in the tyres, Verstappen would still have the pace edge, and many laps to apply the pressure and make the pass.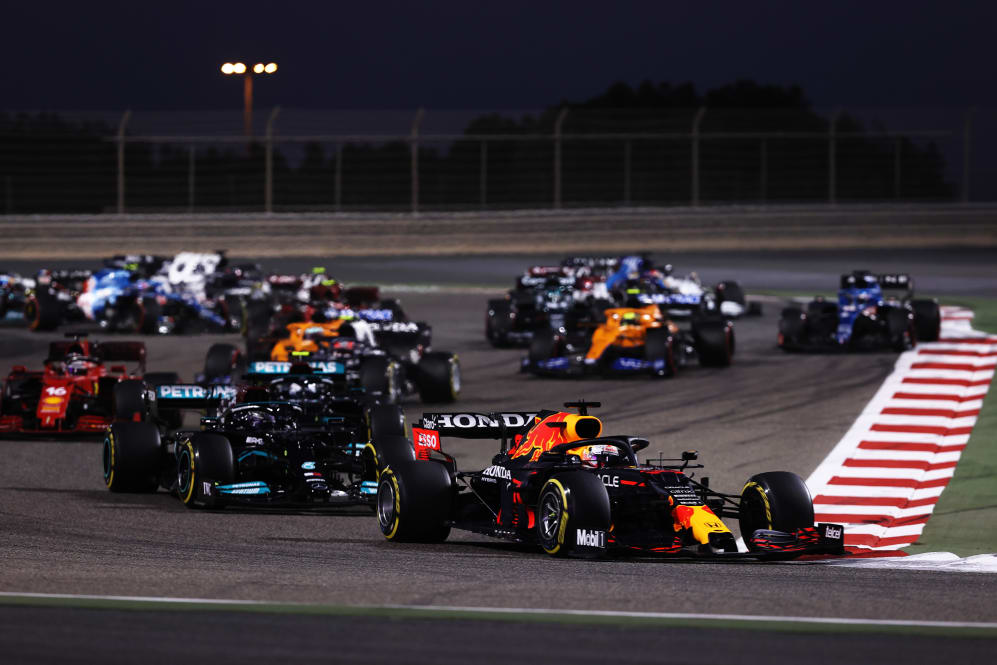 Hamilton fell into the middle ground here – he managed to open something of a gap to Verstappen, but most crucially kept his tyres alive, just enough to hold Verstappen back at the end in the final laps, after the failed attempt at Turn 4.
He was asked to find more pace before Verstappen pitted, to drop to a low 1min34, but only managed to drop his pace to half of that asked by his team, something that will have helped the final defence.
Of course we can look back with hindsight now and say it was a perfect drive, but it could have all come to nothing, had Verstappen not had an oversteer which edged him over track limits during his pass on lap 53.
Verstappen also had this tyre conundrum to deal with in the closing stages as well. He needed to hunt down Hamilton for the race win, but couldn't afford to destroy his tyres in closing the gap and have nothing left with which to fight the reigning champion.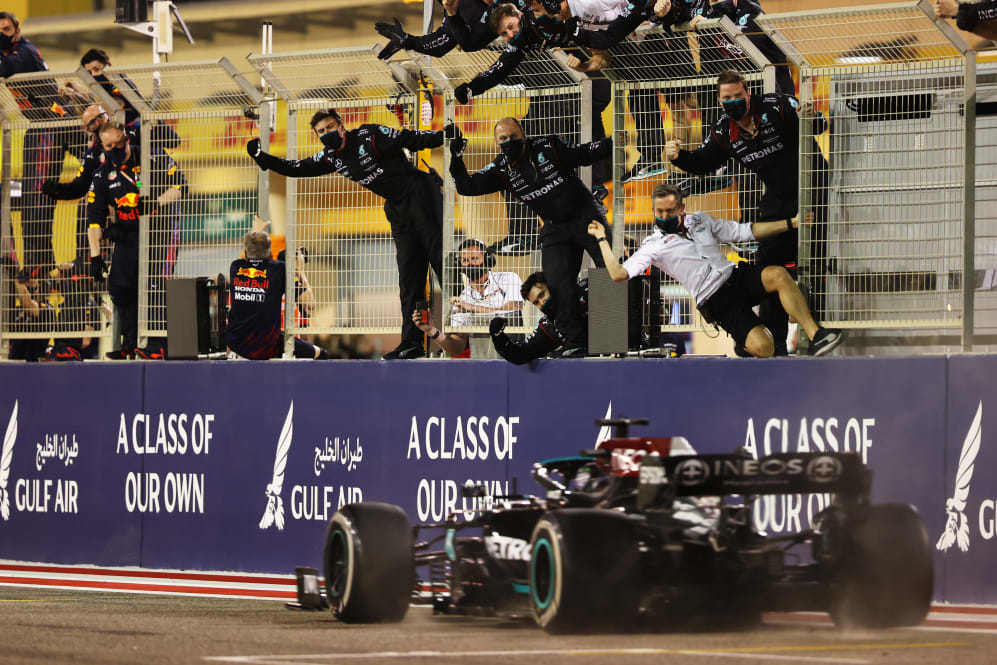 Also warned about this on the radio, Verstappen bided his time in catching Hamilton, which seemed a good decision, particularly with the way he was able to smash straight through the dirty air zone of the Mercedes and put a pass on Hamilton at the first time of asking.
Had the move have come off legitimately, it would have been the clinical moment Verstappen needed. One shot to win, and he took it… except he didn't.
Running just over the edge of the circuit meant he was rightly told to yield the position back to Hamilton, and it was from this moment Hamilton can be thankful he had something left in his tyres, just at the time Verstappen's began to suffer.
READ MORE: 'It is what it is' – Verstappen philosophical about surrendering lead to Hamilton following off-track pass
Putting a lot of energy through his rear tyres to pass Hamilton initially would have increased the temperatures for Verstappen through the first sector, culminating in him oversteering wide at Turn 4.
It then meant he couldn't quite get a handle on them again to attack once Hamilton reclaimed the lead.
With the ease with which Verstappen caught and passed Hamilton the first time, it seemed inevitable he could do the same, and I'm sure both the Red Bull pit wall and Verstappen himself thought he'd do it, hence obeying Race Director Michael Masi's instruction to cede the position in the first place.
But he never was close enough to have another proper attack, due to his overheating rear tyres. A slither wide just after letting Hamilton back passed at Turn 13 let the Briton off the hook another lap, and the chequered flag came one lap too soon for him to have another proper go.
This was a brilliant fight, from two drivers at the top of their game, and in the crunch moment Hamilton came out on top in round 1, with a measured drive using all of his experience and know-how. With the way Red Bull are looking though, he'll need to maintain this incredibly high level if he's to take the crown in 22 races time.
READ MORE: The Ross Brawn Column – The brilliant Bahrain battle between Hamilton and Verstappen shows we could be in for an epic season