Feature
Jolyon Palmer's Analysis: How Charles Leclerc outdid Vettel and Hamilton in Belgium
The 2019 Belgian Grand Prix wasn't going to be a straightforward race to win for pole sitter Charles Leclerc. Here, former Renault F1 racer Jolyon Palmer explains how Leclerc executed a perfect race to keep Lewis Hamilton and Sebastian Vettel at bay.
Charles Leclerc has had a very impressive season so far and has begun to establish himself as the number one driver at Ferrari.
He's made a few errors this year, which have cost him notably in Germany and Azerbaijan, but the first win never looked far away. He was so unlucky not to claim it in Bahrain and then Austria, but finally he broke his duck with a perfectly measured drive in Belgium, in difficult circumstances.
Qualifying has turned into a real forte for Leclerc. Since Sebastian Vettel claimed pole position in Canada, back at the start of June, Leclerc hasn't been out-qualified by his champion team mate and has now taken three pole positions this year, to Vettel's one.
READ MORE: The Winners and Losers of the Belgian Grand Prix
What's really impressive about Leclerc is his ability to nail the critical qualifying laps, when he's on top of the car, without making any mistakes. He's so assertive by the time he gets to Q3 that pole position seems a formality for him.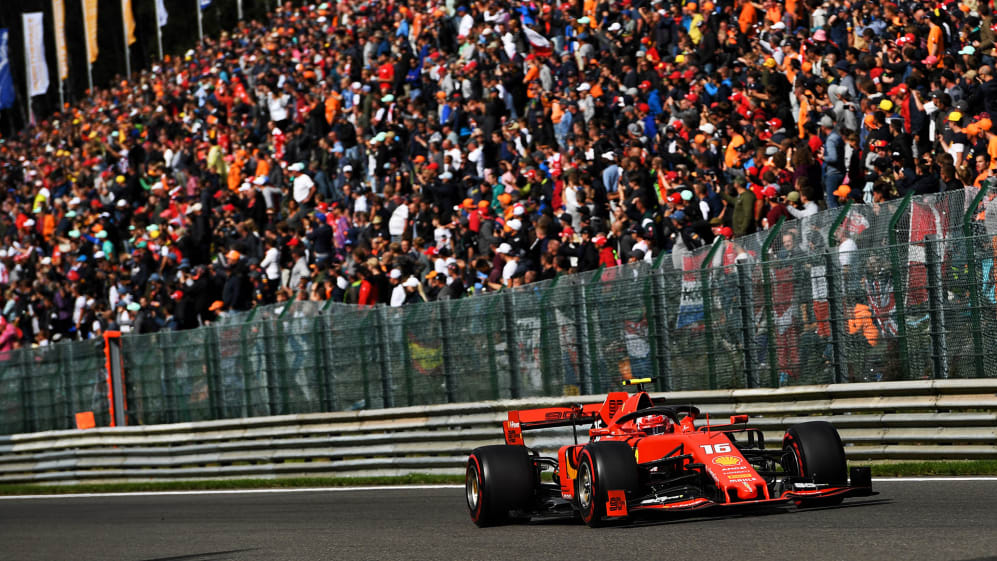 Three-tenth margins in Bahrain and Austria, and two laps good enough for pole, have now been backed up by a whopping seven-tenth margin in Belgium.
But qualifying is just a part of winning a race, and in Belgium, with overtaking very possible, it's not the biggest part at all.
The start is critical, and Leclerc has been good at these as well now, since losing the lead from his first pole in Bahrain.
In Belgium it was extremely helpful for him that Vettel re-passed Hamilton on the long run up the Kemmel straight on lap one, after the German's own slightly sluggish start.
That meant Leclerc had a buffer to Hamilton for much of the race and with Hamilton being the greater threat for the victory this came in handy, particularly with the way the Brit closed in at the end.
The question is, how was Leclerc so much better than Vettel in the same car?
Fundamentally it comes down to pace. Leclerc's qualifying advantage over Vettel was huge, and he looked to carry a chunk of that into the race as well.
Whilst Vettel may have looked like he was just about holding pace with Leclerc in the opening stages, he did it at the cost of using up his tyres a lot more.
In the four laps leading up to Vettel's pit stop he lost almost a second to Leclerc. The gap opened up from a more stable 2.5 seconds to 3.4 seconds. Vettel had to pit because Hamilton was also closing in behind and was in a perfect position for an undercut, so Ferrari took the initiative.
But the fact that Leclerc went a further six laps into the race, matching Hamilton's pace and being consistent with his own, around a long lap as well, shows just how much better he had looked after his tyres.
When you have fundamentally better pace it is easier to manage tyres, you can take it slightly easier in the areas that can be damaging, particularly on the rear axle. That is pretty much rear locking under braking, small wheel spin on traction and tiny amounts of sliding in fast corners, like Pouhon.
So whilst Vettel was initially keeping pace with Leclerc, he was probably doing that at the cost of more slip at the rear and therefore damaging and overheating the tyre - thus he had to make an earlier pit stop as he was falling into the clutches of Hamilton.
Even more obvious was Vettel's reaction on his opening few laps of his second stint. He pushed initially really hard and was doing lap times up to two seconds quicker than Leclerc and Hamilton who hadn't yet pitted. This was to try and stay clear of Hamilton's overcut threat initially, but then to undercut Leclerc, which he ended up doing.
But it was also his ultimate downfall. When Verstappen pitted earlier than Hamilton in Hungary he was very gentle on the tyres and it gave him a better chance of fighting off the Brit, albeit on a circuit much harder to overtake on. Ultimately Hamilton took a second stop and passed on a different strategy.
In Belgium Vettel used up a lot of rear tyre life simply for lap time gain rather than holding it back to defend from Hamilton, and it made him an easier target as Hamilton pressured him after his pit stop.
But with Ferrari's significant straight-line speed advantage it still took Hamilton three crucial laps to pass Vettel and in this time he lost 2.5 seconds to Leclerc, which would be critical at the end of the race.
READ MORE: Ferrari are Monza favourites but Mercedes can fight them, says Hamilton
So Leclerc had pace, managed his tyres and finally soaked up pressure from Hamilton later on as well. He just about managed to stay out of reach of the Mercedes though thanks to making no mistakes at all under pressure and clearing a lot of backmarkers very effectively.
It was a superb drive that started with a brilliant pole on Saturday and ended with an almost perfect race under a lot of pressure on Sunday. That's his first win, and I predict his second will be just around the corner.