Kvyat rues missed points for Toro Rosso in home race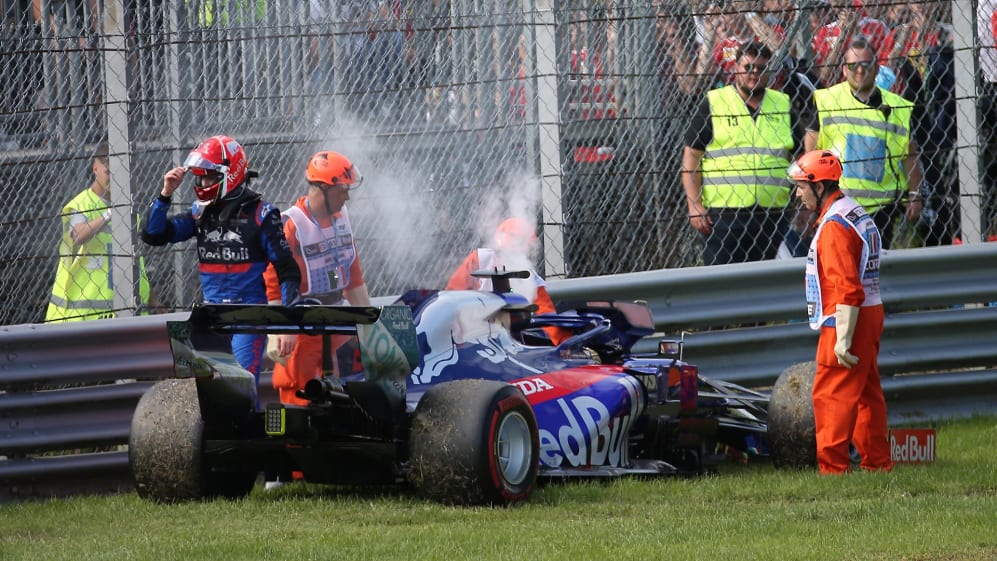 Ferrari weren't the only team celebrating a home race at Monza, and Toro Rosso missed out on a big haul of points on Sunday, according to Toro Rosso's Daniil Kvyat.
Based in Faenza near Bologna, Toro Rosso are just three hours away from the home of the Italian Grand Prix. And they have history at Monza, courtesy of Sebastian Vettel's remarkable 2008 victory. On Sunday, Kvyat was engineering his own heroics, having made it up to P6 from 12th on the grid.
"It was going to be an amazing race, I was ahead of Red Bull Racing at that stage and I think P6 or P5 – something like that – was on the table for us," Kvyat said.
Then, his Toro Rosso – equipped with the 'Spec 4' Honda engine from the Belgian Grand Prix – stopped just after the first chicane with Red Bull's Alex Albon behind.
"It's very disappointing," said Kvyat. "This is our sport unfortunately, sometimes we can do a great job and something in the car gives up and you have to pull over.
"Definitely, I was doing the same lap times as [Alex] Albon and then I think I had fresher tyres so I was confident I would be able to keep him behind. So it's a very big shame, but I don't exactly know the reasons yet.
"The race was looking great, more big points on the table but unfortunately this is our sport sometimes. It was looking great. It was a very strong race and it's such a shame to lose so many points."
Although Kvyat was none the wiser as to what had caused his stoppage at the time, Toro Rosso chief race engineer Jonathan Eddolls revealed an oil leak was to blame, with the team requesting Kvyat retire despite agreeing that significant points were on offer.
"Dani had a really strong race," Eddolls said. "We planned to go long and use the pace of the car in the middle of the race in clear air, and he was pushing hard. The Virtual Safety Car came at the right time, so we pitted both cars and would have taken a big advantage from that, but once Dani left the pits we saw some smoke and then in the data we realised he had an oil leak. We decided to stop him on track to preserve the car for future races.
Verstappen: Honda 'made some steps forward' at Monza
"It was unfortunate as P7 was possible for Dani. On the positive side, the car is showing good pace, so we are happy to head to Singapore, a track where historically we've shown good performances. We're confident we can take our learnings from earlier in the season and roll out with a good package to be competitive there."