Kvyat 'should have more kids' jokes Horner after stunning Hockenheim podium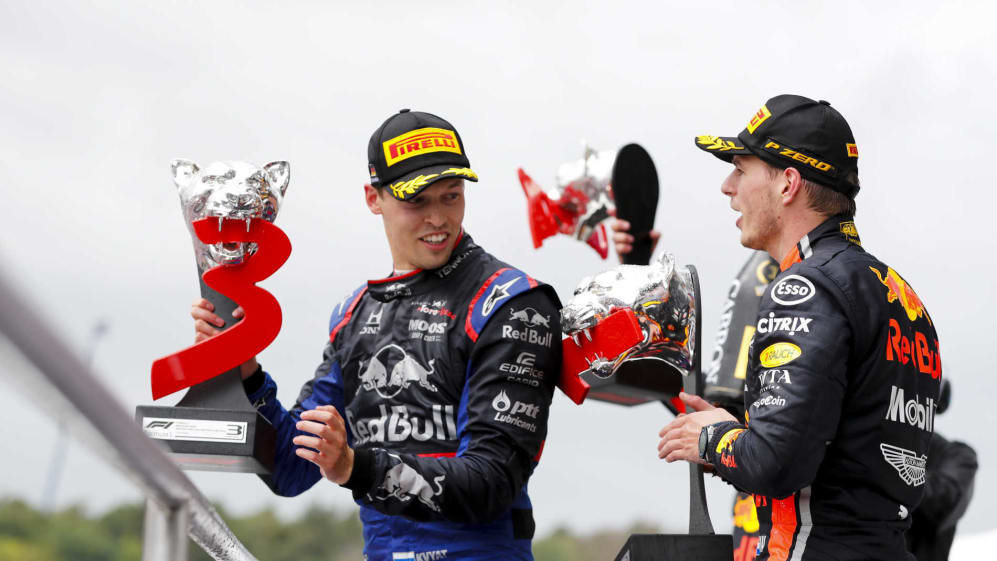 The relationship between Daniil Kvyat and Red Bull hasn't always been the easiest – but their Team Principal Christian Horner was genuinely pleased to see his former driver claim third place at the 2019 German Grand Prix, his first podium since the one he'd netted at the 2016 Chinese Grand Prix, the penultimate race before he was dropped by Red Bull in favour of Max Verstappen.
A fraught race which saw the Safety Car and Virtual Safety Car deployed six times meant that Kvyat, who'd started the race 14th, found himself in P3 by the chequered flag, marking a third podium appearance for the Russian that was made even more special by the fact that his first child with girlfriend Kelly Piquet had been born the night before the race.
READ MORE: New father Kvyat caps 'surreal' weekend with surprise podium
That allowed his former team boss Horner an easy gag when asked about Kvyat's achievement, before Horner went on to pay tribute to the Russian, whose F1 career had looked to be all but over until his surprise call-up to return to Toro Rosso at the end of 2018.
"Unbelievable – he should have more kids!" joked Horner when asked about his reaction to Kvyat's podium. "I'm so pleased for him. He's kept his head down, he's fought his way back into the [Red Bull] programme... For him to become a father last night and be on the podium today – it was a very mature drive by him."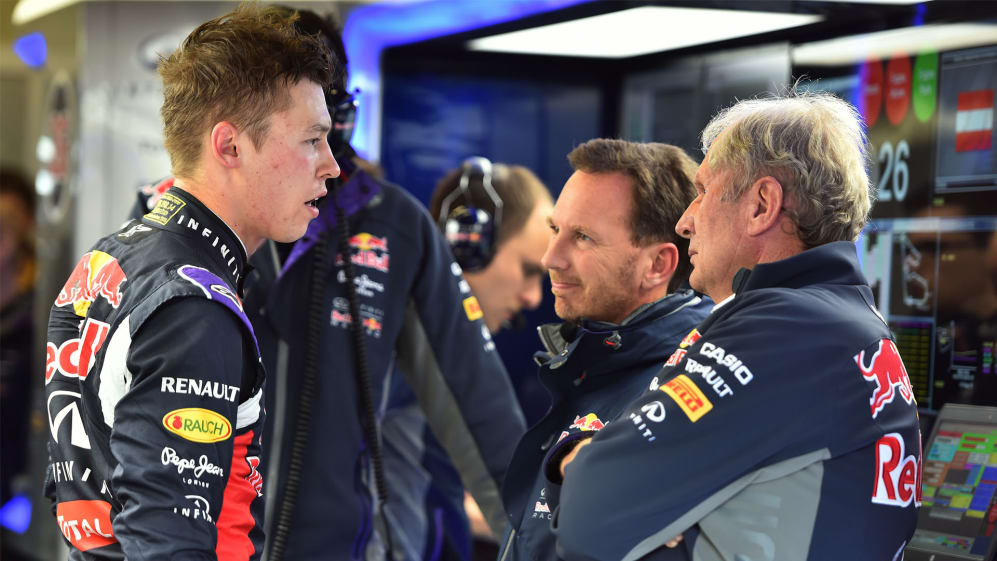 All these three difficult years just felt like they crashed from my shoulders finally. I lost these chains today
Kvyat, too, was left in no doubt about the poignancy of the moment, having endured a tough few years where his career had seemed to spin off the rails following his demotion from Red Bull in favour of Verstappen – the winner at Hockenheim – before he went on to be released by Toro Rosso before the end of the 2017 season, going on to spend 2018 working with Ferrari as a development driver only to be recalled to Toro Rosso for 2019.
"It was an incredible few years in my life," said Kvyat in the post-race press conference. "A lot of realisations in my life because it was sometimes tough times and I thought maybe Formula 1 was over for me, and maybe I thought, especially a podium, I would never ever have it again.
READ MORE: Verstappen in a 'class of his own' in Hockenheim, says Red Bull boss Horner
"But life just proves that if you work hard and never give up, things are possible. I think that's exactly what happened today. Even the race was tough for everyone, I managed to keep it cool and just… all these three difficult years just felt like they crashed from my shoulders finally. I lost these chains today. It was hard work to reach this moment and hopefully I can send the message out there that I'm ready now to fight for this kind of moment on a consistent basis – and there is no stronger message than a podium like this."
Kvyat's podium marks the first for a driver outside of Mercedes, Ferrari and Red Bull since Sergio Perez finished third at the 2018 Azerbaijan Grand Prix for Force India, and sees the Russian jump from 14th eighth in the drivers' standings, behind McLaren's Carlos Sainz, while Toro Rosso also leap from eighth place to fifth in the constructors' championship, thanks also to Alex Albon's sixth place finish for the team at Hockenheim.