Leclerc aiming to be in fight for pole after ending Friday in Bahrain within a tenth of Verstappen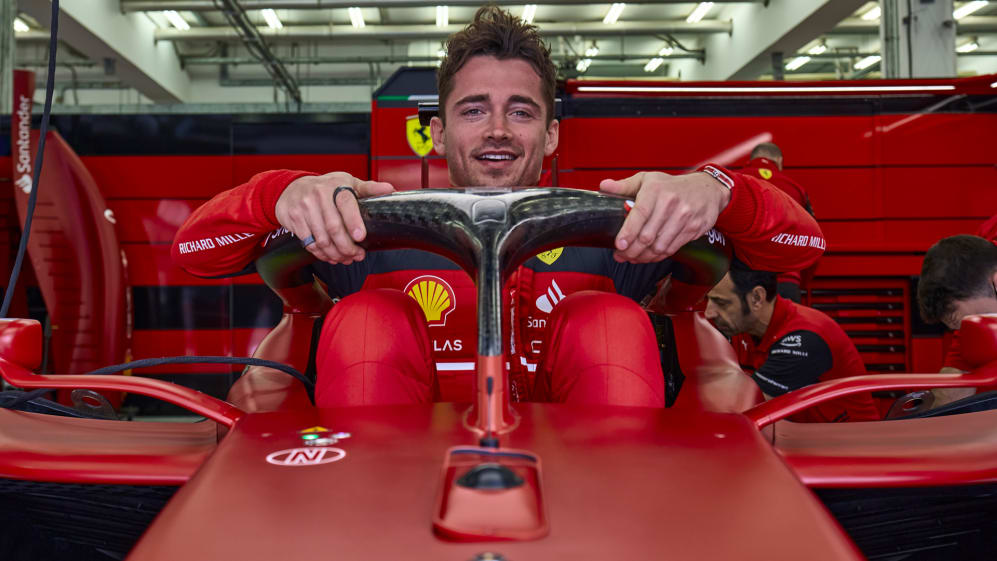 Ferrari enjoyed a stirring start to the 2022 Bahrain Grand Prix weekend, finishing second and third in both practice sessions – with Charles Leclerc now eyeing up pole position on Saturday…
Leclerc finished just 0.087s off Red Bull's FP2 leader Max Verstappen after finishing runner-up in FP1 behind AlphaTauri's Pierre Gasly – shrugging off a spin (below) on the way. He was understandably encouraged by the pace and behaviour of his Ferrari F1-75, after a pair of pacey showings on Friday.
READ MORE: Verstappen 'very pleased' with Red Bull's start in Bahrain, as he predicts tense Ferrari battle
"Okay, nobody is on the absolute limit of the car but there haven't been any bad surprises today, which is good. It seems like we're in the mix, more or less, which is good. It gives us a bit of a smile, but there's still a lot of work to do for tomorrow and hopefully we'll be able to fight for pole," said Leclerc.
"I'm quite confident with the car. It's all about trying to test the limits today; to not do the same mistakes tomorrow. I went for it and at the end we did the fast lap on the second lap, so I think there's a bit of margin still, so it's not looking too bad. But today went well, we tested a lot of things… and all the changes that we've done made us progress.
"So we need to do the same step for tomorrow, and then hopefully we'll have the car to fight."
Team mate Carlos Sainz, who was third in both FP1 and FP2, was happy about the Scuderia's standing on Friday – but not so happy with what he called a "tough" second session. The Spaniard outlined specific changes he wanted to make in his own driving to overcome those hurdles.
"As a team, with two cars in the top three… in every session – I think it's been a positive start for the team. We are confirming the good feeling we had in the car since testing," began Sainz.
READ MORE: Russell says Mercedes 'a long way off' as Hamilton warns 'longer term fix' needed after early Bahrain running
"From my side, honestly FP2 was quite tough. I still don't fully understand the car in the short runs, I am struggling with the front tyre with the warm-up, with a lot of mid-corner understeer, and still not driving it probably the way I should in an ideal manner. So, quite a bit of homework to do on that side. I need to work through the night and make sure I find some lap time for tomorrow."
The takeaway for Sainz?
"It shows we are in a good position – that even without a great day, we are still right up there," he concluded.