Leclerc encouraged by Ferrari's Friday pace despite FP2 failure, as Vettel targets Q3 in Sakhir
There was a weird feeling inside the Ferrari garage at the end of Friday practice for the Sakhir Grand Prix, with the driver that didn't run in FP2 bizarrely left a lot happier than the one that did.
Charles Leclerc broke a driveshaft running wide at Turn 8 early in the session and had to limp back to the pits, coasting into the pit lane where his mechanics could recover him. Despite missing out on almost the whole session – completing just two laps – Leclerc was still encouraged by what he'd felt from his car.
"We were actually better than expected [in FP1] I have to say, and FP2 was also good until the failure on my side," Leclerc said. "So hopefully it will be a good day tomorrow.
FP2: Mercedes sub Russell beats Verstappen to complete clean sweep on Friday at Sakhir GP
"I followed what I thought was right and it felt good at the beginning of FP2 so I'm confident that we are in quite a nice place, but we still need to see the final lap time to confirm it."
Asked whether he thought Q3 would be possible, meanwhile, Leclerc replied: "Looking at FP1 yes, but you cannot really take it as a representative result so we'll have to wait and see tomorrow. But I feel confident we could be competitive."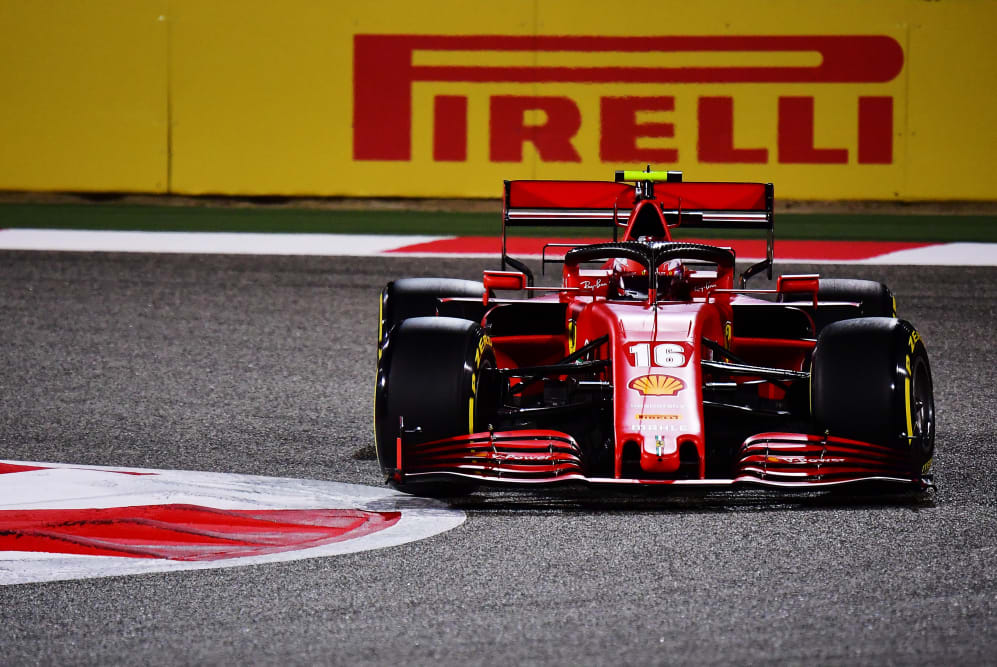 Despite his limited running, Leclerc was also a fan of the short Outer Track at Bahrain, which delivered lap times under of 55 seconds and provided a challenging new middle sector.
"The kerbs are very high there and if you take them a certain way then you touch and apparently people have broken some parts over the kerbs too. So it will be tricky for the race especially. But I actually enjoy the track, very few corners, it reminds me a bit of the karting days too but it's nice and it should be a fun race.
READ MORE: Russell plays down expectations after topping Sakhir practice sessions, saying lap times are 'deceiving'
"I don't know [how close the racing will be] because of the people who have experienced the race runs in FP2 felt like it was difficult to overtake I think. So I don't know, we'll have to wait and see but surely it will be exciting because with these long straights the one behind will have a big advantage."
Despite being able to complete 43 laps himself in FP2, Sebastian Vettel was left less happy from both the track and his running as he felt he took the wrong set-up direction with his Ferrari and ended up in 16th place after a spin in front of Kevin Magnussen.
"It's very short, it's too short to be honest," Vettel said, having finished FP1 in a more promising P8. "It's a bit strange, just when it's about to start it stops and you're heading into the last corner! It's okay, it is what it is.
"We've had a mixed day, the first session was okay, the second session was horrible. We tried something with the car and I think it was very aggressive and probably not what we needed. But I hope tomorrow we can close the loop and we're back on track.
READ MORE: 'It's crazy, this is the big league now' – F1 new boys Fittipaldi and Aitken on their drama-filled Fridays
"We had a mixed session this evening," Vettel added. "Charles wasn't out running so we didn't get the answer on the other side either. I think Q1 should be fine to make it through to Q2, and then I think Q3 could be possible – maybe it's a little bit better than last week – but I reckon it will be very tight. It's a short lap, the gaps between the cars are nothing. The midfield has always been tight this year so it will be even tighter."