Leclerc: 'No explanations' for 'most difficult race of the season'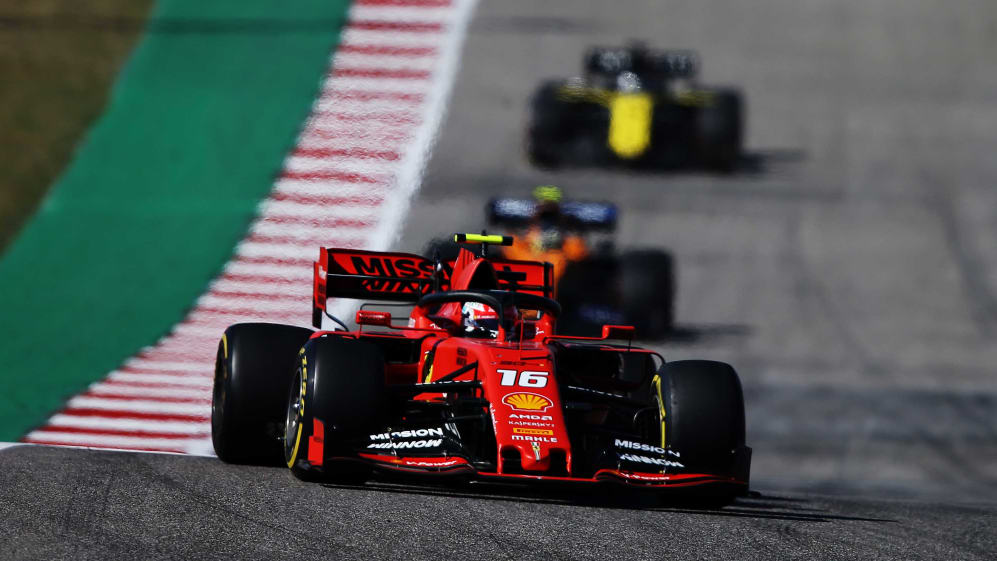 The 2019 United States Grand Prix proved an extremely rough ride for Ferrari, with Sebastian Vettel retiring with suspension failure on Lap 8 – while potentially more worrying was Charles Leclerc finishing the race in an extremely distant fourth, leaving the Monegasque puzzled about his poor performance.
Such was the pace deficit of Leclerc in the first stint of the Grand Prix that eventual winner Valtteri Bottas was able to pit from the lead on Lap 14 and pass the non-stopping Leclerc for P2 just two laps later, with Leclerc eventually finishing the race 52 seconds down the road from the Finn – not helped by a 7.7-second stop when he did eventually pit for the first time of two on Lap 20.
WATCH: Vettel suffers dramatic suspension failure in Austin
But it was his difficult first stint on medium tyres that had really left Leclerc scratching his head at the race end…
The front-left felt very, very weird. We need to analyse that, because I've never had this feeling before
"It was an extremely hard day," said Leclerc, "probably the most difficult race of the season, with Budapest. We never found the pace really.
"The first stint was extremely hard. I believe this was the main problem of the race. To be completely honest, I've got no explanations. The front-left felt very, very weird. We need to analyse that, because I've never had this feeling before. Pretty sure something was not right on this stint.
"Then the two other [stints], the pace was not as bad as on this one, that's for sure, but still not as strong as the guys in front. So this we need to understand, but the first stint is the one that doesn't seem right to me."
READ MORE: 'Cloud nine doesn't get close to where I am' – Hamilton on title number 6
Ferrari's difficult day in Austin was put into sharp focus given the relative success of Mercedes, who secured a one-two in the race whilst Lewis Hamilton claimed his sixth drivers' title. And it left Team Principal Mattia Binotto, celebrating his 50th birthday on race day, hoping his team would come back stronger in 2020.
"At the end of the first stint, somehow, our race was over," reflected Binotto. "That's certainly frustrating. I don't think it's reflecting our performance at the moment. We were expecting something certainly more today, for [Charles] and for Seb, so a disappointing day for us.
READ MORE: Austin winner Bottas 'can't wait for next year' after conceding 2019 title
"Such a strong competition from us [in a season], for a long time it's not been happening," Binotto added, when asked about Ferrari's 2020 prospects. "To beat [Mercedes] will be very difficult. We know that, but we are not discouraged, we will still keep pushing and obviously looking at next year."
Mercedes' ninth one-two finish of the 2019 season means they head Ferrari in the constructors' standings by 216 points with two Grands Prix to go, with that title having already been decided in the Silver Arrows' favour back in Japan.