Leclerc predicts 'very close' fight for P2 in the constructors' after Ferrari/Mercedes scrap at Suzuka
Ferrari driver Charles Leclerc is bracing himself for a tight battle with Mercedes over second place in the constructors' championship as the 2023 season enters its closing stages, after the two teams fought hard for position during the Japanese Grand Prix.
Mercedes entered the Suzuka weekend 24 points clear of Ferrari, but departed with that advantage trimmed to 20 points – Leclerc leading Lewis Hamilton home in fourth and Carlos Sainz finishing ahead of George Russell.
READ MORE: Verstappen dominates for Japanese GP victory as Red Bull secure back-to-back constructors' titles
It came on a day when rivals McLaren were out of reach for both teams, as Lando Norris and Oscar Piastri emerged as the nearest challengers to Max Verstappen and Red Bull, who secured their second successive constructors' title.
Reflecting on his race, which included a bold, late move on the one-stopping Russell around the outside of Turns 1 and 2, Leclerc said: "The McLarens were really strong today. There wasn't much we could have done better.
"I had to be really aggressive on the pass to George in order to not lose too much time, and that worked well, and then just managed my tyres to the end, so I'm happy with today's performance."
Pushed on the importance of beating Mercedes to P2 in the constructors' standings, he added: "I mean they are strong, especially in the race today, they were on it and they put us under a bit of pressure at the end.
READ MORE: 'I'm very proud of everyone' – Verstappen overjoyed as Suzuka win seals constructors' crown for Red Bull
"Splitting the cars too was an interesting strategy, so they are strong in the race especially. In the qualifying they are a bit more inconsistent, but it's going to be a very close fight.
"In the race we are a bit more inconsistent, they are in qualifying, but I have a feeling inside me that we have learned a few things in the last weekends that hopefully will give us the upper hand for the rest of the season."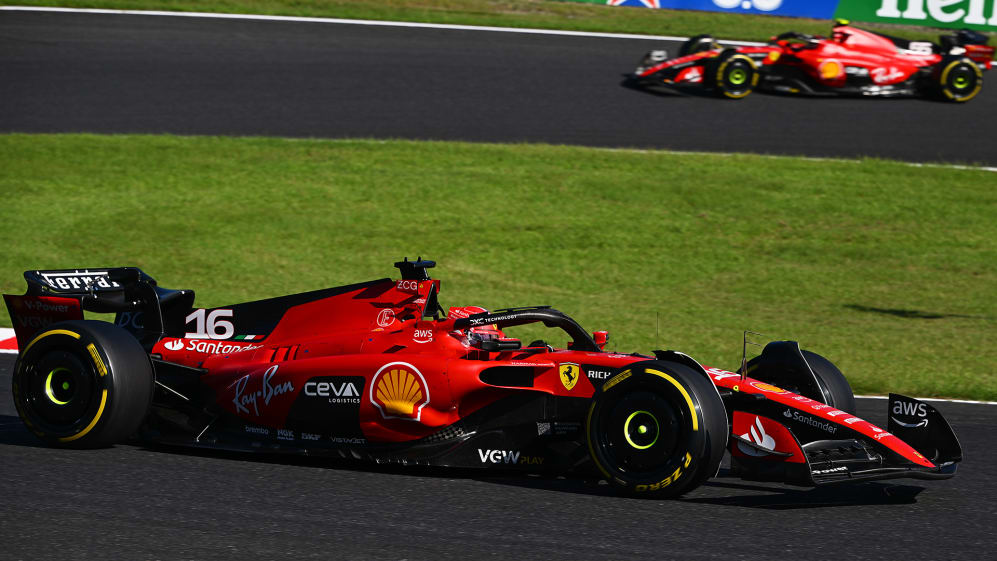 As for Sainz, the Spaniard made his final stop later than those around him and had to stage a mini fightback in the closing laps, crossing the line just eight-tenths behind Hamilton.
"When it came to race pace I could get into my rhythm, manage my tyres well and had honestly very, very strong pace," Sainz commented. "Unfortunately we couldn't show it as we were always in the dirty air and a bit stuck.
AS IT HAPPENED: Follow all the action from the 2023 Japanese Grand Prix
"We had a very good start, pace management. The pit stop cost us with Lewis, the last stop, and I had to come back on them, but I think we can be happy with how it went."
Six rounds remain on the 2023 calendar, with visits to Qatar (Sprint weekend), Austin (Sprint), Mexico, Brazil (Sprint), Las Vegas and Abu Dhabi to follow and 309 points still up for grabs.