Leclerc's team boss hails 'important' Esports win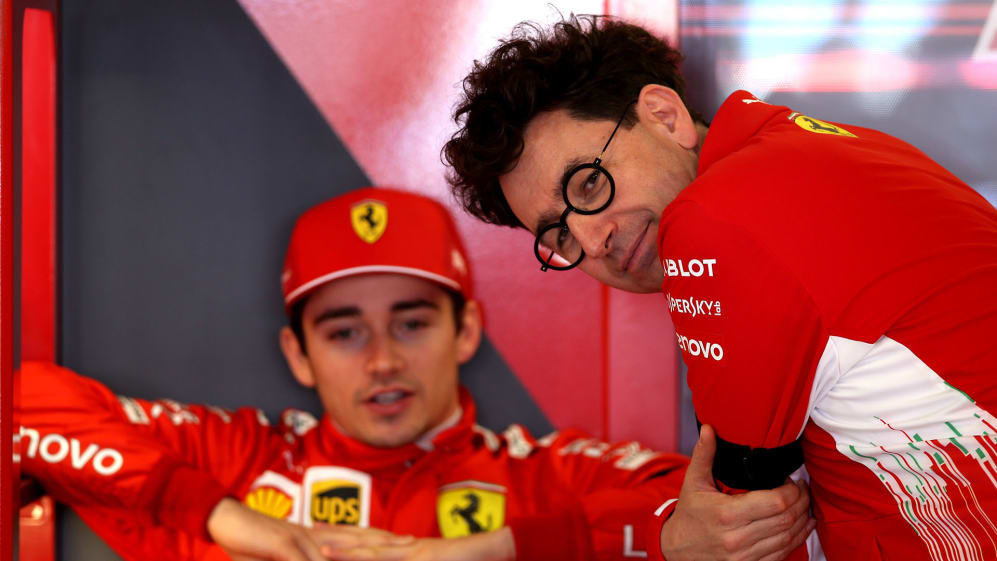 Charles Leclerc's Ferrari team boss Mattia Binotto has praised his young charge's victory in last weekend's F1 Esports Virtual Grand Prix series, believing it had helped motivate the Monegasque, who he said was currently "missing the cockpit".
Despite having only had a copy of the F1 2019 game for less than a week, Leclerc put in a dominant performance in the Virtual Grand Prix, held around Melbourne's Albert Park circuit, winning from pole by over six seconds for the FDA Hublot Esports Team in a field that included F1 rivals Alex Albon, Lando Norris and George Russell, as well as his own brother and team mate for the event Arthur.
Leclerc's achievement was all the more impressive, given that all the machinery in the F1 2019 game is equal.
AS IT HAPPENED: Watch all the action from Charles Leclerc's F1 Esports Virtual Grand Prix win
"Leclerc enjoyed… the Esports," said Binotto, speaking to Sky Sports F1. "I think for him, it was important to be back in the cockpit. He was missing the cockpit, he was missing the racing and the emotion.
"I think it has been a great event," he added, "a lot of enthusiasm, feedback. I think people were positive, that was good, and it was positive that [Charles] started in pole, finished first. That's what he was looking for, and he enjoyed the moment."
Binotto confirmed that he had been in regular contact with Leclerc and team mate Sebastian Vettel during the delay in the 2020 F1 season caused by the coronavirus outbreak to check on his drivers' wellbeing.
"I'm in contact with both drivers – maybe not on a daily basis but just making sure everything is going well with them," he said. "They are both trying to occupy themselves. Obviously they need to stick to the laws of their countries, but they are training, they are trying to keep fit, not only from the physical but the mental as well, so that whenever we come back to the normality, they are ready to start again."
READ MORE: 'Very likely' 2021 rule delay will 'not favour Ferrari', says Binotto
Binotto went on to praise the advent of the Virtual Grand Prix series, reflecting that sport in all its forms had a valuable role to play in these difficult times.
"[Sport is] a passion for people, it's a passion for fans," he said. "With the Esports and the virtual race we had with Charles – obviously it was only an hour eventually, but still an hour of distraction, an hour which is important, even for the people just to [see] something different, something else. I think that sport is passion, sport is enjoyment, and it must remain [that]. Sport is social responsibility, and we should never forget that."
Watch highlights of Leclerc's maiden F1 Esports win in the video below…