Lewis Hamilton debuts new black helmet with BLM message at Austrian Grand Prix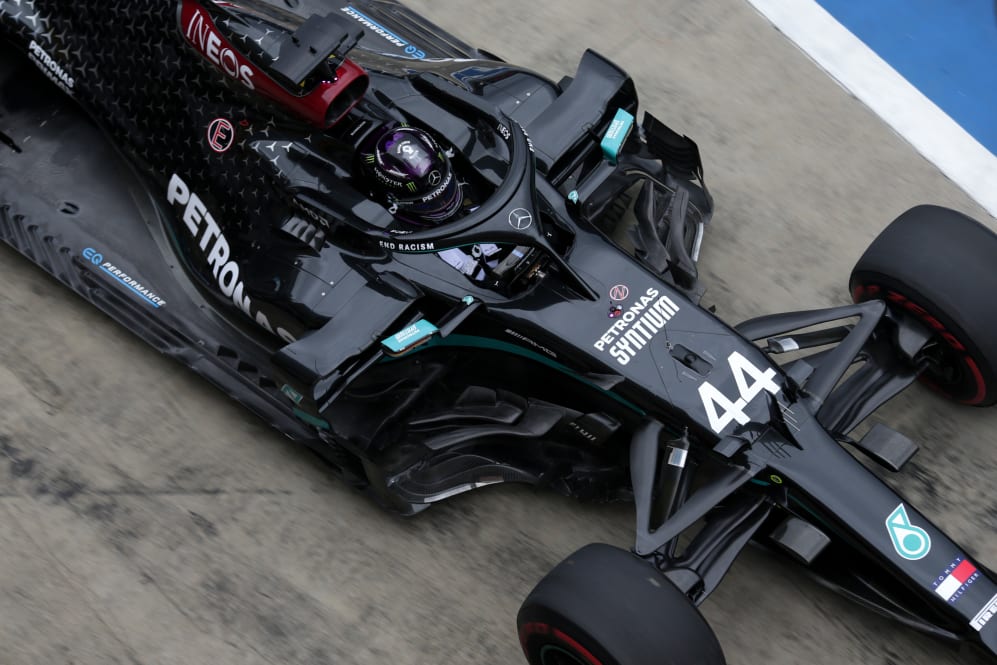 Lewis Hamilton has revealed a new helmet design at the Austrian Grand Prix as he continues show his support for the fight against racism and inequality.
The British driver has been highly vocal in recent months as the Black Lives Matter movement has shone a light on these issues, and he has been influential in getting his Mercedes team to show their support by changing their famous silver livery to a black design for 2020, while Hamilton and Bottas will also wear black race suits this year, instead of their usual white.
And ahead of the season-opening Austrian Grand Prix at the Red Bull Ring, Hamilton unveiled a new black helmet design, with a Black Lives Matter message on the top.
READ MORE: Hamilton calls on fellow drivers to 'become united' in fight against inequality
In a video released on his social channels he revealed the new lid, and pointing to the BLM message he said: "On the top here, this is the whole reason that the helmet has changed colour, the suit has, and also the car, it's supporting equality above all, and just really continuing to solidify that important message.
Oops! Error retrieving Twitter post
"We currently now have the mic, and people are starting to listen. We've got the opportunity to really push that message and really hold people accountable," he continued.
"Brands and the teams in Formula 1, and everybody here needs to be held accountable and be open to educating themselves, be open to understanding why the movement is happening, and why around the world we need to keep pushing for equality.
"That's what it's about. I kept the purple from what I planned to start this season, it's my favourite colour, and I hope that you get to see it when I'm in the car."
READ MORE: Hamilton reveals season delay has allowed past injuries to heal
Hamilton's team mate Valtteri Bottas has also updated his helmet design to reflect F1's push for diversity, adding the words 'Stronger Together' within a circle of interlocking arms.
Oops! Error retrieving Twitter post