'Lewis was better this year' – Bottas concedes title after being lapped by Hamilton in 'disaster' Turkish GP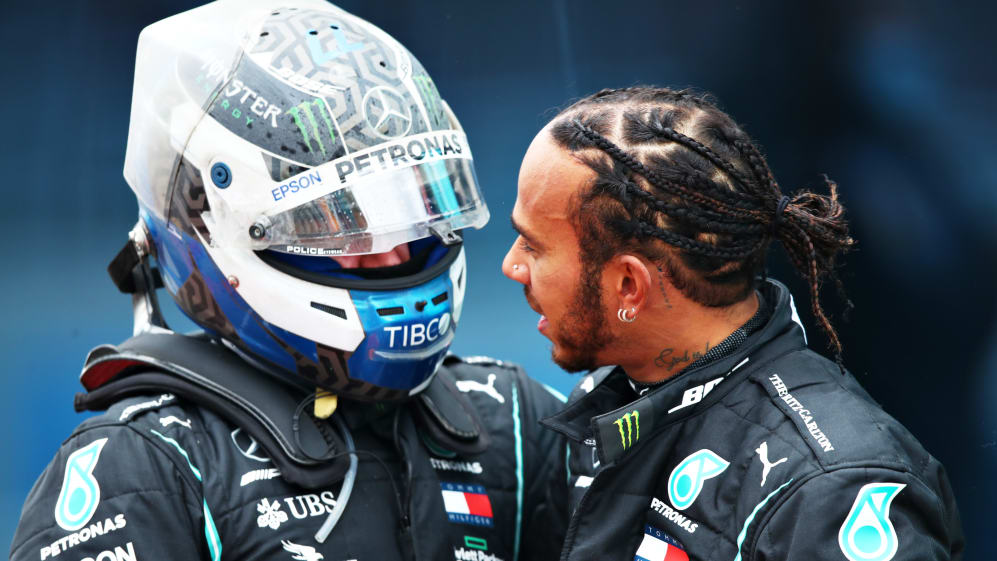 Valtteri Bottas' title chances against Mercedes team mate Lewis Hamilton were already looking fairly anaemic heading into Sunday's Turkish Grand Prix, not helped by a poor qualifying that had seen the Finn qualify ninth to Hamilton's sixth. But a spectacular unravelling of his Grand Prix in Istanbul, which saw him spin six times, get lapped by race winner Hamilton and ultimately finish P14, left a chivalrous Bottas admitting that his team mate had more than deserved to claim his seventh title.
The real shame for Bottas was that he made an exceptional start, climbing as high as fourth before a spin for Renault's Esteban Ocon at Turn 1 triggered Bottas' own spin. Dropped to the back of the pack, Bottas then unbelievably managed to tangle with Ocon for a second time on Lap 1 down at Turn 9.
READ MORE: Hamilton seals historic 7th title with peerless wet-weather victory in Turkey
The second contact left the Finn with front wing damage and a misaligned steering wheel that made the rest of the Grand Prix a survival mission, with Bottas humiliatingly passed by Hamilton 12 laps from the end and the Finn spinning twice more, both times on his own at Turn 2, before ultimately coming home 14th.
"That was a long race, such a long day," said Bottas after the race. "Obviously in the first lap, everything went wrong… someone in the first corner was spinning, I was avoiding and I spun as well.
"I had contact in Turn 9 and the car was not the same anymore. I struggled to stay on track – I couldn't stay on track!" he added. "The steering wheel was [offset], there was a piece missing from the front wing. It was a survival.
"It was a disaster, I tell you," Bottas added. "One of the most difficult races I've done, for sure."
Hamilton, who Bottas needed to outscore by eight points at Istanbul to keep his dim title hopes alive, ultimately drove a sensational race to take victory, and with it a seventh title, in a season that began – as in 2019 – with a Bottas victory in the season opener.
READ MORE: Seventh title 'beyond wildest dreams', admits Hamilton who says 'keeping believing' key to Turkish GP triumph
But with Hamilton having now won 10 races in 2020 to Bottas' two, the Finn was forced to accept that he'd been outclassed by his team mate across the season, as Hamilton matched Michael Schumacher's championship record.
"He deserves it fully," said Bottas, who warmly congratulated Hamilton on his achievement in parc ferme. "He was the better of us this year overall, on average, and he fully deserves it, so really good for him. But I'll try to beat him next year."